AAR/SBL Womanist In-Gathering 2012: Rituals of Wisdom and Healing
American Academy of Religion/Society of Biblical Literature Annual Meeting, Chicago, IL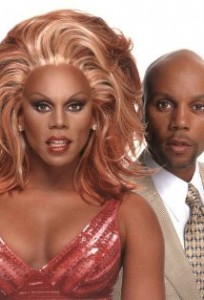 I've learned a lot about being a woman and being a womanist from drag queens. So I'm going to share with you: Wil's Words of Wisdom for the Womanists Catching Up to Me: You Betta Werk! (adapted from RuPaul's Guide to Life, Liberty and the Pursuit of Style, HarperCollins, 2010), an exegesis of Ru-isms/Truisms and drag as a template for womanist gender construction and performance in scholarly vocation.
I first became impressed by RuPaul's intentional constructions and performances of gender on season one of her reality competition show, RuPaul's Drag Race; during one episode she said, "Wearing drag in a male-dominated society is an act of treason." Drag, and particularly RuPal's incarnation of it, construct and celebrate womanish gender performances that I experience as womanist, although we may not all see them the same way. However it is there that I'd like to start, with the many ways in which we all construct our varied performances of gender. However it is that you are a woman, however it is that you express and perform that gender publically and privately, however it is that you relate to womanism and feminism, these words are for you, especially if you are coming up in this womanist scholarly enterprise. Today, I will be exegeting a number of Ru-isms that I find to be truisms.
Ru-ism: Learn your craft and know thyself. (p 13)
This Ru-ism focuses on the ways in which we construct ourselves from the inside out. Many black women professionals, scholars, authors and graduate students suffer from imposter syndrome. Whether we have had nurturing parenting or not, affirming mentors or not, achieved at and beyond expectations every single time or not, we live in a world that pathologizes our very existence and begins with our black women's bodies. So learn your craft. And know that you know it. And know that learning is not a static accomplishment. To know your craft you have to keep learning your craft, keep crafting your craft. Know yourself in relationship to your craft, and apart from it. You are not your hair. Neither are you your dissertation, book proposal, acceptance or rejection letter, tenure portfolio, promotion package, cover letter, title, letterhead, bio or abstract. Know who you are beyond your vocation even and especially when you have a spiritual and/or religious understanding of your calling.
Know your drag. Know how you construct and perform your public werk. Understand how your drag is perceived and experienced in your context. Be intentional about your drag whether is it Carol Duncan "always bet on black" fierceness, Tracy Hucks "Yoruba-divine Africana" fierceness or Wil Mickey Finning Gafney "gladiatrix in a suit – Olivia Pope ain't got nothing on this" hotness with a l'il international flair. And if there's a part of your body, face, hair, thighs, lips, nose, eyes or smile that you have been taught to despise then do as Pandora Boxx says and put some glitter on it! Love it and yourself fiercely.
Ru-ism: There is freedom outside the box. There is truth outside the box. And it was outside the box that I began to truly understand and develop my own sense of style. (p ix)
Carve out a niche for yourself in relationship to your discipline and peers. Find your space, place, voice and vision. The boundaries around our respective disciplines are becoming more and more porous. Some of us straddle multiple disciplines while others of us weave them together into new constructs that frighten and confuse those who thought they were the object and objective markers of objective truth. Give yourself permission to do what has never been done, write what has not been written, say what has not yet been spoken. The world doesn't need you to mimic your peers or mentors or even the great womanist and feminist ancestors and icons that inspire us.
In order to find truth – and beauty – outside the box you have to get out of the box. Get out of your office, get off your campus, get out of your house, or alternatively go to your home space, get into your garden, go to the gym, go jump in a lake, take a hike, have a day at the beach, dance in the rain, enjoy a tequila sunrise and sleep it off. Nurture who you are outside that box and figure out how she is connected to who you are in your vocational framework – I won't call it a box this time – so that you are a full and complete well integrated person.
I want to riff on Ru and say, "but don't throw out the box." Don't throw out everything that everyone has done before you. Relate your new hotness to the tried and true and even the tired and trifling. Even if you are light years ahead of your colleagues, you are all in the same time stream and you share that universe with students and staff, administrators and alumni, funders and fundraisers, governing boards and a general public and sometimes congregations and communions who all have a stake in what you do and how you do it. You are accountable to many publics and they want to see that box. Some of them want to see you in it. Use your box as a teaching tool and stepping stone. But don't let them pack you in it with the peanuts.
Ru-ism: All the colors of the rainbow are there for you to use… You must learn the rules first before you throw them out, and then by all means throw them out. (p xiv)
Learn the rules. Follow the rules. And when necessary, change the rules using the rules. Learn your faculty handbook. And learn the HR handbook that applies to all employees too. Learn your promotion and retention requirements. Learn your tenure requirements. Learn your benefits package. Learn your tax obligations – especially if you're clergy, get a housing allowance, file as self-employed and/or get a lot extra checks that add up to a new tax bracket at the end of the year.
Learn the letter of the law, and the spirit. Learn how things really work in your department and institution in spite of what the rules say. Understand that they will apply both the written law and codified oral tradition to you, often combining the most injurious pieces of both – when they're not just making –ish up.
Learn the rainbow warriors and watercolor muddlers. Figure out who is working for diversity of thought and bodily representation in your community. Figure out who wants just enough earth tones to make the brochures look pretty. Figure out who thinks melanin and everyone colored by it are a stain on the image and legacy of the institution. Learn how to navigate the written rules and the unspoken ones. And each time you survive a snare, expose that trap for those who follow behind you, and use the rules to change the rules to make that place more just for whoever is traveling behind you. Throw shade when you need to – and you will need to – but don't be shady.
Ru-ism: I focus on projects that get me excited. (p 169)
Werk! Do the work. Do the work you love. Teach the texts and theories you love. Write the books you want to read, write the books that you wish someone had written for you. Work smart and work hard. If you're in grad school, as much as possible make every paper in every class connect directly with your dissertation. Let your book reviews and conference papers emerge from your work or advance it. Use your research in your teaching. Be strategic about accepting invitations to publish. Rewrite, reuse and recycle. Reuse your own work; quote yourself. Don't keep reinventing the wheel. Enjoy yourself. And if you're not having fun, you're not doing it right. There has got to be some joy in this thing, because there's not enough money to make anybody happy. Do what it takes to maintain your joy and don't let anyone take it away form you.
Ru-ism: Rise up and be fearless! (p 4)
You are not alone. There are mothers and mentors, sisters and far-seers, healers and huggers, listeners and lovers, cousins and counselors in this community, and bound to this community in love and affinity.
Finally let me tell you about my fierce drag, that it might be a mirror to you as you construct your own:
 I go to church every Sunday that I'm able. And when I'm not able; I don't go. And I don't sweat it.
 I celebrate the feminine divine in and around me. I designed my own vestments, incorporative the Divine Mother and Mother of God as the Blessed Virgin Mary and Tree of Life, עץ חיים היא, She is a Tree of Life (Proverbs 3:18).
 I plan to go to the gym 3-4 days a week and give myself full credit if I make it two. I don't let it be none if I can help it.
 I have a good massage therapist.
 I go to the spa and to the beach and to the spa at the beach.
 I pamper my skin and beat my mug. Right now I'm on a Lush Cosmetics tip. I also worship at the altars of Nordstrom, Bobbi Brown, Sephora, Make-Up Forever, Smashbox and NARS.
 I believe in real jewelry, precious and semi-precious stones. I don't put plastic in my hair.
 I rock heels as high as I can on my size 4's except when I'm feeling low-down.
 I might have two or three Coach bags and accessories at any given time.
 I cluster my classes and teach longer days so that I can devote at least two days a week to writing. On my writing days I write in 1-2 2-4 hour blocks and if all I produce is 250 words that's enough. If I can't write, I rewrite, edit or research, but one of those two days will give birth to words even if I have to take them back later.
 I say no to my beloved colleagues when the projects they invite me to don't fit my writing agenda or I have multiple contracts already. I can do that be cause I have already written with and for many of them and I have made space for them to write with and for me.
 And while I didn't know it until I started watching Scandal, I am a gladiator in a suit. I always start the semester in a vicious suit and heels, so that when I decide to relax my look, I have already marked my territory and demonstrated my cultural and topical mastery.
Taking my own advice, I will share some of what I presented in 2008 when asked to present on "Surviving and Thriving in the Biblical Academy." These are my Ten Commandments:
Thou shalt not allow anyone to divide thy person into the sum of its parts – ethnic, gender, orientation, religious affiliation or lack thereof.
Thou shalt not place collegiality or institutional loyalty above thine own career.
Thou shalt develop mentoring relationships with senior scholars on thy faculty.
Thou shalt develop trust-bearing relationships with scholars in and outside thy field of all ranks, genders and ethnicities outside of thy institution.
Thou shalt consult the elders before making stupid decisions because thou wilst not know that they are stupid until it is too late, but thine elders can see it coming.
Thou shalt manage thy time well and meet deadlines, developing strategies and/or schedules for when to write what.
Thou shalt pursue thine own research interests, while writing for projects requested by thy peers whether they interest you or not  – for one day thou wilst need those colleagues to write in thy projects, not to mention for thine retention, promotion and tenuring.
Thou shalt covet time with the one or ones thou lovest.
Thou shalt mentor junior scholars and graduate students.
Thou shalt observe a Sabbath – religious or not – a time of rest for thy body. Thou mayest attend the gymnasium or spa on thine Sabbath. Thou mayest travel on thine Sabbath to mountain bike, hike, snorkel or otherwise enjoy thy gift of thy flesh.
Ru-ism: May the fierce be with you! (p 23)