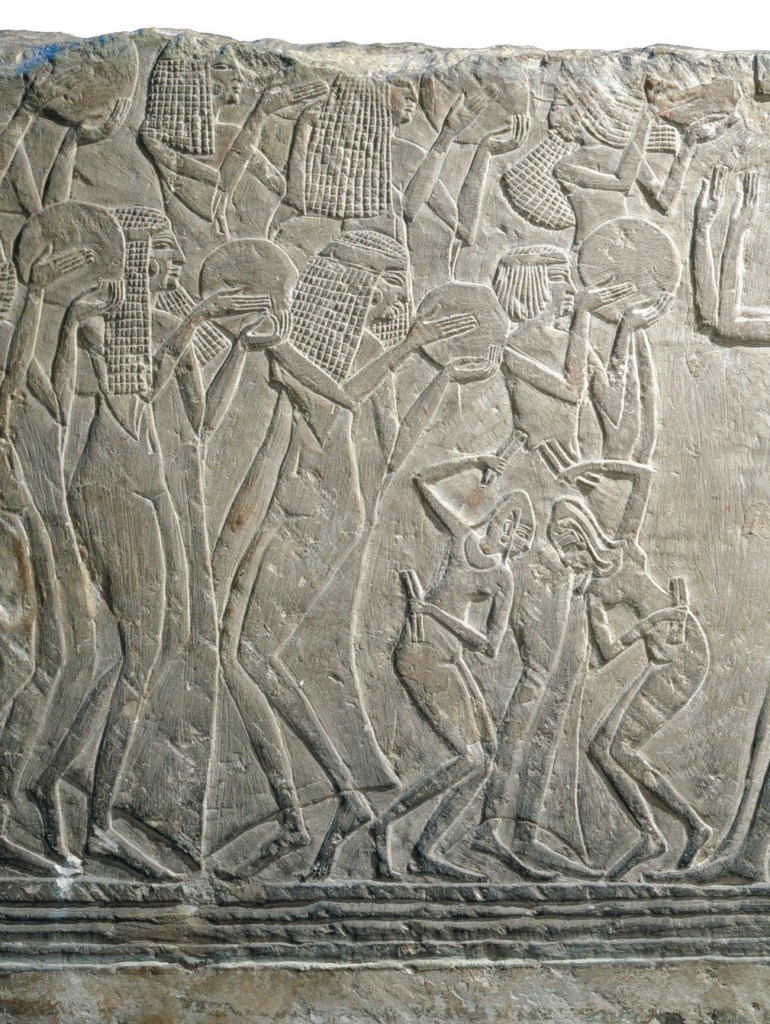 2 Samuel 6:16 As the ark of the Holy God came into the city of David, Michal bat Saul looked out of the window, and saw King David leaping and dancing before the Holy God; and she despised him in her heart… 23 And Michal bat Saul had no child to the day of her death.
I heard a voice say preach Michal's story. Preach the story of a woman who loved a man who didn't love her. Preach the story of a woman who never had children and died alone. Preach the story of a woman who loved a man of God who had other women and chose all of them over her. Preach the story of a woman who got left holding the bag when she helped the man she loved break out. Preach the story of a woman who got passed around from man to man by another man. Preach the story of a woman locked up and abandoned by the man she had risked everything for. Preach the story of a woman who found someone who loved her after everything she had been through and had that man and his love by the man she had once loved who never loved her. Preach the story of a woman who doesn't get a happy ending in the bible. Preach that. But nobody wants to hear that.
In the bible, barren women get miraculous conceptions, pregnancies and live births. But not always. When people call the roll of barren or otherwise childless women for whom God provides children of their own flesh: Sarah, Rebekah, Rachel, Samson's mother, Hannah, the woman from Shunem – though she wasn't asking for a child and Elizabeth they forget about Michal.
The psalmist (113:9) says: God gives the barren woman a home, making her the joyous mother of children.
Wisdom (3:13) says: …blessed is the barren womanwho is undefiled, who has not entered into a sinful union; she will have fruit when God examines souls.
But in this world in which the bible is enshrined, the miracles are few and far between. Some, few women miraculously conceive against the odds. The overwhelming majority do not. God does not plant a little patriarch or savior in their womb. It's not like the bible stories in this world in which the bible has become scripture. But we speak as though it is. Perhaps you've heard it. In the mostly black Christian circles in which I was formed and continue to seek my soul's nurture I hear women spoken of with reference to their wombs, our wombs, my womb. Sometimes there'll be an acknowledgement of those who cannot or do not choose to have children in a line, a single sentence. But here's what they do not say:
Some of us were born with broken wombs. Some of us were born with dead wombs. Some of us were born without our wombs. Some of us have been attacked by our wombs for as long as we can remember. Some of our wombs were broken into, raped and scraped into inhospitality and infertility when were too young for our wombs to recover. Some of us have wombs that cannot or will not hold onto life – and we have tried, cried, paid and prayed for womb-life. Our wombs trickle, leak and squeeze – in heart and flesh rending pulses – the life out our wombs. Our wombs bleed when they should not, not a cleansing, healing flow but a chunky, membranous crimson, tide running down our legs, staining our clothes, soiling our sheets, embarrassing and humiliating us in public and private with our partners. Our wombs do not bleed when they should. They do not bleed because we have nothing to nurture with its rich blood. Our wombs don't bother to bleed because they know we have no eggs, no ovaries or we ovaries and eggs that are not worth its blood. Some of our wombs hurt so much that they must be taken from us and no matter how much they hurt us we don't want to let them go.
Some of our wombs hurt because they have been taken away from us and ache for the children they will never bear. Some of our wombs hurt because the life we have given has been snatched away. Some of our wombs hurt because death came for our child and we had to carry that dead body in our body to term and push it into the world in a grotesque parody of the birth we had planned. Some of our wombs hurt because the child we birthed didn't survive the birthing. She didn't last the day, the night. He didn't live a week, a month, a year. Some of our wombs hurt because we can never accept out child's death at any age. Some of our wombs hurt because they were perfectly healthy and desperately empty having never found anyone to love or be loved by.
I'm telling the story of Michal and her lonely, empty, abandoned womb. For a moment I'm going to do what I argue against, reduce a woman to a hunk of meat, tie her identity to whether or not her body has performed the herteonormative act to which it has been reduced in patriarchy. Michal is a supporting character in David's story. The story isn't about her. It's not interested in her well-being or whether she has her own relationship to God.
Now, some blame Michal for telling David about himself. This is dangerously close to victim blaming. We have been so conditioned to read with David and to read against women that many of us miss that Michal was telling the truth about him. David was dancing before his Lord but he was also dancing for the servingslavewomen: by the women of whom you have spoken, by them I shall be held in honor. In other words, they like it and I know it. Yes, Michal despised him in her heart and she had every reason to do so.
Michal had been used by her father to trap David and used by David to escape the trap. Her father used her body to punish David, giving her to another man as his wife – still married to David in the eyes of the law and in her heart, probably still in love with him, now she has to sleep with the strange new man her father has given her body to. How she must have longed for David the swashbuckling hero and rebel bandit to come to her rescue. And then he did, with two other women in tow.
Michal might have been content to live with David and his new wives, that was the way of kings and she was a king's daughter. But David didn't want her as a woman or a wife. He wanted her back as a possession. She was his and no one else could have her. He took her back and then he abandoned her. He failed to do for her what was commanded by the Torah; he failed to provide her with children. The text does not say that Michal was barren, that would mean she and David were having sex. It says she does not have a child, meaning that David did not give her one. David withheld himself, his body and his seed from her.
Michal had to watch as David impregnates Abigail and Ahinoam. Michal watches as David passes her by and married and impregnates Maacah multiple times. Michal watches as David passes her by and married and impregnates Haggith. Michal watches as David passes her by and married and impregnates Abital. Michal watches as David passes her by and married and impregnates Eglah. All of these wives and their children are listed before Michal sees David cutting a fool. Is there any wonder she despised him in her heart? It may have been the first time she had seen him in person since he took her back. Michal will later have to watch as David passes her by and rapes and impregnates and then marries Bathsheba.
Is there a word from the God who loves David so much it doesn't matter what he does to any body or their body for Michal? I maintain God is God of all creations and that includes the folk on the margins of the very scriptures that proclaims God's love for David while demonstrating how deeply unworthy he was of that love, let alone Michal's. Because I know Michal is not just a character in David's story, that there are childless, lonely, hurting women, women longing for the love a man that will never love them and women who lost the one who did, I have to ask where is God for Michal? Is there a word for her?
I might have to go beyond the bible to find a word for her because the bible isn't concerned about her. But I am. Michal, I have a word for you:
Michal, baby, you are not your womb. Your value is not in what it does or doesn't do, what you do, don't or can't do with it.
Michal, baby, live. Live. Live with it. And live without him. Live with it when it hurts. And it will. You don't have to pretend it doesn't hurt. Live with it. Live fully in joy and pain. Don't let it cripple you. There are things you can't do. There are things beyond your control. There are things you want that you'll never have. Live with it. Live through it. And survive. You survived David; you can survive this.
The promise of God throughout all of scripture is Immanuel. If it is for anyone, it is for you. For you were despised and rejected men and deemed as one of no account. You were one from whom women and men hid their faces. God is with you, loving you through this life you didn't choose and do not want.
There is a word from the Living, Loving God for you. It came through the poet who spoke for Isaiah and is numbered as the 54th chapter of that serial collaboration. It is written to Jerusalem after the Babylonian invasion slaughtered her children in the street and carried others off to Babylon to remake in their image. To comfort Jerusalem, Next-Gen-Isaiah draws on the image of a woman who never had children to lose. Lost in most translations is that the entire chapter is written in feminine grammar. Looking beneath and beyond the Jerusalem exile, I hear God speaking to Michal and all of the women whose wombs and hearts have been bruised, broken or broken in to.
Sing childless woman,
never-given-birth-woman;
Woman, break out a song and rejoice, woman,
never-in-labor-woman.
For more are the children of the devastated woman
than the children of the espoused woman,
says Yah.
Do not fear woman
for you will not be ashamed woman;
do not feel humiliated woman
for you will not be disgraced woman.
For the shame of your youth woman,
you will forget woman,
and the stigma of your widowhood, woman,
you will never remember, woman.
For your spouse woman,
is the One who made you woman.
Sovereign God of *Women Warriors
is God's name.
And the Holy One of Israel
will redeem you woman ~
who is called God of all the earth.
For like a wife abandoned and abject in spirit ~
God has called you woman ~
For you were a rejected young bride,
says your God, woman.
For a brief space I abandoned you woman,
but in great mother-love I will gather you woman.
For a minute moment
I hid my face briefly from you woman.
But in eternally bonded love
I will mother-love you woman.
Your Redeemer, Woman, has spoken.
For the mountains may depart
and the hills may be shaken,
but my bonded love
will never be removed from you woman;
neither will my covenant of well-being
ever be shaken,
says God who **mother-loves you woman.
Afflicted woman,
stormy-weather-woman,
uncomforted woman,
Look! I will set your bones with
ornamentation city-woman
and lay your foundation in sapphires woman.
I will give you ruby sunshine woman
and for your openings woman,
jewel stones
and for your boundary woman,
precious stones.
In righteousness will you be established, woman;
you will be far from oppression woman
so you will not fear woman
from terror
for it will not come on you, woman.
No weapon formed against you woman,
will succeed,
and every tongue that rises against you
woman for judgment,
you will condemn woman.
This is the heritage of the servants of God
And their righteousness is from me,
An oracle of God.
This is good news for the ones who don't get that happy ending in spite of how much you fast and pray: You didn't get married. You didn't have a child. Your child did die. You lost your job, you lost your home, you lost your wife. Your husband took his life. Your child is going to die in that prison. God has not removed that cancer from your body. You were raped; you were incested and those memories won't just go away. You are living with stuff you can't tell anyone about. And you need a word for your life as it is right now. This is good news for those saints they don't write songs about. For those of you who have named it and claimed it but didn't get it. It good news for you who couldn't take back what the devil stole for you.
God is Immanuel. And if God is Immanuel to anyone, God is Immanuel to Michal. God is Immanuel to Jerusalem, to Michal and to me. And to you. In our brokenness, in our wholeness, in our fullness, in our emptiness. God is with us. God is within us. God is and we are. Still here. Here and not alone. We are surrounded by the love of God that is greater than the failing love of friend, father or lover. In our places of isolation, abandonment, and self-exile we are held by the God who loves, heals, and restores, a God who is not swept away by romanticized readings of David and the despicable things he did to women. But we are held and loved by a God who chooses the weak, the vulnerable, the abused and mis-used.
It's well past time to listen to the voices of women in the biblical text telling their Me Too stories about characters we have been taught to romanticize like certain now-fallen Hollywood idols. Michal despised David in her heart because he was despicable and I imagine God said, "I understand."
[All translations of the biblical text are mine. In Isaiah 51 I used *Women-Warriors to highlight that צבאות is feminine plural and as a nod to some traditional rendering of angels as female, not to claim that the celestial beings are human or are gendered as we are. I translate רחם-love as **mother-love because the root also means womb.]
You can read more about Michal and the other women in David's life in Womanist Midrash: A Reintroduction to the Women of the Torah and of the Throne.
Revised for preaching in an Episcopal congregation here. Originally preached at a WomanPreach event.