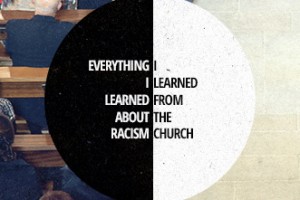 The world is on fire. Black women and men are being slaughtered in the street, in jail and in church. Some of the country is talking about race out loud and in meaningful ways. Some mainline denominations are following suit – not leading. Eavesdropping on a couple of these conversations brought me back to the beginning of my teaching career at a predominantly white and segregated seminary (black folk dominated the evening courses which were often less rigorous and more often taught by adjuncts) in one of the whitest denominations in America.
I blogged in the closet, anonymously, because I didn't have tenure to save my sanity in the face of micro aggressions like students calling me by my first name while calling my colleagues by their titles – I shut it down. And macro aggressions like being called a nigger in chapel and having white faculty and administration white-splain that the way the student used the term wasn't the same as calling me a nigger. I paid for my defiance and insistence by being forced to apologize to a white woman who was offended that what I was saying reflected poorly on her partner's leadership.
I didn't have tenure. I did what I was told. And I blogged. Anonymously. A few, very few, knew who and where I was.
As I look at conversations in that church and others this summer I have decided to exhume some of my original blogs. I think it doesn't matter whether I wrote them 2 or 12 years ago, nothing has changed.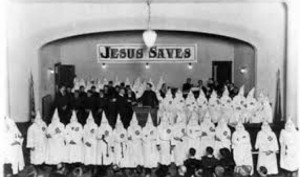 Here's some of what I blogged to keep myself sane:
I. There is nothing so dangerous as person who thinks that their progressive social and political values make them bias-free. There is no racism like liberal racism and no sexism like progressive sexism.
II. As important as is racial, ethnic, gender, orientation and ability diversity – and it is crucial – ideological diversity seems to be rarely invoked. I have noticed that some communities are happy with visual diversity as long as there is no theological, philosophical or ideological diversity. You are welcome as long as you think like the dominant culture (even if you don't look like them). Physical diversity has become for some an opportunity for self-congratulation, proof of liberal/progressive identity and/or fetishism. Frequently the basis for accepting visibly different bodies into a community is the degree to which they accede to the values and beliefs of the majority culture.
I do not suggest that communities – particularly believing and worshiping communities – have no right to theological, philosophical or ideological boundaries. I do wonder how much space there is – and ought be – between confessional communal identity and individual theological convictions.
My experience has shown me that my black woman's body is acceptable when it performs, preaches, teaches and worships in the image of whatever community I'm in, even if it is my own. Tension, rejection and rebuke arise when my theological commitments, perspectives, beliefs and practices are divergent.
How hollow is that diversity which is only as thin as a photograph of variably colored people!
III. When I teach about privilege – white, male, heterosexual, able-bodied – I also teach about peril. I'm careful to point out that privilege and peril regularly coexist in individuals and communities to avoid setting up an "oppression olympics." For example, the peril I experience as a black person and as a woman coexists with the privilege I experience from my socioeconomic status and the privilege I experience from my hierarchical standing as a professor and as a priest.
Apparently, that's just me. I have been watching other folk who also enjoy privilege while living with peril who have no interest in articulating or acknowledging their own privilege. In this case it is white privilege. I have been watching and listening as some white gay men dominate the equality movement articulate gay identity over and apart from black identity, build on and steal from the Civil Rights Movement and proclaim that black liberation is "over."
I have also observed white women who are deeply concerned about the status of women in the academy and the church invest in, nurture and support white women and only white women. For these women, women of color are not women – unless we want to support the white women's agenda. Support for women of color is called divisive, shifting the focus from gender to race and ethnicity.
Neither group, white gay men nor white women in these contexts acknowledge the power they have from their white privilege. But they use it. It is a peculiar thing to see white privilege wrapped in a mantle imperiled victimhood.
It seems to me the movements for women's equality and LGBTQ equality when divorced from any concern about the status of women of color or queer colored folk is not really about civil or human rights. On one level these culture wars are about the fury white folk feel when their white privilege is not universally acclaimed and honored. As a result, some white gay men have no problem using sexism or racism in their campaigns for – not equal rights – but the restoration of their privilege. And, some white women cannot identify or partner with women of color in achieving equity for all women because their womanhood is intrinsically linked with their whiteness, rendering women of color unrecognizable as women.
Unarticulated privilege is still privilege. White privilege is nearly inescapable.
IV. I am a woman.
I am a man.
I am a person.
I am human.
I am somebody.
These ancestral affirmations refuted the twisted logic of the American slavocracy, Jane and Jim Crow and polite northern racism.
Their time has not yet passed.
The accomplishments of Barack Obama directly benefit him, his family, his children, his friends and his inner circle.
For the rest of us it has opened up a new and unimaginable experience:
We are told that our experiences of discrimination no longer matter, or are no longer even real because of his success.
The Black Church has been the bulwark of black peoples since the Candace's servant was baptized on the road to Damascus.
The Black Church is also, ironically and unfortunately, a bulwark of sexism and heterosexism.
I recently participated in a conversation with scores of black women, most of whom are pastors or preachers, who uncovered the widespread practice of male clergy regularly inviting them to preach and forgetting to pay them, sometimes for months, if ever.
The irony is apparent.
Many of these male preachers are lions of the Civil Rights movement who marched around in signs saying, "I AM A MAN."
For some of them, male identity was more important than human identity.
The silent Civil Rights protestors who marched in signs proclaiming, "I AM A MAN" were denying the dehumanizing agenda of white supremacist society with every breath.
They were demanding simple human (humane) recognition, which turns out not to be so simple after all.
Recognizing the full humanity of other persons requires full recognition of all of their rights, abilities, gifts and possibilities.
The male hegemony of the Black Church is not alone in seeking the power and privilege of white, male, hetero-patriarchal society for themselves. They are not alone in seeking a few more chairs to be added to the table of exclusion for their benefit, or even seeking to replace a few chair-holders.
There are white feminists who seek a place at the table for white women, no others need apply.
There are white gay men who believe that theirs is the only expression of Queer identity that exists or matters and the movement must be guided by them to achieve their goals, and theirs alone.
I am a woman.
I am because we/you are.
I AM.
I…