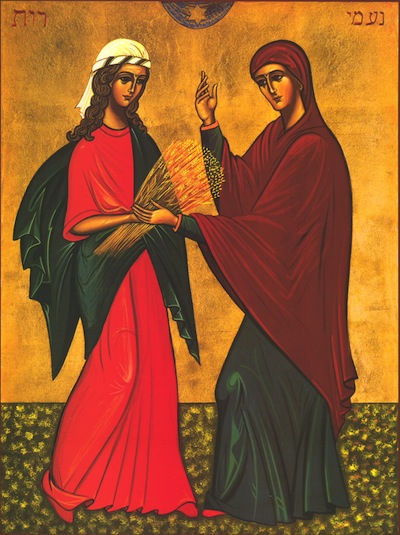 This Epiphany as we reflect on the ways in which Jesus the Messiah is revealed I celebrate that his life giving Body and Blood were consubstantiated in the Virgin's womb and that he is Son of God, Son of Woman and Child of Earth. While hailed as the Son of David, Jesus is also the Son of Ruth, the only woman who figures in both his and David's genealogy.
Ironically, most of the women in biblical genealogies are erased even as their reproductive labor and child-nurture perpetuate and preserve their people. The genealogy below reclaims women whose names are given in the scriptures and re-inserts them in Matthew's genealogy.
A genealogy of Jesus Christ, the son of Miriam, the daughter of Anna:
Sarah was the mother of Isaac,
And Rebekah was the mother of Jacob,
Leah was the mother of Judah,
Tamar was the mother of Perez.
The names of the mothers of Hezron, Ram, Amminadab,
Nahshon and Salmon have been lost.
Rahab was the mother of Boaz,
and Ruth was the mother of Obed.
Obed's wife, whose name is unknown, bore Jesse.
The wife of Jesse was the mother of David.
Bathsheba was the mother of Solomon,
Naamah, the Ammonite, was the mother of Rehoboam.
Maacah was the mother of Abijam and the grandmother of Asa.
Azubah was the mother of Jehoshaphat.
The name of Jehoram's mother is unknown.
Athaliah was the mother of Ahaziah,
Zibiah of Beersheba, the mother of Joash.
Jecoliah of Jerusalem bore Uzziah,
Jerusha bore Jotham; Ahaz's mother is unknown.
Abi was the mother of Hezekiah,
Hephzibah was the mother of Manasseh,
Meshullemeth was the mother of Amon,
Jedidah was the mother of Josiah.
Zebidah was the mother of Jehoiakim,
Nehushta was the mother of Jehoiachin,
Hamutal was the mother of Zedekiah.
Then the deportation of Babylon took place.
After the deportation to Babylon
the names of the mothers go unrecorded.
These are their sons:
Jechoniah, Shealtiel, Zerubbabel,
Abiud, Eliakim, Azor and Zadok,
Achim, Eliud, Eleazar,
Matthan, Jacob and Joseph, the husband of Miriam.
Of her was born Jesus who is called Christ.
The sum of generations is there: fourteen from Sarah to David's mother;
fourteen from Bathsheba to the Babylonian deportation;
and fourteen from the Babylonian deportation to Miriam, the mother of Christ.
"A Genealogy of Jesus Christ: Alternative to Matthew 1" was complied by Ann Patrick Ware of the Women's Liturgy Group of New York, who has graciously put this text in the public domain for all to use.