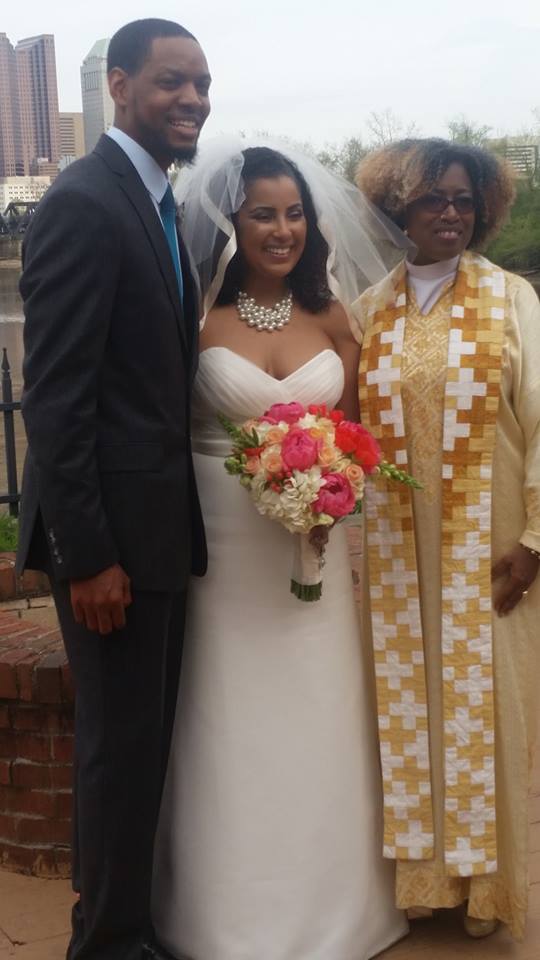 Dear ones, you are God's chosen ones; you are God's choice. God chose you and chooses you. And you. And you. And me. Being "the elect of God" as some translations have it is not about being chosen over someone else as when lovers choose each other over all others and proclaim that choice with the sacrament of marriage. Rather, it's about being chosen by God in good company, all of us who are dearly beloved to God.
When we clergy say those words, "Dearly beloved…" we are affirming that the love of God borne witness to in the vows of lovers is part of a broader tapestry of love between God and all creation. And we are all blessed to be part of that love as we are to witness this love between Anthony and Maria.
There is no recipe for a perfect marriage, any more than there is for a perfect church. What with the Church and all marriages being full of people. And by full I mean more than one that's all it takes for conflict and disagreement. And sometimes, not even that many. Yet our lesson in (Colossians 3:12-17) does tell us how to be a loving church, a healthy church and a holy church. And it turns out the same words of wisdom teach us how to have a loving marriage, a healthy marriage and a holy marriage. This passage gives counsel to the whole church including those in our homes and those in our hearts:
12 As God's chosen ones, holy and beloved, clothe yourselves with compassion, kindness, humility, meekness, and patience.
Maria and Anthony, you are the beloved of God. Treat each other that way. You are already holy, having been redeemed. Behave that way. When the text says put on these graces and virtues, it is metaphorically covering the body. Greek-speaking culture was often hostile to the human body and human sexuality. Which is a shame because one of the joys of our creation is the hand-crafted bodies God designed for us and our capacity to give our bodies to each other for mutual sexual pleasure. On this day when we proclaim there is no shame in the human body or the union of bodies let suggest that we hear the text saying put in your hearts…
Put in your hearts the organs of compassion. In Syriac – Anthony, you knew who I was when you asked me to preach – in Syriac this is the womb of tender, mothering love which I like so much better than the Greek guts or bowels of mercy, pity or compassion. Instead hear the scripture saying:
Put in your hearts kindness.
Put in your hearts humility.
Put in your hearts meekness.
Put in your hearts patience.
13 Bear with one another and, if anyone has a complaint against another, forgive each other; just as the Lord has forgiven you, so you also must forgive.
Bear with here means elevate one another, esteem one another and be patient with one another. And when – not if – when you have griefs and grievances, forgive one another. Forgive each other because God has forgiven you. Forgive each other just as God has forgiven you. Forgive each other knowing that God will continue to forgive you.
14 Above all, clothe yourselves – fill your hearts – with love, which binds everything together in perfect harmony.
More than anything else, fill your hearts with love. Love is the tie that binds. You have all the love you will ever need. It is the gift of God planted within you. Nourish and nurture it that it may grow to its fullest potential. It is God's love in us that gives us the peace to live in harmony with another human soul. (And that ain't always easy.)
15 …let the peace of Christ rule in your hearts, to which indeed you were called in the one body. And be thankful.
Let the peace of Christ, God's peace, in and through Christ Jesus, rule in and over and, control your hearts. This is your calling, all our calling, in every relationship. Our interactions are to be governed by all that is that is peace – not the absence of conflict but the presence of wholeness, completeness, health, maturity and security. Thankfulness, gratitude, is one path to that peace. There will be occasion for lament and critique. But no one will have to solicit them from you. At all times, practice thankfulness. Remember that underlying the word for thankfulness is the Feast of the Lord's Supper, keeping us mindful of that for which we should be most grateful.
16 Let the word of Christ dwell in you richly; teach and admonish one another in all wisdom; and with gratitude in your hearts sing psalms, hymns, and spiritual songs to God.
Anthony and Maria, and all who share in this moment with them, be so full of the word and words of Christ that it shapes, changes if necessary, the way you think, speak and act. Your lives, your love is a lesson on the love of God. You are a lovesong that God sings to each of you and even to the rest of us.
17 And whatever you do, in word or deed, do everything in the name of the Lord Jesus, giving thanks to God the Father through him.
Let everything that you do in joy and sorrow, sickness and health, poverty and wealth be worthy of that name that is most high, most precious.
And because you can't be too thankful, the author says one more time: Be thankful, be grateful. Give thanks to God for each other, never taking the gift of each other for granted as we give thanks for you, your lives and your love.
In the Name of God who is Love, Jesus the Love that is stronger than death and the Holy Spirit who covers us and fills us with her Love. Amen.