What do you believe? What do you believe about Jesus? What do you believe about the scriptures that tell his story? What do you believe about the God he proclaimed with his life and death and what happened after his death? What do you believe happened after his death? What do you believe?
We will say what we believe as a church using the ancient words of the Christian tradition after the sermon. But what would it look like if you wrote your own creed? I encourage you to do so. Know that it's all right if you find yourself disagreeing with the Creed we say or have questions about something you thought you were sure of before. It's all right if your creed is more question that statement. Your creed need not be long. Your creed can be as short as: I know God is real and I know she loves me, or: Jesus is God's love in human form.
In our Acts lesson, Peter is telling the version of the Jesus story that he believes. It is also the Pentecost story but the lectionary is saving some of it for Pentecost Sunday. Peter is speaking to men who are his fellow Jews but who do not believe what he believes about Jesus. Both of those facts about Peter's audience are important. These men are questioning the behavior of the folk who are in the street speaking in foreign languages they have never spoken before. If those folk are the same ones who were in the upper room waiting for the extravagant outpouring of the Holy Spirit that was to come—the remaining apostles, Jesus's four brothers, Mary and the "certain women" who rounded the group of sixteen men up to the one hundred and twenty present in the beginning of the story—then Peter was explaining to these men why more than one hundred women along with some men were behaving this way. Peter understood their outrage because some or all of the men Peter was speaking to may have believed certain things about what women should or could do as he may have at one time, or still. What do you believe?
Peter turned to the prophet Joel to explain that God's spirit falls on women and men, the old and the young, the free and enslaved. Peter and his generation believed that it was acceptable and normal for one human being to hold another in in slavery. I don't believe that and I suspect you don't either. Sometimes what we believe conflicts with or even contradicts what our scriptures say, and for good reason. What do you believe?
Peter had come to believe that Jesus was God's chosen and beloved son who was crucified and raised from death by the power of God. What do you believe? But Peter is speaking to other Jews who do not share his newly found beliefs. Have you ever had a conversation with someone who just found religion? Veganism? Recycling? Running? Atheism? Ever had a neighborhood missionary, environmental or anti-fur activist show up on your doorstep? Ever been backed into a corner by someone whose political and conspiracy theories explain the answers to questions you never asked? Ever comment on a game and had every statistic on every player in franchise history rattled off for you? Or their latest work from home/pyramid scheme? Or the newest diet/detox? Or the latest self-help book or program? And, let's not forget TCU (or Dallas Cowboys) football.
Peter had the religious zeal of a new convert buttressed by the experience of a person who has seen things they wouldn't have believed possible. He knows what he believes and he believes—he knows—his beliefs would be good for you too. He also knows his audience. They are his people. He is one of them and he stood where they stood not long ago. He understands their disbelief because he shared it. But more than that, Peter denied Christ. Peter denied knowing Jesus, his friend and companion, and left him to die alone with the sight of that betrayal as the last image of his friend.
Peter projected all of his guilt onto his brothers saying, "You that are Israelite men…" The NRSV unnecessarily makes the text inclusive. Peter is not speaking to all the Israelites present there. He addresses only the men because the women stood with Jesus at the cross and went to him at the tomb. His language is harsh because he is indicting himself though he may not know this. It may be unconscious.
Hear Peter's confession as an act of contrition:
Jesus of Nazareth, a man attested to me by God with deeds of power, wonders, and signs that God did through him before me, as I myself knew full well—this man, I handed over according to the definite plan and foreknowledge of God, him I crucified and this man I killed with my own lawless hands.
The weight of his complicity in the death of Jesus was too much for him to bear, even with the forgiveness Jesus offered from the death grip of the cross, so Peter projected it onto his people.
Read without an understanding of Peter's interior landscape, the text can easily be read as an indictment of "the Jews" for the death of Jesus. And to our eternal shame as Christians, it has been, and not just from this text. Christians throughout the ages from popes and their crusading armies to Hitler's Nazi party to today's alt-right neo-Nazis have blamed the Jews for the death of Jesus and used that charge to justify slaughter, theft and extermination campaigns not limited to the Crusades and the Holocaust.
Some will say that because these folk betray the teaching and example of Jesus, they should not be called Christians. However, if we exclude the perpetrators of every reprehensible deed done in the name of Christ from Christianity, we are left with an unrealistically innocent faith that avoids responsibility for the slavery, genocide, exploitation and holocausts perpetuated in its name with the backing of its faithful from pulpit to pew.
As the sun sets here and now a new day dawns according to Jewish tradition. That day is Yom HaShoah, the Holocaust Day of Remembrance.
We owe it to the living and the dead to reject anti-Semitism in and out of the Church, and to never deny our complicity in the deaths of our fellow human beings, children of God, beloved of God, created in the divine image as are we. This I believe.
John—or someone writing in his name—I don't believe John wrote this gospel since his name was added to it much later— the author found himself in the same theological space as Peter, a Jew who believed some things about Jesus his fellow Jews did not. The gospel also represents a time when belief in Jesus as messiah by Jews led to a conflicted identity that was ultimately rejected by other Jews. For this reason in the gospels, the expression "the Jews" can almost always be translated, "the other Jews." Jesus, Mary and Joseph, and the overwhelming majority of the disciples and early church were Jews. And those who followed Jesus did not understand themselves to have left Judaism that was more a cultural identity than a faith one could convert to or from.
The author of the gospel of John wrote in order that we who read might believe what he believed:
These [things] are written so that you may come to believe that Jesus is the Messiah, the Son of God, and that through believing you may have life in his name.
The person who wrote this gospel identified himself as the one whom Jesus loved as though he believed Jesus loved him more than the rest of us. I don't believe that.
Here's what I do believe, that Jesus, the love of God in human form, the fullness of the formless eternal God passed through the womb of an unmarried teenage girl and loved the world into a new reality even as the old reality continued to crucify, ravage, enslave and subjugate. The Roman Empire, a system of domination, acquisition and occupation that transcended and survived individuals, soldiers, senators, emperors and caesars, put Jesus to death along with anyone who threatened or resisted them.
Jesus defied the empire with his life and the empire put him to death, not a religion but the worship of power, nor an ethnic culture, for empire transcends and transforms identities. But the power of empire cannot stand against God. The resurrection of Jesus from the dead proves that neither the empire nor death itself can stand against God or the life and love she gives to the world.
We are called to live in that love, among ourselves and with those who do not believe what we believe. As we remember the Holocaust we remember with sorrow that far more Christians sided with the empire and the cult of death than with the life and love of the resurrection. We also remember that people were consigned to death for being Jews, Roma, lesbians and gay men, people with physical and intellectual disabilities and more.
We celebrate Easter for fifty days to practice living into the life and love of God made manifest on that first Easter day. May we like the disciples who feared those who did not share their beliefs find the risen Christ in the place of that fear and come to believe in a love that is greater than fear or death. And may we be known as a people through whom God loves the world into life. I believe God is life and love. What do you believe?
I believe in one God,
Mother and Father, Sovereign and Almighty,
maker of the heavens and the earth,
of all that is, seen and unseen.
I believe in one Redeemer, Jesus Christ,
the only Son of God,
eternally begotten of the Sovereign,
God from God, Light from Light,
true God from true God,
begotten, not made,
of one Being with the Sovereign.
Through whom all things were made.
For us and for our salvation
he came down from heaven:
by the power of the Holy Spirit
he became incarnate from the Virgin Mary,
and was made human.
For our sake he was crucified under Pontius Pilate;
he suffered death and was buried.
On the third day he rose again
in accordance with the Scriptures;
he ascended into heaven
and is seated at the right hand of the Sovereign.
He will come again in glory to judge the living and the dead,
and his dominion will have no end.
I believe in the Holy Spirit, the Creatrix, the giver of life.
With the Father and the Son She is worshiped and glorified.
She has spoken through the Prophets.
I believe in one holy catholic and apostolic Church.
I acknowledge one baptism for the forgiveness of sins.
I look for the resurrection of the dead,
and the life of the world to come. Amen.
---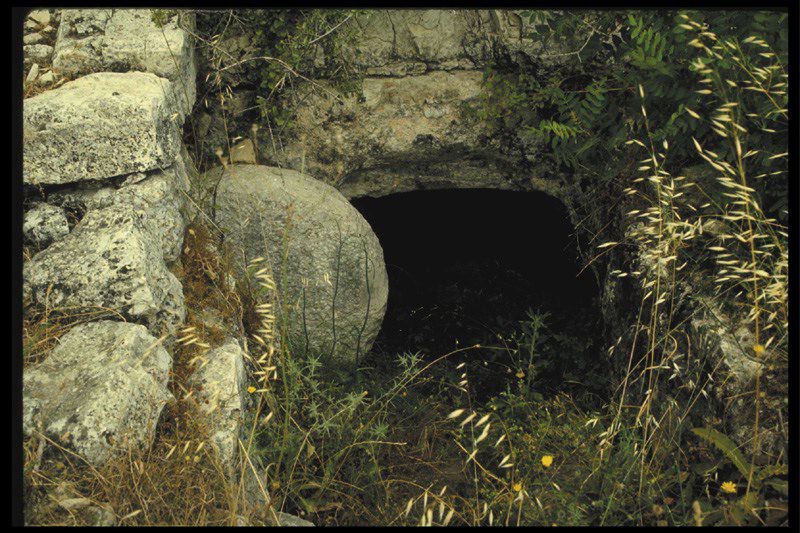 After the Sabbath… Those three little words can't possibly convey the emotions of that morning. After the sleepless night that turned into a Sabbath that was anything but a day of rest… After another sleepless night that turned the Sabbath into mundane time on a day that was anything but mundane… After wrestling night and day with the shrieking memory of Jesus's execution, the hammer falls echoing, echoing, echoing…
After the Sabbath, as the first day of the week was dawning, Mary Magdalene and the other Mary went to see the tomb.
The prophet Miriam lived on in these daughters of her name including the absent Virgin Mother. In this gospel Miriam of Migdala—who wasn't an English school girl named Mary—and another woman also named Miriam, these Miriams, these so-called Marys, went to see the tomb. Just to see it. To see if it had really happened. In other gospels, yes to prepare the body of Jesus for his burial after the fact, but here, just to see it. Maybe then it would feel real.
They barely had time to process the sight of Jesus's tomb when their world was turned upside down again. Indeed, the very earth could be said to be turned upside down herself.
The earthquake, the angel, the blinding clothes, the paralyzed guards, one sensory shock after another, piled up, with no time to process what it all meant. And now the tomb is open, maybe they could go and sit with him, see him, touch him one last time. But this creature who is not of this earth speaks… Fear not. They were way past fear.
And then, those words: He is not here; for he has been raised, as he said.
This is the gospel. This is the heart of our faith.
The love of God incarnate in Yeshua ben Miryam, Jesus the son of Mary, transcends the evil and brokenness of this world—betrayal and abandonment, empire and occupation, torture and execution, even death itself. God's love is real, tangible and present. Jesus is God's love is poured into this world, this crucified and crucifying world. God's love is also poured into us. And God's love is powerful. God's love is stronger than death, sin, hell, hate and hurt. The loving, liberating, life-giving relationship God began with us at the moment of our creation transcends death. This is the good news.
Come, see the place where he lay, then go and tell… "Come and see" is an invitation to experience that death and remember it. That is what we are doing today, remembering, with our bodies, our whole selves. There are a couple of traditions about the place where he lay, more than a couple. You can see them, touch them, pray in them in Jerusalem. I have, and one in particular is holy to me. But it strikes me as I read this gospel that the place where he lay is more than the place his body was laid in death.
Jesus lay at the place where the poor and dispossessed are ground underfoot by the powerful and power hungry. Jesus lay at the place where people of one race, religion and ethnicity dominate people of another race, religion and ethnicity. Jesus lay at the place where the unjust render judgment over the just. Jesus lay at the place where police brutality goes unchecked and deaths in custody go unremarked. Jesus lay at the place where capital punishment is used to shape the social order, executing the innocent and guilty alike. Jesus lay at the place where the cost of protest and resistance was death. Jesus lay at the place where a doomed empire thought itself invincible. Jesus lay at the place where mothers and lovers wept, where the bodies kept falling in death because Rome kept killing, kept crucifying. Come, see the place where he lay, then go and tell…
Go and tell his disciples… "His disciples." What were they, these Marian evangelists and apostles? Mary Magdalene will come to be known as the Apostle to the Apostles, but the gospels hoard the title "disciple" for men. Jesus also lay at the place where hierarchies were challenged, rejected and reasserted.
Jesus lay at the place where Hannah's Hymn and Mary's Magnificat prophesied those on the underside of all the structures of power would subvert those very structures and be elevated by God herself as tyrants and their empires were dashed to the ground. And so God appointed two women to witness the resurrection, women who could not legally testify to anything in the courts of their own people because they were women. In the place where Jesus lay there were hierarchies within and without. Some gospels will have one or more men come and see but not here. Here the women's word will be sufficient. The men will obey these apostles. But then the movement they start will wrestle with those old hierarchies and the empire that could not hold Jesus in death will gain a toehold and more in the Church that will be built with women's labor. [As the students in my Bible and Black Lives Matter class pointed out:] People will remember the names of the disciples who were neither at the cross nor at the tomb but the women who were at both will be collapsed into a cloud of Marys, in the same way no one quite remembers the three black queer women who started Black Lives Matter, Alicia Garza, Opal Tometti and Patrisse Cullors.
Why am I talking about Black Lives Matter on Easter Sunday? Because Jesus died with those who were deemed criminals, who got what some folk say they had coming to them. Jesus died, not just with them, but as them, as a victim of state violence, miscarried justice and public execution. And Jesus died for them, for those who are not thought to be worthy of him. And, because Jesus's life was a black life that was deemed not matter. And, because the intentional misrepresentation of the Afro-Asiatic Israelites and Palestinian Jews as white is anti-black violence in our sacred spaces. My former student Lura Groen warns: "If we don't crucify the idol of the white male Jesus, he will continue to crucify the rest of us."
The angel sent the women to proclaim the gospel in a world in which crucifixions continued and violence between persons and between nations has never abated. We are called to proclaim the gospel in that world, in this world where transwomen of color are murdered in the state of Texas at a rate that eclipses all other states. We are called to proclaim the gospel in this world where we have closed our doors to refugees while we bomb them at home. We are called to proclaim the gospel in this world where our nation was built on stolen land by stolen bodies and builds walls rather than come to terms with the legacy of that past even as it plays our before us. We are called to proclaim the gospel in this world where immigrants are welcome as long as they are white and Christian. We are called to proclaim a gospel so radical, so threatening to the entrenched powers – in fact we may be the threatened entrenched power – we are called to proclaim a gospel that like the gospel Jesus proclaimed with his life may ultimately lead us to the place where he lay. And in that place is death.
But in that place is also life. Jesus lives in the places where he lay dying and dead. He lives with us and in us as we live out his gospel with those whom the world wants to crucify. Come and see. Go and tell. And listen for the rumbling, not the grumbling. Listen for the rumbling of the hierarchies and inequities, empires and tyrants falling never to rise again. Jesus has been raised as he said. The world will never be the same. When those whom the world crucify rise, the world cannot help but change. Amen.
---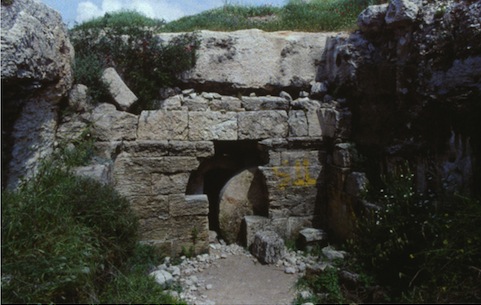 Today's sermon is Beyond Zombie Theology and More than a Mummy. In the Name of the Earth-Maker, Pain-Bearer and Life-Giver. Amen.
Act I: Scene One
The setting is what would on another day be a lovely, lush valley. But today it is full of human carnage. It is a scene out of a horror movie. It is a horror movie. There are bodies and body parts everywhere, decayed down to the bone. It is as though someone uncovered a mass grave. The bones are jumbled together in an apocalyptic, post-modern, nightmarish sculpture. This is holy ground and accursed ground. This place was a killing field, plague site or the site of some other unfathomable catastrophe. Every once in a while a lonely bird of prey disturbs a ragged cluster of bones looking for some long dissolved morsel of flesh. There is the stench of death. Not the wet, rotting smell of decaying flesh, but the deeply permeating scent of death in the air, in the grass, in the trees. The smell of death is everywhere.
Act I: Scene Two
The setting is a rocky hillside dotted with natural and fabricated caves. Lightly carved and rounded stones secure the entrances to the cave-tombs, keeping some out and others in. The air is thick with the smell of vegetation. The air is full of life. A small group of mourners prays, keens and beats their breasts.
Act II: Scene One
A ragged refugee-prophet escapes his prison camp through a wormhole that sucks him up into the air and spits him out into the valley of dry bones. The wormhole collapses in on itself and transforms into a being made of pure light, without color and all colors at the same time. The special affects are amazing! The God of Light gives the prophet-man a task – conjure life from death, draw the spirit-winds from the four corners of the earth into the valley and animate the bones. The prophet speaks the words he was given:
"So says the Sovereign God to these bones: Look! I will cause spirit-breath to enter you, and you shall live. I will place sinews on you, and will cause flesh to come upon you, and cover you with skin, and put spirit-breath in you, and you shall live; and you shall know that I am God-Whose-Name-Is-Holy.'"
Act II: Scene Two
A road-weary traveling prophet, teacher and healer joins the mourners outside the cave-tombs and, this man speaks his own words of power:
"El'azar! Come out!"
Montage:
The camera cuts back and forth between the two scenes: A man transported by the power of his God and a God-in-flesh walking on his own two feet; an open valley full of decayed bodies at the end of their decomposition cycle, a closed tomb with one body just beginning to decompose; the prophet from ancient days being guided by his God, the itinerant teacher needs no guidance.
Act III: Scene One
All of the bones in the valley begin to shake, rattle and roll. It sounds like an earthquake. The ground shakes and the bones rise. They whirl and swirl and connect to each other forming complete skeletons. There are all sorts of skeletons. All of them have broken bones or marks on their bones from swords and clubs and other weapons. They all died violent deaths. Some are tall, some are short, some have the tell-tale pelvic girdles of women, some are children. The bones begin to thicken, their white turns pink and then shades of beige, tan and brown as layers of flesh, muscle, tendons, cartilage, nerves and finally skin covers them. The special effects director is going to win an Oscar for this movie! Finally there is a whole nation of people standing in the valley. Yet there was no spirit-breath in them – they were like an army of zombies: formerly dead, reanimated, moving, standing but without the breath of life – true, authentic, God-given human life. But they became something more than zombies. They had spirit-breath poured into them and returned fully to life, resurrected.
Act III: Scene Two
No one sees what is going on in the tomb: the bloated body contracts, the ripening flesh regains its firmness, the chest begins to rise and fall, the eye lashes flutter. He sits up, swings his legs off the rocky ledge on which he was so recently lain, and struggles to walk towards the light where he hears someone calling his name. He is like a mummy, wrapped in sheets of linen that have loosened as his body swelled in the first stages of decomposition. He shuffles out of the tomb. But he is not a mummy, or a zombie. He has had the breath of life spoken back into him and he has returned fully to life, resurrected.
Act IV: Scene One
God tells the prophet from days gone by that the people he has seen resurrected are the prophet's people, living in exile. Their nation has been hacked and burned to death and dismembered. And God promised them resurrection, national resurrection:
And I will put my spirit within you all and you all shall live, and I will place you all on your own soil; then you all shall know that I, the Holy One of Old, have spoken and have done this," says God-Whose-Name-Is-Holy.
The prophet was returned through the wormhole to his captive people. Eventually his people were returned to their ancestral land. But it was a hard life. Foreign nations fell on them like hoards of B-movie zombies. Yet they survived. The resurrected nation would not die.
Act IV: Scene Two
God-in-flesh, Jesus – Yeshua in Hebrew and Aramaic – of Nazareth, tells Miryam who you know as Mary:
I am the resurrection and the life! Whoever believes in me will live, even if they die; and everyone living and believing in me will never die.
As the credits roll we who are in the audience have to come to terms with what we have seen just as we have to come to terms with these lessons from the scriptures. Over and over again God reveals Godself to be the God of life and light, even when God's people are dwelling and dying in darkness. Ezekiel had lived through the worst horror to plague his people since the days of Egyptian slavery, a horror that traumatized his people for more than four hundred years.
The destruction of the temple by Nebuchadnezzar was theologically incomprehensible. Nebuchadnezzar's assault was as unimaginable as – not the events that we remember from September 11th, for the towers had been struck previously – but rather as unimaginable as the assault on Pearl Harbor, and, as incomprehensible as the bombs we dropped on Hiroshima and Nagasaki and as unfathomable as was Japan's ultimate surrender to her own citizens.
There was a time when no one could enter the most holy space in the temple except the high priest, and then only once a year. Tradition says that he wore bells so that people would know if he was able to survive in the presence of God and, that he had a rope around him so that if he dropped dead from proximity to the holiness of God, his mortal remains could be pulled out for burial.
And yet, Nebuchadnezzar's troops not only entered the most holy place, they butchered it with battle axes, hatchets and hammers, chopping it to bits, burning everything that would burn, melting down the gold and silver and bronze for the Babylonian treasury. And they took a few choice vessels, used to worship the God of Israel back to Babylon for the king and his court to toy with.
And there was not even a puff of smoke. There was no strike of holy lightening; no burst of fire from heaven, no hailstones, plagues of Egypt, earthquake or sinkhole; the earth did not swallow them whole. Nothing happened. It was almost as if the temple was empty.
It must have seemed like the stories of Miriam and Moses and the promises God made to their descendents either never happened or were null and void. It may have seemed like the stories of Exodus were irrelevant fairy tales. Imagine, if you can, what it would have been like if the assault on and collapse of the Twin Towers was followed by an assault on and collapse of our government, defeat of our military and forced exile of our citizens: no homes, no jobs, no healthcare, parents separated from children, dead bodies heaped in the streets, everyone subject to robbery, rape – if not murder – on the way to incarceration in an over populated refugee camp with out any social services.
Some will not have to imagine Native persons herded onto reservations, Japanese American citizens interned in camps, South Africans banned to Bantustans, European Jews crowded into European ghettos, American Blacks crowded into inner city ghettos, political dissidents sentenced to gulags and reeducation camps.
We may not be internationally displaced persons struggling for clean drinking water, firewood and food, and while some of us may be fearful of physical or sexual assault or murder, those atrocities do not shape our daily lives in most cases. But many of our sisters and brothers around the world and in our own country are desperately hungry, homeless or facing the loss of their homes, unemployed, underemployed, lacking sufficient or any health care and subject to private and public explosions of violence. To all of these, God offers the vision of a resurrected society in Ezekiel. Not only is the society resurrected but so are all the people who make it what it is. There are all there, restored from the confusing jumble of death. It does not matter how or where their bones were scattered, piled up, decayed, dissolved or even cremated, God sorts them out.
And to those devastated by the loss of a dear one, Jesus comes to us in our grief, walks with us, mourns with us, weeps with us and promises us resurrected life in the community of the redeemed. But unlike the movies in which the main characters seem to escape death at every turn, we may die, we will die, and even if and when we die, not even death has the power to separate us from the life-giving Spirit of God. We go to our deaths knowing that Jesus has gone before us, accompanies us and waits for us to transform our dying into living.
The life that the God of Ezekiel and Jesus grants us is individual and corporate life; no national or personal tragedy can destroy us. Where ever we are, no matter how we got there, God will find us and bring us home. The Judeans in the Babylonian internment camp did not believe that God could or would leave the temple, not even to see about them. Ezekiel's crazy visions and even crazier antics – he will go so far as to use poop to make a prophetic point in the sequel – all demonstrate that the people claimed by God will never be abandoned by God, no matter what happens to their national structures and monuments.
And even when it seems like it is too late – and Jesus was four days late to the funeral – the universal laws of earth and heaven can be swept away that we might live again. The life that God calls us to is this life and the life beyond this one. Lazarus was raised and restored to his human life, for a while. The same folk who sought to kill Jesus turned their attention to Lazarus and planned to kill him too. The gospel doesn't tell us if they succeeded because it doesn't matter. Lazarus' resurrection in this life was a promise of our resurrection in the next.
Fade to black.
All Saint's Episcopal Church, Kapaa HI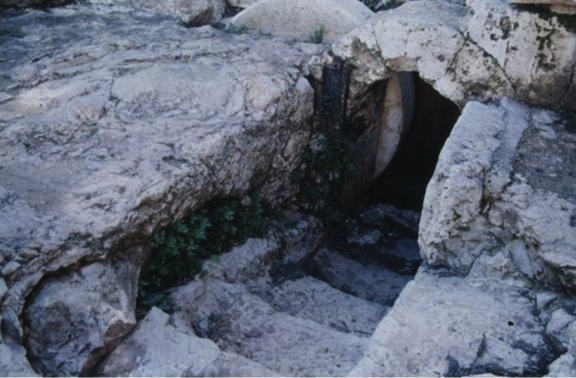 ---