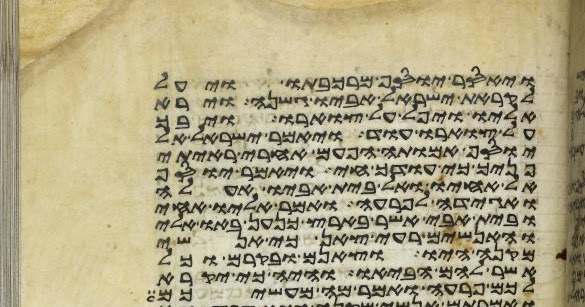 Image: The Samaritan Torah
Today's lessons offer the perfect paradox for interpreters of scripture, Deut 4:2 You must neither add anything to what I command you nor take away anything from it… The Samaritan Jews take this torah literally—do not add anything to the canon. So their bible, the Samaritan Pentateuch ends with Deuteronomy. There are no Prophets; there are no Writings. This is only one of the issues at stake when Jesus talked to the Samarian woman at the well in Sunday's gospel. There are also significant differences between the two Torahs which she likely knew. When she said we worship on this mountain, meaning Mt. Gerizim, she was referring to the site of the Samaritan temple. And the temple was on that site because Deut 27:4 identifies Gerizim as the place where the Israelites built their first alter upon entering Canaan. That's what it says in the Samaritan Pentateuch. In the Judean Torah that we share, it says Mt. Ebal. And history and scholarship have born out that the minority tradition, the Samaritan tradition, is right.
You must neither add anything to what I command you nor take away anything from it… The paradox inherent in this text is revealed in the continuing development, canonization and interpretation of the scriptures by other communities of its adherents: the Prophets, the Hebrew Writings, the Greek Writings, and then Christians got our hands on it.
You must neither add anything to what I command you nor take away anything from it… Each addition seems to have had its own prohibition on revision. It is the final word.
The Judean Jews added Proverbs (30:6): Do not add to God's words, or else God will rebuke you, and you will be found a liar. Then the Hellenistic Jews based in Africa added Sirach (42:21): God has set in order the splendors of God's wisdom…Nothing can be added or taken away. Next, the Christians added Matthew (5:18): until heaven and earth pass away, not one letter, not one stroke of a letter, will pass from the law until all is accomplished.
The Babylonian Talmud (B. Meg. 14a) explains that Israel had 180 prophets who neither took anything away from the Torah nor added anything to it but for the reading of the Megillah, the book of Esther, on Purim. At some point that gemara was revised to "forty-eight male and seven female prophets."
This wonderful tweet popped up just in time for this sermon: Him (@skrongmeat_): 2000 years n god still ain't dropped the Bible 2 yet. Her (Yasmin Yonis): Aslaama Alakum. It's the Quran shawty.
We could go further and cite the scriptures of the Baha'i. Truly there is no end to scripturalizing. So what have we learned? Scripture is flexible and expansive, and that scares folk who try to fix its boundaries at the place of their comfort. And so it would appear that each generation cries out, "This far and no further! Don't change anything else, but keep the changes we made."
Speaking of changing the text, the lectionary has cut out that nasty bit in Deuteronomy about Baal Peor that became the pretext for genocide and mass abductions, rapes and forced pregnancies.
The lectionary wants us to read these texts a-contextually. But I am a biblical scholar and this is a divinity school. We know that a text without a context is a pretext. So let's do better in our reading, teaching and preaching. Let's not skip over the ugly stuff, because there's plenty of ugly stuff in our world that can no longer be ignored in the two-thirds world and ghettos and barrios of the imperializing world. The complex contexts of the Israelite scriptures might just be the hermeneutical key we need to proclaim a relevant and living word in or complicated context.
Deuteronomy is addressed to Israel, Israel-in-the-wilderness Israel. Who are we when we read this text? Are we Israel? We have a theological claim to being in the family, but should we just read from the perspective of Israel without reflection? (As we do, far too often.) By we here, I mean Christians. The answer may vary depending on what type of Christian we are. For example, in Deut 4:1 this Israel "will occupy the land." How do you read that if your people are living under occupation or are a dispersed person? Are you Israel then? How do we as American Christians read this text? We are, all of us on occupied land. Some of us played no part in the theft of that land and were stolen ourselves. Some distance themselves from the actions of their ancestors, other identify fully with the tortured legacy of ours. Are we Israel? Should we be reading from their perspective?
I would like to suggest that the key to understanding this passage is the word "live," as in "so that you may live," and then "occupy" and "land" as in "so that you may live and occupy the land."
The text is presented as a recipe, formula or perhaps incantation for how to succeed in the promised land. And it is, but it is a retrospective, composed after the monarchy had failed and lost the land that nine of those tribes had occupied to the Assyrians, edited into final form after Babylon had seized the rest. It is a tragic retrospective: If only we had…
There is classical Deuteronomistic theology underlying this text. Israel lost their land because they were disobedient. It was their fault for failing to obey God sufficiently, not because Assyria and Babylon and Persia were bigger or stronger, not because what empires do is gobble up smaller nations as Israel had done when they got the chance.
So who are we in that formulation? Do we as Americans, as Christians identify with Israel in this text, no matter our theology of adoption? What is our "land" in this paradigm? How is this text available to us giving its originating context and content are long past?
Christian exegesis has tended to focus on the import on teaching God's commandments called for by the passage without necessarily addressing the "why" and "wherefore" of the text.
This is the context of "For what other great nation has a god so near to it as the Holy One our God is whenever we call on God?"
We have a claim on this God as our God just as we have a claim on this text as our scripture. How do we read this passage in its context and our own with all that we are as American Christians?
If we are to read ourselves as Israel then perhaps we are the Israel that composed, edited and canonized these texts: a failed would-be empire rewriting its history. This text is also also a message from the past to a people returning to their homeland with their complicated history of prayer and promise, conquest and colonization, immigration and infiltration, deliverance and deportation, rescue and return. If their descendants will truly follow these commands, just maybe they will re-create the society their ancestors dreamed of and articulated in the cultural and religious idiom of this text.
And we, with our empire tottering and no place for us to return, what shall we do? We have inherited these commandments with all of their baggage and ours. We must wrestle with them for they are enduring.
Jesus, himself a bar mitzvah, a son of these commandments promised:
Matt 5:17-18 Do not think that I have come to abolish the law or the prophets; I have come not to abolish but to fulfill. For truly I tell you, until heaven and earth pass away, not one letter, not one stroke of a letter, will pass from the law until all is accomplished.
As we wrestle with these texts to live into their vision of a just and ethical community articulated in Iron Age idiom, we may just find that the God they disclose is indeed: a god so near as the Holy One our God is whenever we call to her. Amen.
---
You know you want it. You're so thirsty. It's all you can think about. You're just thirsty.
Some may know that the word thirst denotes much more than longing for water. It speaks of a deep craving, one might even say a carnal craving.
Thirst is a primeval biological imperative. Thirst is a reminder that your life is fragile. Neglecting your thirst can have dangerous, even deadly consequences. Satisfying your thirst will save your life. Maybe not in that moment but it provides your body what it needs to keep accelerated death processes at bay—I say accelerated because we are all actively dying, and on the way to our journey's end, which is not the end.
Thirst is an equalizer on the scale of death. All humans, all animals, all plants, thirst. All forms of life that we know thirst for something that will sustain such life as they possess. All of us will die if we do not quench our thirst. Thirst is more lethal than hunger. A person can survive much longer without food than without liquids.
But not all liquids are created equal. While some swear by Gatorade and others like a Red Bull now and then, (and Ty is having a long-term relationship with Diet Coke), and others keep a personal flask at hand so they're never without their drink of choice, there is nothing on, above or below the face of the earth like water.
We are made of water. Some of us were recently reminded with ashes that from the dust we have come and to the dust we shall return. Some were reminded with glitter that we are star stuff. Dust and ashes, starlight and glitter, yet we are still more water than any of these.
We came from the water. We were enwombed in water. We were born in blood and water. We are water born.
Our ancestral story in Genesis tells us we were crafted from soil that was formed when the sea waters were called to assemble leaving dry land exposed. Science tells us all life evolved from the waters of the seas.
When we thirst we crave that which we are.
In this day and age, it is so easy for most of us to satisfy our thirst. Potable water is all around us, brought to our homes and jobs and schools and sanctuaries and any other place we might find ourselves, including fountains outdoors with bowls for our fur friends and family.
But we don't have to drink that water. We can buy water we think tastes more like what water should taste like. We can buy flavored water and vitamin water and carbonated water.
For most of us that is true. But it has been 1044 days since [21 April 2014] the government of Michigan poisoned their people in Flint, and they still do not all have clean water to drink. The water protectors of the Lakota peoples are trying to protect the waters that feed not only their homes, but sustain the life of the world – waters that are in danger because the North Dakota Access Pipeline was routed away from the suburbs out of fear of what an oil spill might do to their land and water supply, and rerouted towards what remains of native land under native control because they and their children are expendable and oil is more valuable than water to some folk.
But you can't drink oil. Our treatment of this planet may well result in all of us being thirsty with an unquenchable thirst particularly without a functional Environmental Protection Agency in this country under the current regime.
Thirst is maddening. Thirst makes people desperate. Out of desperation, sailors stranded at sea without fresh water drink salt water knowing it could cause their deaths, but they cannot resist the thirst. Migrants crossing into this country looking for a better life sometimes lose their lives to thirst, or violent quarrels over what ever liquids they have, some even consuming their own bodies' wastewater. And while decent folk leave water for these desperate souls out in the desert, against the law, border agents seize and pour it out into the dirt. Life giving water, sinking back into the earth from which it has come without ever nourishing or saving a life.
Today we have the story of another group of migrants. They had just started out on their trek. In the previous chapter they had had some kind of feast, chicken of the desert and biscuits from heaven. But roasted quail can be salty and bread—even if it did fall from heaven—can be dry. The people were thirsty.
And Moses didn't have any water to give to them. He was their leader. Or was he?
Miriam and Moses, his sister-prophet were on this journey with their people. They were all in this together. A common basic humanity unites pastor and people the same way mortality unites shepherd and sheep. Moses and Miriam—whom our text neglects—were leading the people, but their leadership looked more like followship. They were following God and trusting her to provide for her people. According to Jewish tradition, God provided water through Miriam, she always knew where to find it because it was God's gift to her people through her.
But in this story, Miriam is silent and her well is missing. Perhaps one lesson of this story is when women are written out, counted out, put out and kept out, communities, congregations, societies, nations and the world suffer a loss that will lead to their demise. We cannot survive without the gifts of women any more than we can live without water. All of the hierarchical and patriarchal organizations, institutions and structures that keep women out of power, and try to keep us in an imaginary place are built on women's unacknowledged labor, intellect, and our money without which they could not survive.
Moses became what he was because his mother Yocheved made her own reproductive choices, saved his life from a state that had a cradle to grave pipeline with the help of a community of women: the midwives Shiphrah and Puah who organized the resistance, his sister Miriam who shepherded him before he became a shepherd, and his wife Zipporah who stood in the face of God and snatched his life back from the gates of death. Oh, if it weren't for the women… Now those women and their children are thirsty and the people are looking to him to do what Miriam did. But he didn't have Miram's gifts.
Moses hadn't been in the God game long but he had some experiences with and of God. He knew what he had seen, a bush that burned and was not consumed, staffs turning to serpents and eating other serpents that had been staffs, plagues of blood and boils, frogs and flies, and death, dust and disease. He had seen the seas crack open and the dry land appear; he had walked on that land from slavery to freedom behind Miriam who led the way. And right now he was looking at a pillar of cloud guiding his way. He knew what he had heard: I am that I am and I will be what I will be. I am with you. And he knew what he believed: God was able to deliver her people. He believed God would lead her people to safety, he believed God would provide food for her children—out of thin air if necessary, because she had just done so, and Moses believed God would provide water in the desert.
The essence of Moses's leadership was trust that God was who she said she was and that she could and would do what she said she would do. Moses spoke for God because he had been speaking with God; he spoke from a position of deep trust and intimacy.
That intimacy was not limited to Moses. The writers and editors of the scriptures saw hierarchy in everything and crafted portrayals of God that fit their understanding. But the God I know does not love the one whose name is called more than the one whose name is forgotten. The intimacy of God and Moses was special but God's love is abundant, inexhaustible, ever-present and free to all without precondition.
That love broke out into water in the desert then the people needed it. The people came to Moses who was for them the visible presence of the invisible God. Unlike the pillar of fire and cloud, they could talk to him and get an answer they could comprehend. They poured on him all their fears and anxieties: What if we die out here? What if our children die out here? What if we have to watch our children die out here? What if God isn't able to save us, keep us, deliver, us? What if God can't do or won't do what she said she would do?
They turned to Moses because they had not yet learned to turn to God for themselves. They knew that Moses met God on a mountain one day and was changed forever. And until the people had their own moment of change they looked to him to mediate between them and God. But I'm so glad this morning, that I don't have to rely on anyone, woman or man, prophet or pastor to speak to God for me.
Moses turned to God, the God of creation, the God of Exodus, the God of Sinai, his mama's God, his wife's God and his God. And God said: I will be there with you. I will go before you and stand before you so that whatever you face, you will not face it alone. I won't say that you'll never be hungry or thirsty, but I will provide what you need through you or someone else, and it falls to you to share what I provide with those in need.
Moses struck the rock as he had been told and there was water, the source of life, pouring forth from the rock. But Moses didn't keep that water for himself. He didn't charge the people for access. He didn't check their papers to see if they were Israelites or some of the other folk who left Egypt with them. He didn't build a wall around God's life-giving water. He didn't dump chemicals into God's fountain.
Moses let God use him and the resources he had—the riches of his relationship with God and the staff that God had given him—he gave it all back to God and someone else who had a need got their need met. There was water for everyone. Moses was the only one with a special staff but he offered it up, not knowing if it would be smashed on the rock and he would lose it forever. He gave his gifts back to God and the power of God was revealed, one more time.
The stories of Miriam and Moses are set in a time of mystery, magic and miracles. That was the vocabulary of God's providence and power for teh biblical authors and editors. Your vocabulary may rely less on mystery, magic and miracles, but the God of this text and God beyond the text won't be confined to the realm of logic and reasoning.
There is a power in the world that brings the dead to life and breaks out into fountains in the wilderness. There is a power in the world that makes a way out of no way and provides for the immigrant and the refugee and even the felon. Or did you forget that Moses caught a case and was wanted for homicide?
What are you thirsty for today? What will you do to quench your thirst? What gifts will you bring to help someone else quench their thirst? And where will you go once you realize there are some thirsts water cannot quench?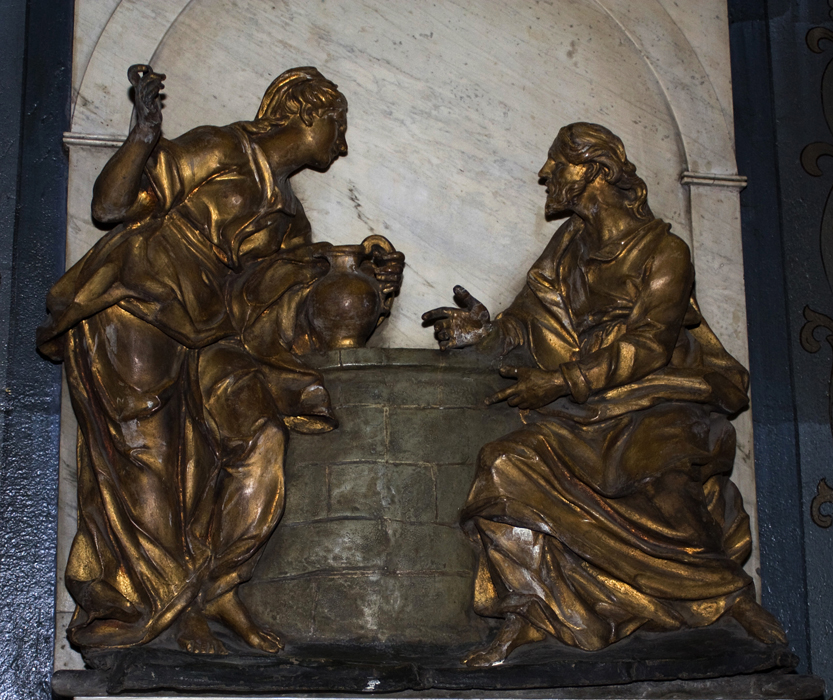 In the gospel that will be read in many churches today, Jesus meets a woman at a well where water is freely available. Some folk at that well spend their time passing judgment on other folk who are drinking from the same well as they are. And Jesus shows up. Jesus shows up in the place where private lives become public fodder and stories of betrayal and broken hearts come bubbling up like water from the rock. Jesus is there in the place where people have different understandings of God and scripture, welcoming all. Jesus is there in the place where those who have been stigmatized and isolated because of who they loved and how they loved, thirst.
And to them and to us, Jesus offers water from a well that will never run dry, water that nurtures and sustains our life in this world and the next. Miriam's well passed from this world when she did. Moses and his staff are long gone. He who was born in water and blood from the womb of Miriam of Nazareth, offers us the waters of life that we might live and love, fully and freely. Amen.
[For a special treat, stay through the consecration elements and hear my dear heart-brother, Rev. Robert Griffin's beautiful chant starting at 23:48.]
---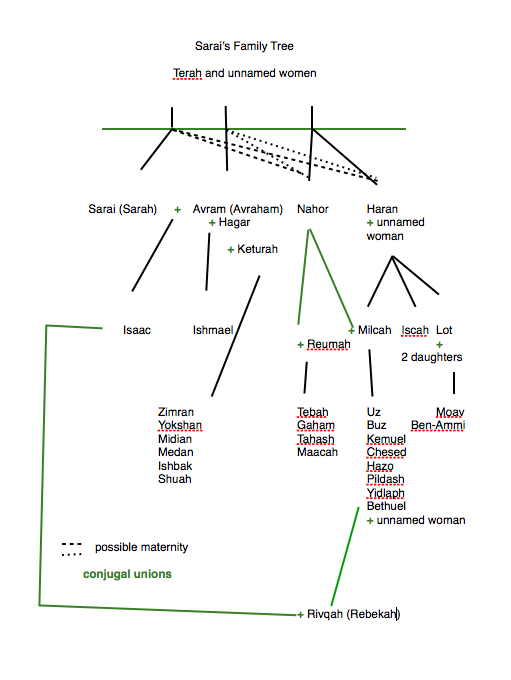 Gen 12:1 Now the Holy One said to Avram, "Get-you-gone from your country and your kindred and your father's house to the land that I will show you. 2 I will make of you a great nation, and I will bless you, and make your name great. Now, be a blessing! 3 I will bless those who bless you, and the one who curses you I will curse; and they shall be blessed in you, all the families of the earth." 4 So Avram went, as the Holy One had told him; and Lot went with him. Avram was seventy-five years old in his exodus from Haran. (Translation, Wil Gafney)
Let us pray:
May my teaching pour like the rain, my word go forth like the dew; like rains on grass, like showers on new growth. Amen.
I am deeply appreciative of the opportunity to share my teaching with you this weekend, and my preaching today, thinking about how to decenter whiteness, patriarchy and heteronormativity from biblical interpretation. And as a joke or perhaps as a challenge, you have invited me on a day in which the lectionary begins the story Abraham who will become the patriarch without peer, with patriarchy itself portrayed as God's gift and blessing. And as much as I like the hashtags #smashtheatriarchy and #burnitalldown, peeling back layers of patriarchy and heteronormativity from the biblical text requires a somewhat softer touch if one seeks to preserve and peruse the text for a living word.
I could just preach from another text. For rejecting the constraints of the lectionary with its own patriarchal and androcentric agenda is most certainly a legitimate strategy to decenter that which has taken up entirely too much space in the biblical imagination and those of its interpreters. Even so I believe that any text, including the very epitome of a patriarchal text, can be preached as a relevant living word free from those encumbrances that keep us from living fully into God's image and creation of us.
And still, patriarchy, androcentrism, misogyny, heterosexism, xenophobia and whiteness are hard to disentangle from the biblical text and its interpretation. They are sticky and clingy. Yet I believe that if we wrestle with this text we will find a living word from these sacred but troubling stories, one that is as true for Hagar, Sarah, Keturah and Lot's daughters as it is for Abraham and Lot.
Wrestling a life-giving word out patriarchal and heteronormative constraints in the text and whiteness spackled on in interpretation of it is a labor of love and a life giving and saving enterprise. All too often the text confronts me with a god I recognize but do not serve, love or even want to know. There are texts of terror in both testaments. There are rapes and rape-based metaphors, slavery and slave-based imagery, canonized and sanctified, even placed on the lips of God, incorporeal and incarnate in the person of Jesus. And, as we who studied together yesterday have seen, the text is then often whitewashed in interpretation, particularly cultural, iconic and artistic interpretation, with no better image of whiteness sanctified than the idol that is white jesus.
The God who dwelt among us as mortal-immortal human yet divine Afro-Asiatic Palestinian Jew is present in a biblical text that is itself both human and divine, intricately interwoven. God is in the text and God is behind the text and beyond the text, in the characters the authors and editors hold up for us, and in the ones they neglect and turn away from, in the Canaanites and Moabites, in the trafficked and enslaved, in the women and the children, in the gentiles and foreigners, in the conquered and the subjugated.
[I am a black woman who knows she is made in the image of God and sees the divine in myself and my people, and in all of the other despised peoples of the earth. I see the holy and living God in the faces of neighbors and strangers, transgender and non-binary, genderqueer and cisgender, same gender loving and bisexual, heterosexual, coupled, parenting or child free, every shade of black, brown, beige, tan, pink, peach and cream.]
In these stories about Abraham and Lot, the psalmist and her God, Jesus, Nicodemus, and the Mother of All from whom we must be born again, I see the God of my ancestors, the God of my faith, the God of my experience and the God of Jesus, the Son of Woman. I find her in these texts when I sit with the characters on the margins, those who have been cut out of the lectionary, and those whose names have been erased from the scriptures.
The lectionary has cut our first lesson off before Sarai can be named, perhaps because in the very next verse, Avram takes Sarai and Lot along with his possessions, as though they too were also possessions along with the "goods" he acquired in Haran. Or maybe the verse is excluded because it spells out—more clearly in Hebrew than in English—that those possessions are all the persons he has "acquired"—not people and possessions, but people as possessions. Abraham's patriarchy is rooted and grounded in slavery, sanctified in the text and by the god of this text. Abraham's house will become great in number, in part, because of the fecundity of his slaves, some of whom he will undoubtedly impregnate himself. Because that is how slavery works and we ought not pretend that biblical slavery was some holy beneficent enterprise.
So then, is this story useful for anything other than asserting a divine claim for patriarchy? Is there a living word here? Is there a blessing to be had that is not nationalistic or steeped in patriarchy? Responsible biblical interpretation has always called for more than simply attempting to imitate an ancient text in our contemporary context. For example, most ancient and contemporary readers understood that incestuous sibling marriage was something best left behind in this text. While on the other hand, the founding fathers and their slaveholding cronies wanted to hold onto the patriarchal promise of wealth to Abraham that explicitly included slaves. Most folk have since let that go, but not all. What then is left in the promise if we let go of the patriarchy, androcentrism, misogyny, and heterosexism in the story, and the whiteness that is so often spackled onto it? A paradigm for leaving behind the things we need to let go.
In the text, the Living Loving God says: Get-you-gone from your country and your kindred and your father's house…" Abraham has made his journey. His story and the story of his descendants and their nation-building have been told. Today let us focus on Abram's personal exodus from the household of his father and what that may have signified for his family, those present in and those absent from the text, and what that might just mean for us.
Get-you-gone from your country and your kindred and your father's house…"
Abraham's father's house was rife with incest, but far too many preachers hesitate to use the word—even when acknowledging that Sarah and Abraham have the same father. Abraham and Sarah may well have been products of incest themselves, so common was it in their father's house. Their mothers are unidentified so we cannot know. What we can know is that Abraham's brother Nahor had children with his niece Milcah, the daughter of their brother Haran. [Abraham, and his brothers Nahor and Haran shared both parents.] Bethuel, Laban and Rebekah would come from that line descended from Milcah and her uncle.
Though Abraham eventually leaves his father's house, some of his father's values stay with him; he insists his son Isaac must marry a woman who is also their relative. In a later story Lot will father children with his daughters. The text will blame the daughters but a womanist reading of the text interprets it through the experiences of victims of sexual abuse who are blamed for their victimization and often charged with seducing the men, sometimes their own fathers, who rape them. Lot left the house of his grandfather, but he didn't go far enough.
Get-you-gone from your country and your kindred and your father's house…"
The house of Abraham's father represents all of the social and sexual dysfunction that would keep Abraham and his parents and partners and their kith and kin, descendants and dependents from living and loving freely and fully. It will take Abraham a while to put the sexual ethics his father's house behind him, if he ever does. Abraham's family's sexual ethics were rooted in patriarchy. Patriarchy resides in his father's house, though it was not conceived there. Motivated by fear but made feasible by patriarchal reasoning, twice or once in two different tellings, Abraham sells Sarah to a foreign king for his sexual use—including in this chapter—and it takes an act of God to get her back. At some point after leaving his father's house, Abrahams marries again, Keturah, a woman of his own choosing, a woman who is not from his father's house. I would like to think that union marks a new beginning for him, a step towards the promise and blessing.
Sarah too is a product of patriarchy and women can and do subjugate other women and sometimes men under patriarchy's dominion. Sarah employs the lessons she learned in her father's house against Hagar and, to some degree, against Abraham. Sarah will seize the body of a girl she considers her property and subject her to physical and sexual violence and a forced pregnancy while turning the tables on the husband who sold her for sheep, camels, donkeys and human chattel. Later, her abuse of Hagar will be so violent, so oppressive, that it is described with the same word that Exodus uses to describe Egyptian oppression and affliction of the Israelites, a word that includes rape as one of its primary meanings.
Sarah and Abraham are not the only folk who have needed to leave home to become fully who they were called to be. Sarah and Abraham are not the only folk who have had to leave ancestral and familial teachings about sexuality and gender behind. If we take this lesson to heart we too will leave ignorant, willfully ignorant, and harmful sexual ethics and practices behind. We don't preach polygamy or incestuous sibling marriages as normative simply because they are in the text. There is no reason to preach ancient Israel's ignorance about human sexuality, orientation, gender construction or performance as normative either. We can begin to talk about blessing all of the peoples of the earth when we understand them to be equally blessed without regard to gender or its performance and no person is forced into a union against their will.
This text also teaches us it may take some time to be able to leave the house of patriarchy and all that comes with it behind. The passage states: Abram was seventy-five years old in his exodus… The text describes Abraham's departure from his father's house as his exodus, using the same word that will describe the Israelite's liberation for Egypt. Based on Isaac's birth narrative where she is ninety and Abraham is one hundred we can also say Sarah was sixty-five in her exodus from her father's house.]
In our lesson, God does not call Abraham to leave the house of his father until he is seventy-five and Sarah is sixty-five. In our world, some folk spend their entire lifetimes trying to figure out how to leave the hopes and hurts, dreams and schemes of our past behind so we can live into who we are called to be. A person can spend a lifetime putting abuse and trauma behind her, unlearning destructive patterns, responses and behaviors, and relearning how to live and love as a whole and healthy person. Life lessons take a lifetime to accrue and Abraham needed seventy-five years before he could draw on that account. However since Abraham lived to be one hundred and seventy-five according to the story, he had another hundred years, an entire lifetime to live into his fullest self, apply the lessons he learned, make mistakes along the way and try again. Perhaps one lesson we are to learn from the length of Abraham's days is you're never too old to leave behind that which will not bless you.
Get-you-gone from your country and your kindred and your father's house…"
Who is your father that needs to be left behind? Maybe it's the whole patriarchal system and not your dad. Maybe it's some of the things your dad says that were passed down from his dad. Whose house are you leaving and what are you leaving behind? While you're making your list, I've got a few suggestions for you:
Leave patriarchal interpretations of the scriptures behind in the house of patriarchy. Maybe leave the androcentic lectionary behind as well along with the idea that adding a few more stories about women is good enough. Leave heterosexist biblical interpretation behind in that father's house. Leave the sanctification of whiteness and refusal to examine its privileges behind in that house. Leave any theology or biblical interpretation that does not lead to the full humanity, liberation and just treatment of any human person behind. Leave biblical literacy behind. Leave willful ignorance of the complexity of scripture behind. Leave predatory preachers behind. Leave kindergarten theology behind if you're not a child. Leave using the name of God to harm God's children behind. Leave those things that don't lead to life, health, wholeness and justice behind and don't look back.
And you will be blessed, and your name will be blessed and all of the families of the earth will be blessed.
Bring us out of the houses that imprison us, that we may leave behind those things that will hinder us, that all peoples may be blessed in your name. Amen.
---