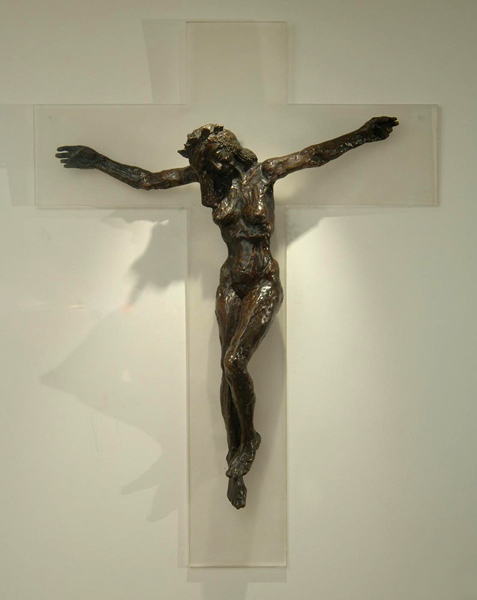 Image credit:  Christa by Edwina Sandys
Let us pray:
God of our mothers, Hagar, Sarah and Keturah, fold us under the shelter of your wings with all your children of every race and every faith. Amen.
Jerusalem, Jerusalem, the city that kills the prophets and stones those who are sent to it! How often have I desired to gather your children together as a hen gathers her brood under her wings, and you were not willing!
Jesus was doing the kind of preaching that few women or men do today, the kind of preaching that will get you killed. When some Pharisees come to warn Jesus that Herod is going to kill him he has to take it seriously. Herod is from a family where murder is a causal pastime. His father Herod the Great had murdered three of his sons, one of his wives and one of his mothers-in-law along with former friends and servants, and according to Matthew's Gospel, he tried to kill Jesus before he was out of the cradle. (But Luke doesn't seem to know that tradition.) Some folk believe the Pharisees were setting Jesus up, trying to get him to stop preaching and leave town with a fictitious threat. Others believe that the threat was deadly earnest because Herod was his father's son and every bit as lethal.
However he understood the threat, Jesus looked at them and said, "Bring it!" Jesus told them to tell Herod he would be right there in Jerusalem whenever he was ready. Jesus knew that death was the likely, if not inevitable outcome of his ministry and he was ready. Even though he would have a reality check in the garden – no one wants to be brutalized, tortured, humiliated and executed, especially in front of their mama – Jesus would not back down; he would not run scared. As the Gospel of Luke presents the story, Jesus came to Jerusalem to die.
Jerusalem, the city of peace – Ir Shalom – never seems to have lived into its name, except perhaps for a few glorious golden years during the reigns of David and Solomon. The people of Jerusalem were Jerusalemites long before they were Israelites – in truth some of them never became Israelites. They were Canaanites. Thirty-five hundred years before the time of Jesus, more than fifty-five hundred years before our time, the people of what we now call Jerusalem were striking fear in the heart of Egypt. Then they were conquered by a Canaanite people the bible calls Jebusites. And David conquered them. David brought some measure of peace to Jerusalem before he died, but it was a bloody peace. He passed that fragile peace to Solomon under whom it withered and died from internal strife. Almost six hundred years before Jesus the Babylonians ravaged Jerusalem, the Persians liberated Jerusalem from the Babylonians but did not free it. They were followed by the Greeks and the Romans and alternating Christian and Muslim empires, then the Ottoman Turks and the British. Each wave of occupation was brutal. Jerusalem has long been acquainted with death. But that wasn't the death Jesus spoke of in response to the warning about Herod.
Jesus spoke of the death of prophets like himself. Women and men who stood up to power. Jesus wasn't willing to die because he was the son of God. He was willing to die because he was the kind of man who stood with the poor and oppressed peoples of earth against the demonic corrupting power of empire. Jesus preached in the lineage of prophets like Amos and Micah who stood with the poor and Noadiah who stood against Nehemiah who aligned himself with the Persian Empire. They didn't stand up because they were immortal. They stood up because they were moral.
Prophesying in Jerusalem could be dangerous because Jerusalem was a wealthy religious city. Wealth is not intrinsically evil but it can be seductive and corrupting as is the privilege it engenders. Jerusalem is where the monarchy and priesthood organized and institutionalized religion, leaving the prophets largely outside of the formal structure. For the Israelites Jerusalem was the only city that mattered, and theirs the only God or at least the only one that mattered. Preaching against empire, those who designed and implemented it and those who benefitted from it is dangerous, as is me preaching against the current manifestations of empire, white supremacy, wealth and privilege built on the backs of enslaved and exploited black and brown peoples. I don't believe my fellow Episcopalians are likely to kill me but I know Episcopalians like other Christians have been on the wrong side of slavery and civil and human rights as well as on the right side.
Jesus knew that prophet could be a terminal occupation because prophet is also a religious vocation. Prophets don't just have to worry about those who hold political power. Prophets have to contend with those who hold religious authority and are every bit as lethal. This congregation isn't going to rise up and stone me if they don't like my preaching but baptized and communing Christians are responsible for the Crusades and slave trade, the Holocaust, burning and bombing of churches, lynching, and now, the murderous martyrdom of black Christians in church at bible study and demonization of Muslims and Mexicans, some of whom have also been murdered. There is an ugly side to religion, including ours. Sometimes religious folk, Christian folk, are willing to kill or to die to prove a theological point. Jerusalem had a reputation for being the place where folk killed prophets they didn't want to hear from.
The tradition of murdered prophets, particularly in Jerusalem was an old one by the time of Jesus. The author of Luke is seemingly obsessed by those murders; he mentions them four times including in Acts. The most outrageous murder of a prophet was that of the Zechariah ben Jehoida who was stoned at the king's (Joash) command on the holy ground of the temple, (2 Chr 24:20-22). Two hundred years later Jeremiah tells of the prophet Uriah ben Shenaiah who preached the same things that Jeremiah did and was executed by another king, (Jehoiakim in Jer 29:20). The outrage that someone would kill a messenger of God, reject the word of God with lethal violence was so strong that stories of the murdered prophets found their way into the Quran.
God says in surah 5:70: Certainly We made a covenant with the children of Israel and We sent to them apostles; whenever there came to them an apostle with what that their souls did not desire, some did they call liars and some they slew.
And in surah 2:87: And most certainly We gave Musa (Moses) the [Torah] Book and We sent apostles after him one after another; and We gave Isa (Jesus), the son of Marium (Mary), clear arguments and strengthened him with the Holy Spirit. And, what, whenever then an apostle came to you with that which your souls did not desire, you were insolent so you called some liars and some you slew.
Jesus didn't turn from Jerusalem, the place where prophets are killed. He went to Jerusalem. He went to Jerusalem because he loved Jerusalem. He loved Jerusalem at the cost of his life. We too are Jerusalem. We may not have a reputation for killing priests, pastors or prophets but we break the heart of God every bit as much. And Jesus loved and loves us too, even at the cost of his life.
Love is at the heart of this lesson. Jesus opening his arms wide and sweeping us up and into his embrace. In choosing for himself the image of a mother hen collecting and protecting her brood Jesus gives birth to some of the most enduring imagery to shape the church's prayer language.
I suspect that St. Julian of Norwich reflected on this passage when she wrote: …Christ is our mother, brother and savior…. Our natural mother, our gracious mother, because he willed to become our mother in everything, took the ground for his work most humbly and most mildly in the maiden's womb… A mother can give her child milk to suck, but our precious mother, Jesus, can feed us with himself.
Some of us are unwilling to be mothered. And some have never been mothered at all. In the Gospel Jesus says, "How often have I desired to gather your children together as a hen gathers her brood under her wings, and you were not willing!" What does it look like to refuse to mothered by Jesus? At one level it means to accept a Jesus who troubles our notions of gender and sexuality.
An unmarried Jewish man was a scandal and a man without children was pitiable. As a Jewish man who would not have accepted the tradition of giving thanks for not being a woman, which came into Judaism from Greek philosophers as the gospels were being produced, Jesus offers a masculinity and a divinity that is neither patriarchal nor even androcentric in this text. But some want no part of that kind of Jesus; nor any kind of Jesus who doesn't agree with what they agree with or hate who they hate. For some the bible's androcentric grammar and predilection for masculinizing God has become an idol, so much so that folk would rather be unmothered by God than embrace God or Christ as our mother. Yet God is so far beyond gender that in scripture God has a womb, birthed the sea and fathered the rain – though the bible stops short of giving God male parts; no one gender can contain God. God is trans, transgressive, trans-gender, transcontinental, transnational, trans-religious. God's love transverses and encompasses all things.
Our first lesson reminds us that Abraham is the father of many peoples, many different peoples. We don't all have the same stories, memories or traditions. We don't even share the same prayers or scriptures. But we do share the same God. The one God who is known by many names. We don't all believe the same things about that God, not even in the Church, not even in the Episcopal Church. God is big enough to weather our disagreements. God is who God is whether we understand or accept someone else's understanding of God. God doesn't need us to argue or fight or prove who God is or isn't. Our job is to bear witness, by loving as God loves – which though impossible for us is still a worthy goal.
The promise of God to Abraham is not for Israel only. It is for all of Abraham's descendants. We are children of Abraham and the one God, whether Hagar, Sarah or Keturah was our foremother. The Hebrew Bible traces more peoples than I could reasonably count to Father Abraham including but not limited to the ancient Israelites and their Jewish descendants and the Ishmaelites and their Arab descendants. Those peoples have one father but many mothers; they are all our kin. Family has always been complicated. Some of us have more than one mother, some have had mothers who were fathers and fathers who were mothers. We were mothered by godmothers, grandmothers, aunties and big sisters. Their love was God's love in human form as is Jesus. I have always had trouble with the trinity but Christ as brother, mother and savior makes sense to me. This is love incarnate.
The love of God for us is so deep and wide that there are not enough words or images in any language to tell it. Lent is an opportunity for us to reflect on and rest in that love. We relinquish things that that give us pleasure that we might take more pleasure in the love of God. We let go of things that distract us from the love of God. We take on disciplines and practices that draw us more deeply into the embrace of God's wings. In the austerity of Lent it is a great comfort to find not a stern father but a loving mother. As we explore new patterns of prayer during Lent today's Gospel is an invitation to embrace God in new language and different images as open, free and boundless as is the love of God for us.
When we come to the table, we dine on love. When we come to that table we are one. Our differences don't disappear; they bear witness to our love which is not reserved just for folk who are like us. When we get up from our knees, there is a whole wide world that needs that love. Amen.
---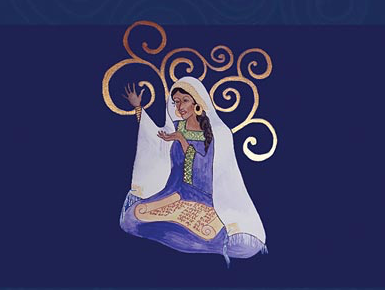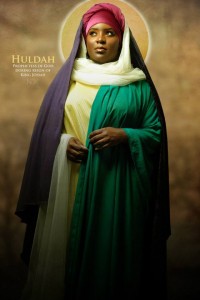 Images of the prophet Huldah by Rabbi Me'ira Iliinsky and (photo) James Lewis
A recent conversation between two leading public intellectuals has brought renewed attention to the ways in which we, pastors, preachers, academics, activists, commentators and the public at large use the lexicon of the prophetic to define our work or the work of others. In my seminary classroom I am constantly stretching my students to expand their understanding of prophets, those who prophesy prophecies, and the prophecies they prophesy, beyond the predictive. In the public square, with its emphasis on social and political commentary, the understanding needs to be stretched beyond social critic or even champion of social justice or truth-teller talking back to power (or empire).
An analysis of prophecy in ancient Israel within the scope of its closest Ancient Near Eastern (ANE) corollaries demonstrates that prophets engaged in a variety of tasks, all of which were part of their prophetic portfolio. (This list and basis for my commentary here is drawn from my own work on prophets, Daughters of Miriam, which includes overviews of Israelite and ANE prophets and prophecy.) Prophetic practices include:
(1) interceding with [God] on behalf of human beings,
(2) performing musical compositions,
(3) commanding military forces,
(4) performing miracles,
(5) appointing monarchs,
(6) advising monarchs,
(7) archiving monarchal reigns,
(8) evaluating and legitimating Torah [scripture and religious/legal rulings],
(9) making, teaching, and leading disciples,
(10) mediating human disputes,
(11) archiving prophetic utterances,
(12) constructing and guarding the temple,
(13) serving as executioner,
(14) inquiring of the Divine, and
(15) proclaiming the word of [God].
Most simply, biblical prophets were divine intermediaries, facilitating communication between God and humanity at the instigation of either party. Prophets enjoyed perhaps the ultimate authority in biblical Israel given they could "fire" a monarch and appoint a new one while the previous one was still living.
One reason there is such a limited understanding of prophets and prophecy is the relative ignorance of the broader prophetic tradition in and behind Israel's scripture. Reducing the prophetic enterprise to the men with biblical books named after them unnecessarily and inappropriately curtails the prophetic witness in limited ways. In order to know what biblical prophets do, it's helpful to know who the biblical prophets. Explicitly identified women prophets are in bold, gender inclusive categories that could mask women prophets are italicized.)
Torah: Moses, Miriam, prophesying elders, Balaam
Prophetic Books: Deborah, Anonymous (Jdges 6:7-10), Prophetic Communities (1 Sam 10:1-13, 19:18-24); Nathan; Gad; Ahijah the Shilonite; Unnamed (1 Kgs 13, 20; 2 Kgs 9:1-13; Jehu ben Hannai, Azariah ben Oded; Elijah, Micaiah ben Imlah, Zedekiah the Canaanite, Elisha, Huldah, Isaiah, mother of Isaiah's child(ren), Jeremiah, Ezekiel, Women's Prophetic Community (Ezekiel 13:17-19), Hosea, Joel, Amos, Obadiah, Jonah, Micah, Nahum, Habakkuk, Zephaniah, Haggai, Zecharaiah, Malachi (following Hebrew canon, Jewish classification in which Daniel is not a prophet)
Writings: Noadiah, Heman Family Singers (1 Chr 25:1-8), Iddo, Azariah ben Oded, Eliezer ben Dodavahu, Oded
Prophets in ancient Israel engaged in a broad range of activities. They interceded with [God] on behalf of human beings; performed musical compositions; commanded military forces; performed miracles; saw things that no one else could see; determined life expectancy; appointed monarchs; advised monarchs; archived monarchal reigns; mediated human disputes; archived prophetic utterances; validated divine proclamation; made, taught, and led disciples; constructed and guarded the temple; inquired of the divine; and proclaimed the word of [God]. The proclamation of the divine word is the dominant component of prophetic activity. The proclaimed word regularly focused on social, political, and religious matters; concern for right relations between humanity and divinity; relationships between humans; and appropriate religious practices. The receipt of the divine word was an extraordinary, extrasensory experience. Some prophets saw or envisioned the word; others experienced it intimately, literally "the word of [God] happened (hayah)" to the prophet. Some prophets experienced divine communication in more than one medium. Proclamation of the divine message was multifaceted: singing, preaching, and performing were regular modes of prophetic expression. The most common expression of prophetic utterance included the introductory formula "So says [God]." (Gafney, Daughters of Miriam, 47)
A frequent myth I regularly encounter in the public square, classroom and congregation is that all biblical prophets were male. (I've had to correct at least one public intellectual with a Ph.D. in a religious discipline on that point recently.) Others know better and may include Dorothy Day with Martin Luther King and Howard Thurman as modern day prophets. The idea that there are contemporary prophets is a contested notion. I find it more palatable and useful to think and speak in terms of prophetic work, action, ministry or service.
Attempts to translate Iron Age prophetic culture in to contemporary American, digital, social media culture regularly fail to take note of the theo-political context of Israelite and ANE prophecy: monarchy. A court prophet is not the same as presidential surrogate and a street prophet is not the same as a commentator who critiques both political parties – or for that matter a socially conscious rapper. While some may presume that (some) American presidents are or have been divinely appointed and elected and others wish for a theocracy, the religious role of the monarch in the ANE, including Israel has no corollary in our democracy (nor even in extant monarchies).
Regardless or one's religious beliefs about whether prophecy or prophets exist in the world today, the biblical lexicon does not fit in the digital age in the same way as it did in the Iron Age. That is not to say that we ought give up the language, rather to point out the futility of trying to shove square peg pundits and preachers into the round holes of biblical era prophetic roles.
Yet the image and model of the biblical and ANE prophets are available for interpretation and reinterpretation. There are I contend, warrior prophets like Deborah, scholar prophets like Huldah, poet prophets like Micah, politically savvy prophets like Nathan, but perhaps more, legions of unknown prophets whose names we shall never know. Without worrying about who is a prophet (or for that matter an apostle) or legitimate heir to a prophetic mantle, women and men are simply doing the work, crying out to and for God and God's folk.
---