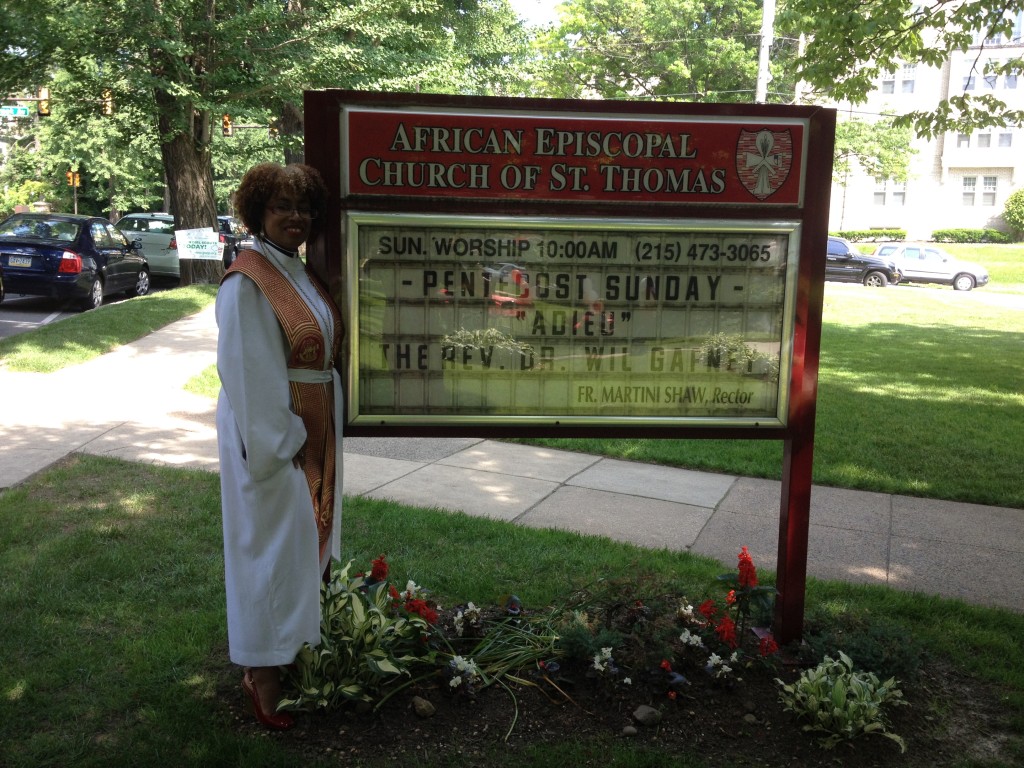 My farewell sermon at the African Episcopal Church of St. Thomas. (I decided to publish this unchanged because I believe this is a fit word for today.)
I will pour out my Spirit on all flesh,
and your daughters and your sons shall prophesy;
your young men shall see visions,
and your elder men shall dream dreams.
Even upon my slaves, women and men.
In those days I will pour out my Spirit
and they shall prophesy.
Let us pray:
My prayer is Miriam's prayer, Mother Mary's prayer – Let it be.
Let it be with your woman-servant according to your word.
With these words
the word of God was formed in the woman of God.
On this day, as on that day,
let your bat-kol, the daughter-voice of God
bring forth your word again. Amen.
Some thing old, something new. Nothing borrowed and no one is blue. It was the ancient festival of Shavuot, already 1500 years old when the Church was newly born. It was an old, old festival but this year there was something new. Shavuot, the Festival of Weeks, marks the end of the holy days that begin with Passover just as Pentecost now marks the end of Easter season. It was an old, old festival but this year there was something new.
This year things were tense. The Romans had staged a mass execution just before Passover. Yeshua ben Miryam – you know him as Jesus, Mary's Baby, was handed over to the Romans for execution by the Judean religious authorities on the eve of the OG, old school Paschal feast, casting a shadow over this joyous time. Shavuot, Pentecost, was supposed to be a time of celebration rejoicing in the fact that God had sent forth God's spirit and renewed the face of the earth. It was the sweet spot between springtime and summertime. Crops were being harvested and there was an abundance of fresh food. Passover had a serious underpinning, but Pentecost was pure joy.
Passover marked redemption from slave labor. Pentecost was marked by rest from honest labor. Passover memorialized a bitter harvest with the bread of affliction. Pentecost memorialized the new harvest with its first fruits. Passover commemorated the procession out of Egypt and the death of their firstborn. Pentecost was commemorated with a procession of newborns as the first fruits of their families. The Passover table was set with hard, flat, unleavened bread, bitter herbs and salt water. The Pentecost table was set with fresh baked goods from newly harvested wheat and barley, fresh, ripe olives and fresh pressed extra virgin olive oil, fresh sweet grapes and new wine.
It was one of the three great pilgrim festivals when everyone who was able traveled from wherever they were in the world to bring their gifts to God in Jerusalem. It was like Thanksgiving with in-laws and outlaws crowded into family homes and inns and elbowing each other at the table. The traffic was terrible, especially around the temple. You could hardly get two donkeys side-by-side down the street. The festival was so important that even when Paul was traveling around the world spreading the gospel the next year in Acts 20:16, he stopped and came back to Jerusalem to observe the feast. It was an old, old feast, but in our lesson it was about to be given new meaning.
Something old, something new. As that something new prepared to come forth, the air was thick with tension, but tension isn't always a bad thing. Sometimes tension is creative, generative, giving birth to new life and new expressions of life. Sometimes tension is anticipatory. Acts chapter 1 says waiting in that tension was a community of about 120 folk that were in an upper room. There were 11 disciples who had become apostles, there was the first family: the Virgin Mother, the sisters of Jesus, and their four brothers. The rest of the crowd was made up by "certain women" along with, perhaps, the two candidates for the open apostle position violently vacated by Judas.
On that day when the old festival acquired a new meaning, the breath of God blew a new fire from heaven fueled by an ancient and eternal power and stirred up the old gifts of the apostles and disciples and gave them new ones. At the intersection of heavenly fire and human speech the Church that is Mother to us all came into being. Her birth cries were the voices of women and men prophesying as Joel prophesied they would.
The story of Pentecost is a reality check for the Church. The folks who became the first Church were in position to receive the power of God because they were in the house. The folks who became the first Church were in position to receive the power of God because they were already followers of Jesus. They were already praying and praising together. The Blessed Mother had been with him from the beginning. Some like the disciples had abandoned him at the cross but came running back after the resurrection. Some were new to the game brought in by the testimony of those who had seen the risen Christ. It didn't matter how long any of them had been a follower of Jesus they all got the same fire, the same power. It didn't matter if someone had only been following Jesus for one day. But they had to be in the house. The power of Pentecost did not extend to Bedroom Baptist, Pillow Presbyterian, or even St. Mattress and the Holy Comforter. You had to be in the house. Something old, something new.
The power of Pentecost was a new force in the world but its instruction manual was an old stand-by. Peter was in position to announce the birth of the Church because he was in the house and because he was in the scriptures. Peter knew that he was seeing the word of God come to life all around them because he knew the word of God. Peter was able to do what God called him to do because at some point in his life he had put some time in the word. Peter's prophetic preaching is also a reality check for the church; a prophetic church needs preaching that is in the word. The women and men who were empowered by that Holy Ghost fire went into the word and traveled with the word and preached from the word to build the church.
But lastly and most importantly, the folks who became the first Church were transformed by the power of God to be the Church that God designed to meet the needs of the world. The Church that God birthed in wind and fire was born to be a prophetic church. It is no accident that Peter turned to Joel who once prophesied that we would all become prophets as Moses once prayed. Joel makes it clear that we are all called to prophesy. I know some think that being a prophet is all about predicting the future. I know some think that prophetic preaching is the call of preachers like Peter and priest like me. Ah, but the God who knows what the church needs sent the African Episcopal Church of St. Thomas one of the world's foremost experts in prophecy eleven years ago so that I could tell you this:
There is more than one way to be a prophet and the church needs them all. Prophets stand between God and the people bringing God's word to the people and the people's words to God like Moses, prophets lead the people from slavery to freedom singing new songs and dancing new dances like Miriam. Prophets demonstrate the power of God doing things that no one else can do like Elijah and Elisha. Prophets protect the people and when the enemy comes against the people of God, prophets take up arms to defend them like Deborah. Prophets whisper in the ears of Queens and Kings, Presidents and Prime Ministers, whether they listen or not like Mandela and Maya. There were scholar prophets like Huldah who knew more of the word of God than any man around her. There were social justice prophets like Micah and Amos and Martin and Malcolm. There were praying prophets and prophets who saw visions and prophets who dreamed of a better world.
Oh but I hear you saying God didn't call me to preach or lead the people. I'm going to just set here on my pew and let the priests and pastors do all that prophetic work. You don't have to be a priest or pastor to cry out against injustice. The black church has always been a prophetic church not just because of its leaders but because of its members. You have the same power as the ordinary women and men in that upper room. You have the same holy fire fueling you and your voice.
The God who blew the breath of life into the nostrils of the first human handcrafted from the wet clay of earth, the God who exhaled and the Red Sea parted, the God who read a benediction down on a baptism in the river Jordon, that same God blew in and through that house. The breath of God blew on those disciples and they caught fire like kindling. It was a fire that burned but did not consume, just like the old, old story of the burning bush. Here was something old and something new. That holy fire was only visible for a time but we know it remains by the power it generates.
That fire is heart-changing fire. That fire is life-changing fire. That fire is world-changing fire. That fire changed a man who cursed everybody who asked him if he knew Jesus into a man who preached to a crowd of folk who couldn't see what he saw. That fire changed men who had left Jesus to die on the cross with the women who followed into to apostles who were worthy of the title, who preached the gospel to the ends the earth, who would die for the name of Jesus, some of them crucified on their own crosses. That fire changed women who had been commissioned as apostles to the apostles from second class citizens whose testimony could not believed unless a man confirmed it to the first preachers of the Gospel before Pentecost. The power of Pentecost is something old and something new.
The power of God that transformed women and men and boys and girls, rich and poor, slave and free, Jerusalem Jew and Arabian Arab into the church was the same power that raised Jesus from the dead. That Holy Ghost fire was the same fire that burned a bush on Sinai and did not consume it. The wind that swept through the house was the same wind that blew open a pathway through the Red Sea. The God who set the Church on fire on her birthday is the same God who set the sun blazing in the heavens. The fire of Pentecost is something old and something new.
I thank God for that fire. We need it now as they needed it then. You see while the outpouring of Pentecost was a new thing, the world in which it happened was the same old world with the same old empire, the same old oppressions, the same old heartbreaks, the same old abuses, the same old hurts. The fire of Pentecost came to earth in the same old crucifying world, just as the power of the Holy Spirit is present in this broken world where children are being denied an education, veterans are being denied health care, working folk are being denied a living wage, black and brown folk are denied justice in the system called "justice," and too many women and girls are denied basic human dignity, safety and security walking down the street or trying to get an education.
But we have the same Jesus in this old world: Jesus who demonstrated beyond all doubt that he was God in the flesh: even if anyone doubted the stories about his conception and birth they had seen for themselves when he multiplied meager meals and walked on water. They were with him when he opened blind eyes, unstopped deaf ears, loosened stilled tongues, dried up bloody flows, unbent crooked spines and restored diseased and paralyzed flesh. They were in the procession when he canceled funerals and raised the dead while they were lying in their coffins. We have their stories of Jesus because they didn't keep them to themselves.
Jesus, the embodiment of God's everlasting love in a new package used the old words of the holy Scriptures to proclaim the love of God, the life God gives, abundant and eternal, the liberty God gives even to people under the tyranny of an evil empire. It is the same old world but God's mercies are new every morning. There is new life everywhere we look. Babies are being born and being baptized. People are finding new life with God in Christ, in the Church. Some are finding new life in a new world of sobriety. Even the earth in the city of Philadelphia is giving birth to new life now that spring has finally sprung.
This city, this nation and this world needs the Holy Ghost fire of a prophetic church. That is what Pentecost is calling us to be, a prophetic church. Peter returns to the old, old scriptures of their shared faith to interpret the events that were unfolding around them. He sees in the prophet Joel God's vision for the church. He sees the church as a community of prophets. Prophets are more than preachers; they are folk who speak with and for God. There was a time when the black church was known as a prophetic church because we used our voice, our gifts, our power to speak out against that which was wrong and to speak up for those who could not speak for themselves. The world still needs the black church. The Pentecost model of church is one in which every one of us woman and man, girl and boy, old and young, well off and struggling to get by, take to the streets empowered by that Holy Ghost fire to change the world. The power of the Holy Spirit, the word of God in the heart and in the mouth of the believer are a fire that cannot be extinguished.
Prophesy church. Prophesy. Bring the words of scripture to pass in your mouth. Show the world the power of God in your life because God has poured out God's Spirit on us all and we are the Church of God, new life in this old world. Amen.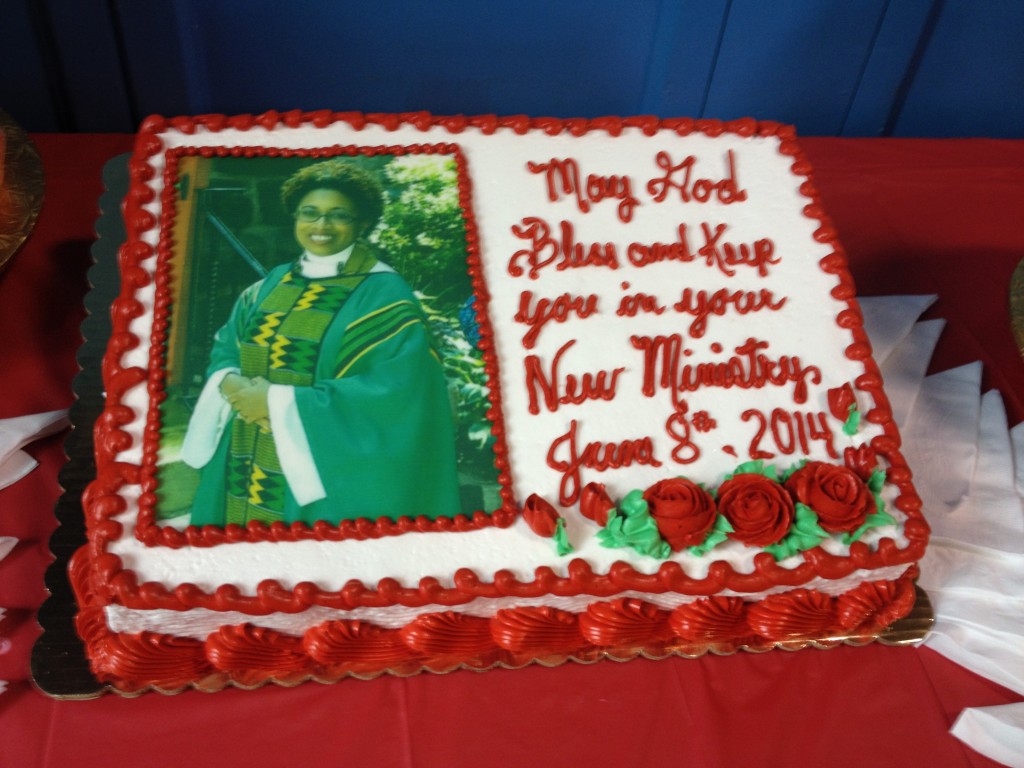 ---
[Holding the Ethiopian Israelis in prayer as they fight racism in their country. Their uprising came after I finished the sermon.]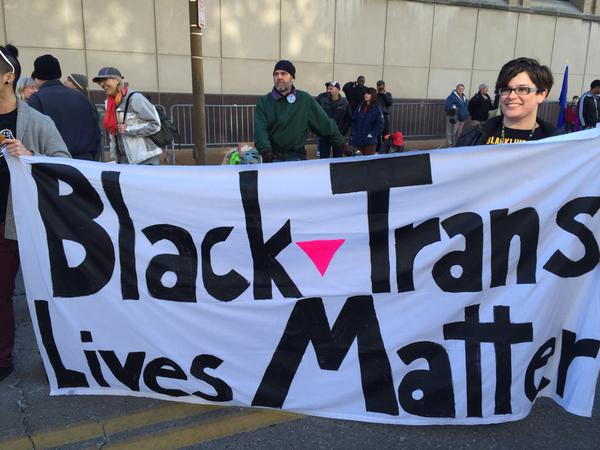 The Psalmist cried out:
God did not despise or detest the affliction of the afflicted.
God did not hide God's face from me.
God heard when I cried out to God.
That doesn't always feel like the truth. Sometimes it feels like everyone including God despises the wretched of the earth, the broken, the downtrodden, the hurting and the hated, the afflicted and their afflictions. Especially when that's your story. We should extend our comfort and faith to those who are suffering, but we should also understand that may not be enough. There are some hurts that only heaven can heal and for which the balm is time.
People are crying out to God all over this world. This week we hear their cries in Nepal clearly. But they are still crying out in Syria, Pakistan, Afghanistan, Iraq, Nigeria and more. People are crying out to God all over this country. This week we hear their cries in Baltimore most clearly. But they are still crying out in Ferguson, Sanford, New York and more.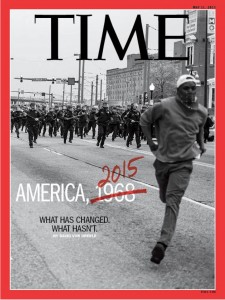 Before Psalm 22 became the Psalm of the Cross, the psalm Jesus prayed while dying, it was already scripture. It is a psalm associated with David, written for him – either at his request or dictated by or composed and written by someone else and dedicated to him. It is the lament of a person who is not even viewed as human, despised, mocked, abused to the point of feeling abandoned by God:
My God, my God, why have you forsaken me?
Why are you so far from helping me,
from the words of my groaning?
O my God, I cry by day, but you do not answer;
and by night, but find no rest…
I am a worm and not even human
scorned by others, and despised by the people
All who see me mock at me
they make mouths at me, they shake their heads…
They even make fun of the psalmist's faith:
"Roll on over to the HOLY ONE OF OLD; let God save!
Let God deliver the one in whom God delights!"
But the psalmist knows who her God is and that God has been with her from birth and will be with her to and through death:
Yet it was you who took me from the womb;
you kept me safe on my mother's breast.
On you I was cast from my birth,
and since my mother gave birth to me you have been my God.
It is so easy to fast forward through time and read these verses about Jesus and only Jesus. But that misses the point. Psalm 22 the lament of someone who was in serious trouble a thousand years before Jesus. That person's prayer became part of Israel's Book of Common Prayer because it reflected a common experience. Every once in a while, if you live long enough, you will come up against something that will make you cry out to God like the psalmist and even Jesus. Some of us are crying out to God because our post-Easter world still looks too much like a Good Friday world.
Jesus became one of us to experience what we experience. Human beings treating each other like dogs in the street, as though we weren't all human, children of God, hand-crafted in the very image of God. Some people are still viewed as less than human and treated that way. Mahalia Jackson sang in Sweet Little Jesus Boy:
They treat me mean Lord.
They treat you mean too.
In killing Jesus, the state treated him just like everyone else. People were crucified before Jesus died and they continued to be crucified after Jesus died. James Cone makes the point that in the American context, the cross is the lynching tree.
We can't escape the violence in the scriptures or in the streets. The violence imposed on the body of Jesus was neither the beginning nor the end of his story. And it was not only his story. His people were subject to lethal violence whether guilty or innocent on individual and national levels. The story of the Jewish people is one of slavery, deliverance, occupation and subjugation as oppressed and as oppressor and, in times of desperation, resistance, rebellion and retaliation. Aspects of the Israelite story are shared with the poor, marginalized and oppressed in every time and place, including ours.
It may not be your experience, but many poor black and brown people experience the police as an occupying force, at best daily harassment at worse lethal violence. Twenty-three years ago anger and pain boiled over in Los Angeles. Last summer it boiled over in Ferguson, MO. This week it boiled over in Baltimore, MD.
When violence erupted in 1966 the Rev. Dr. Martin Luther King, Jr. said:
I will agree that there is a group in the Negro community advocating violence now. I happen to feel that this group represents a numerical minority. Surveys have revealed this. The vast majority of Negroes still feel that the best way to deal with the dilemma that we face in this country is through non-violent resistance, and I don't think this vocal group will be able to make a real dent in the Negro community in terms of swaying 22 million Negroes to this particular point of view. And I contend that the cry of "black power" is, at bottom, a reaction to the reluctance of white power to make the kind of changes necessary to make justice a reality for the Negro. I think that we've got to see that a riot is the language of the unheard. And, what is it that America has failed to hear? It has failed to hear that the economic plight of the Negro poor has worsened over the last few years.
Dr. King's words are as always prophetic and challenging and ultimately cost him his life.
Will we hear him? Will we hear the voices of today's street-prophets? Or will we allow the spectacle of violence to become an excuse to turn away? No matter what we do, God hears.
God hears the cries of all who are treated as less than fully human.
Our world, including our nation and the church have a long history of treating some folk as less than we ought as God's children: people of color, women and same gender-loving people. Transgender, gay, bisexual and lesbian people are often targeted with lethal violence that neither began nor ended with the lynching of Matthew Shepherd. Transwomen in particular are being killed at alarming rates including here in TX. And sadly, not all churches are safe places for all people.
Our lesson in Acts 8 has something to say about that:
The messenger of the Lord said to Philip, "Get up and go toward the south to the road that goes down from Jerusalem to Gaza." (This is a wilderness road.) So he got up and went. Now there was a Nubian eunuch, a senior official of the Kandake, queen of the Nubians, in charge of her entire treasury. He had come to Jerusalem to worship.
At the intersection of race and ethnicity, the Greek gentile (now Christian) apostle Philip crosses paths with the black Jewish bureaucrat serving an African queendom. In order to work for most monarchs in much of the ancient world, men had to be surgically neutered, often as young boys. Most eunuchs formed intimate partnerships with other eunuchs or intact males, not the royal women they were trusted to guard. That would have been treason, earning a death sentence even without the possibility of children.
The treatment of eunuchs in the ancient world and in the scriptures is similar to the treatment of lesbians, gay men, bisexuals and transgender people. Eunuchs may be seen as those who do not fit into our neatly constructed gender paradigms as neatly as we might wish – this is what it means to be male, to be a man, to live and love as a man. At one point the scriptures even say eunuchs are not welcome in the house of God. But the same Isaiah scroll that this one is reading cancels out that passage, welcoming eunuchs specifically. But he hasn't gotten to that verse yet.
The Ethiopian eunuch has no name in the text but could have been called Abdimalkah, servant of the queen, a common title that functioned as a name. Without a name we might keep calling him "the eunuch" and reduce him to a missing part of his body. Our transgender friends, family and neighbors have taught us how inappropriate is fixation on the parts of someone else's body. We could call him "he." But should we? We are learning how important it is to call people by the pronouns they choose for themselves.
This person by any name and any pronoun has been to worship in Jerusalem which suggests he is a Jew even though he would not be able to fully participate as a eunuch. The original audience would have known the story of the visit of the Queen of Sheba to Solomon and the tradition that she left him pregnant and their descendants not only preserved his faith but remained in contact so no one would have been surprised that this man had been born Jewish. As a eunuch he would not have qualified for conversion.
The queen's servant – Kandake is a title, she is the Kandake – the Kandake's servant is reading the scroll of the prophet Isaiah. In the ancient world people read out loud just as they prayed out loud. (Hannah invented silent prayer but it didn't really catch on for a while.) He reads from a portion of Isaiah that like Psalm 22 has come to be identified with Jesus even though it has its own separate history and origin. It is the poem-prayer of another person who was unjustly put to death, five hundred yeas before Jesus.
While he reads, Philip has followed God's call to go down a country road with no explanation, overhears. I don't know what Philip expected to see, but probably not that limousine. He didn't know why he was going other than God sent him. He went to be present where God sent him and gives us a model for evangelism. He had no agenda, no pre-planned speech. He went to listen first and speak second. And Philip finds a welcome occasion to share his faith. Contrary to popular opinion, harassment is not a tool for spreading the Gospel.
The queen's man was reading what is now Isaiah 53; there were no chapter and verse numbers then. The holy words spoke of the suffering of the innocent with the guilty and on behalf of the guilty from the time when the Babylonians destroyed their nation. When Philip tells him what these words mean, he doesn't go back to the time in which they were written or their meaning for their original audience – he hasn't been to seminary.
He reads the scriptures in light of the events of his days which means reading them in light of Jesus. He tells the story of Jesus and tells it well because it is personal to him. And his companion and conversation partner asks to be baptized right then and there. And in that moment the Holy Spirit builds the church through these two very different people, different ethnicity, background, social status and even different ways of living and loving.
It strikes me that these lessons are all about hearing and being heard.
God hears the cry of the psalmist as surely as God hears the cries from the streets and those of mothers like our Blessed Virgin Mother who have lost their sons to police violence. Philip listened to God. He listened to the eunuch. The eunuch listened to Philip. And God used them to transform the world, starting with each other because they listen to and hear each other. The Church has listened to these stories read and preached for millennia, but have we truly heard them?
Holy One of Old, open our eyes that we may see.
Holy One of Old, open our ears that we may hear.
Holy One of Old, open our lips that we may speak.
May God the restorer of broken hearts, minds and bodies
Accompany you through the gaps and brokenness in your life
Nurture, sustain and transform you to change the world around you. Amen.
---