After the epic whitewash that was the History Channel's The Bible Series Produced by Roma Downey and Mark Burnett, I had no intention of watching their latest installation, AD the Bible Continues, focusing on the book of Acts (of the Apostles). In the publicity build-up to the premier, the producers emphasized the casting of a number of actors of color, including some of African descent in significant roles this time. Downey and Burnett acknowledged the criticism of their past work and sought to remedy it. (At the time, this blog was the only scholarly one that engaged every episode. I did attempt to engage the producers repeatedly on Twitter but heard nothing from them. I was pleasantly surprised to hear of their change in casting – and would like to think my unacknowledged critique played some role in that.) The change is welcome however their basic paradigm appears unchanged: They seem have created another predominantly white world in lieu of Afro-Asiatic context from which the scriptures emerged and added a few people of color. The portrayal of Jews particularly of Jesus and his mother as white-skinned is historically inaccurate and, symptomatic of and perpetuation of the white supremacy that pollutes the Church. (Juan Pablo de Pace plays Jesus and Greta Scacchi plays his mother.)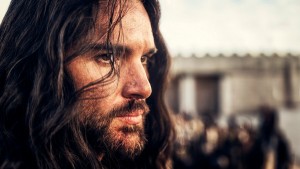 As a scholar and a priest I am interested in how the stories of my faith, church and scriptures are told. I am concerned about the ways in which the biblical text and Christian story have been used to buttress systems of domination from sexism, racism and heteropatriarchy to white supremacy and slavocracy. The previous series failed miserably on gender balance – the androcentric scriptures are more inclusive than their portrayal and it failed in fidelity to the biblical text.
Keeping to their previous practice, this series has been heavily marketed to Christian communities with a specific push to the Black community. Last time around T.D. Jakes and Jamal Bryant headlined those efforts. This time Vashti McKenzie and Joshua DuBois are promoting it. The series is also partnering with Urban Ministries Inc. That kind of marketing makes me wary. Never-the-less I have decided to watch and engage the series (again), in part because of the casting choices. I will do so in conversation with UrbanFaith.com using their hashtag #ADBibleTalk. My participation in this conversation is by no means an endorsement of the program or UMI, Urban Faith or any of their programming or commentary. Join me as I live-tweet the program and look for blog posts after.