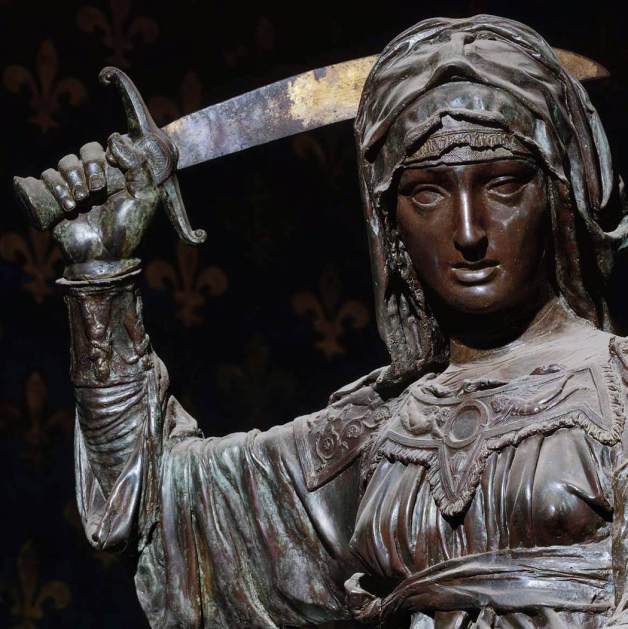 Image: Donatello's Judith and Holofernes
Resistance is Not Futile
#Resist. There was a man who rose to great power and became very wealthy along the way. He expected his whims to be met with instant acquiescence and held grudges against those who did not comply. He kept lists of his enemies and used his power to destroy those who defied him. I'm talking about Nebuchadnezzar as he's portrayed in the book of Judith, but since Judith is scripture and scripture lives and speaks beyond its originating context, surely these sacred words speak to today when grudge-holding tyrants target those who didn't support them fully or soon enough or contradict them or mock them.
The tyrant in this story set his sights on Judith's people and her land. Judith can be read as an archetype for the land of Judea, the Jewish people, Jewish womanhood or Jane Q. Public, make that Judith Q. Jewish Public. Yehudit, the feminine of Yehudah, Judah—also feminine in form reminding us gender is more complicated than binaries even in binary languages and systems—Yehudit, Judith, is the quintessential Jewish woman. She is Daughter Zion herself or just a faithful daughter of Zion. More importantly, Judith is not captive Daughter Zion; Judith is the resistance of Zion; she is an agent-provocateur, a provocatrix. She is a woman who resists tyranny because she knows resistance is not futile; it is essential.
The tyrant sent his second-in-command, Holofernes, to do his will. Some quibble over the historicity of Judith, and characters like Holofernes, I am not among them. Judith may well be less historical than other biblical texts, and more so than yet others. What is sure is that scripture, in or out of the book of Judith, does not have to be historical to be true. Judith is true in more ways than one. Take the tyrant's second-in-command. A whole lot of folk are exorcized about the tyrant in the story and the modern day exemplar he may evoke, but they forget that tyrants are not singular occurrences. They are the fruit of tyranny, nurtured, cultivated, harvested and deployed. And, they are waiting in line, waiting in the wings, waiting for their shot. That's why empires don't die when emperors do. Tyranny's bench is deep. Tyranny survives violent upheaval even when tyrants and their functionaries are swept aside and tyranny does not even blink at the peaceful transfer of power.
The tyrant in our text decided to punish the people who hadn't stood with him in his previous campaign. (This is just the literary background of Judith, a book some folk cut out of their bibles because they couldn't find a living word in this story about a woman who resisted tyranny with her fully sexualized woman's body—but I'm getting ahead of myself.) The tyrant sent his second to execute his policies. They decided to deprive the people of the basic resources they needed to live, to punish them for their disloyalty. In our story the resource that is snatched back from the people is water, the very fabric of life for this earth and her creatures. Tyrants are still depriving communities and their children of water, poisoning it, rerouting it, outright stealing it and then selling it back to them befouled.
The text says that for thirty-four days Edomite and Ammonite armies that had sworn fealty to the tyrant did to Judith's people what had surely been done to them. Don't miss that the foot-soldiers of tyranny are often oppressed peoples themselves. Some of them have been taken captive, pressed or sold into service, but some of them have sold themselves, coveting the privilege and power of the empire that was never meant for them, which they will never be granted. It will continually be dangled before their eyes, poisonous fruit from a poisonous tree. And even though they will never get to dine at the table where tyrants dine, they will be thrown a few scraps and convince themselves that they aren't as bad off as those the empire disdains most. And maybe if they work hard and pull themselves up by their bootstraps they too can get a seat at the table.
Then when every well was dry and humans and animals began to collapse some people said: It would be better for us to be captured by them. We shall indeed become slaves, but our lives will be spared, and we shall not witness our little ones dying before our eyes, and our wives and children drawing their last breath. (Jdt 7:27)
What they were really saying was that resistance is futile. The empire was saying submit and they were ready to say yes, not because they were cowards, not because they wanted to be collaborators, but because they were desperate. It's easy to judge them from outside the text. But what do you do when the empire seizes the resources you need to live? What do you do when your child is lying listless, dehydrated, dying or dead and there is no water, milk or medicine? This is how empire works. Those it doesn't destroy outright it grinds into submission, sometimes making its subjects beg for the degradation of being dominated by them.
One member of the governing council conveniently named Uzziah, God hears, begged the people to hold out a little while longer, to pray and trust God. In so doing he offers the only resistance he can muster. But he says, if God doesn't come through, he will personally hand over whoever is left to the regime, surrender and accept whatever depredation, whatever indignity, whatever retribution the tyrant has in mind for those he governs but doesn't consider to be his people. Uzziah doesn't see that he has any other options if he wants to save his people. For him the paths of resistance and submission collide at the intersection where the bodies of his people lay dying. What else can he do?
Then Judith, whose sixteen-generation genealogy—the longest of any woman in scripture—which traces her back to Jacob-become-Israel through the womb of Leah, Judith began to speak. She called the members of her governing council and began her resistance by opening her mouth (sometimes you've got to call the folk who govern you and tell them about themselves):
Jdt 8:11 What you have said to the people today is not right; you have even sworn and pronounced this oath between God and you, promising to surrender the town to our enemies unless the Holy One turns and helps us within so many days. 12 Who are you to put God to the test today, and to set yourselves up in the place of God in human affairs? 13 You are putting the Sovereign God to the test, but you will never learn anything! 14 You cannot plumb the depths of the human heart or understand the workings of the human mind; how do you expect to search out God, who made all these things, and find out God's mind or comprehend God's thought?
Judith calls for prayer as an act of resistance. Her language is so powerful and compelling that the men of the governing council asked her to pray for them. They want her to pray that it might rain and buy them a little more time. But Judith understood the real fight wasn't about the resources that the tyrant cut them off from. The issue wasn't the tyrant's latest tweet, plot, plan or rant. The problem was the tyrant and his tyranny. So she prayed starting with the sexual violence against women that accompanies every war. We ought not be surprised to see tyrants boasting about sexual assault as proof of the deformed manhood that passes for their twisted notion of masculinity.
Judith prayed that God would use her deceit because she didn't plan to fight fair for she understood there were no rules of engagement that the empire would honor. Sometimes resisting the empire means doing things that will get you branded a terrorist. Judith's ethics of resistance were revolutionary. Sometimes the only difference between a revolutionary and a terrorist is in the mouth of the one who gets to tell the story.
Judith's prayer was an act of resistance but it wasn't her only strategy. I believe there is a real critique to be had of folk who only talk, even if they're talking to God and do nothing to resist that might cost them some skin. Judith put her whole skin in the game, but first she prayed the line that makes her a liberation theologian:
For your strength does not depend on numbers, nor your might on the powerful. But you are the God of the lowly, helper of the oppressed, upholder of the weak, protector of the forsaken, savior of those without hope. (Jdt 9:11)
Judith got up from her knees and she got to work. If you know the story, you know that Judith intentionally used her body, her sexuality, as a weapon; more to the point, she used Holofernes's sexism, patriarchy, and lust against him. She stripped her body. She bathed her body. She anointed her body. She perfumed her body. She adorned her body. She dressed herself to show herself, covered in jewels from her tiara to her toes.
Judith took herself to the tyrant's camp, displayed herself before his eyes, just in reach but out of his grasp. She batted her eyelashes and stroked his ego, she told him what he wanted to hear about how he was perceived, admired and feared. She dined with him and drank with him. While he drank his private stock she drank her kosher wine and when they were through only she was still standing. She cut off his head with his own sword and put it in her little kosher dinner bag and carried it back to her people as a trophy.
Be clear, I am not calling for the assassination of tyrants in our day. We do not live in the Iron Age. The fact that our scriptures are rooted in the Iron Age does not limit us to their theology or ethics, in spite of what those who bow down at the altars of patriarchy and homophobia preach. Judith, like all scripture, offers much more than a literal paradigm to be blindly followed.
The triumph of Judith teaches me that tyrants do fall. Judith teaches me that prayer is an act of resistance, but it is not enough by itself. Judith teaches me that that we must resist together as a community. Judith teaches me that the strategies for our resistance are not always going to come from our leaders. Judith teaches me that respectability politics won't lead to a revolution. The revolution will not happen without the sisters and we won't be at the back of the bus. We will be seen and heard and folk will have to get over their issues about what we wear and how we do our hair. Judith teaches me that sometimes someone from your community has to be in the room to take a tyrant down. And Judith teaches me that something else. It is the lesson I believe our author wanted to pass on: Judith doesn't have to get into bed with the tyrant to take him down. There is a line she will not cross. You don't have to sacrifice your integrity or moral authority to resist tyranny.
Lastly, even though empires don't collapse upon the deaths of their tyrants, they can be dismantled and placed under new management. Resistance is not futile. Amen.
Benediction:
May the God of Judith and Jesus strengthen our hearts and hands for the work ahead.
May we stand with the people of God, standing for what is right.
May we resist tyranny wherever it is found.
And may we never be cut off from the water of life. Amen.
You can view the entire service here.
Postscript: There is a wonderful blog by Judith Robinson chronicling images of Judith.
---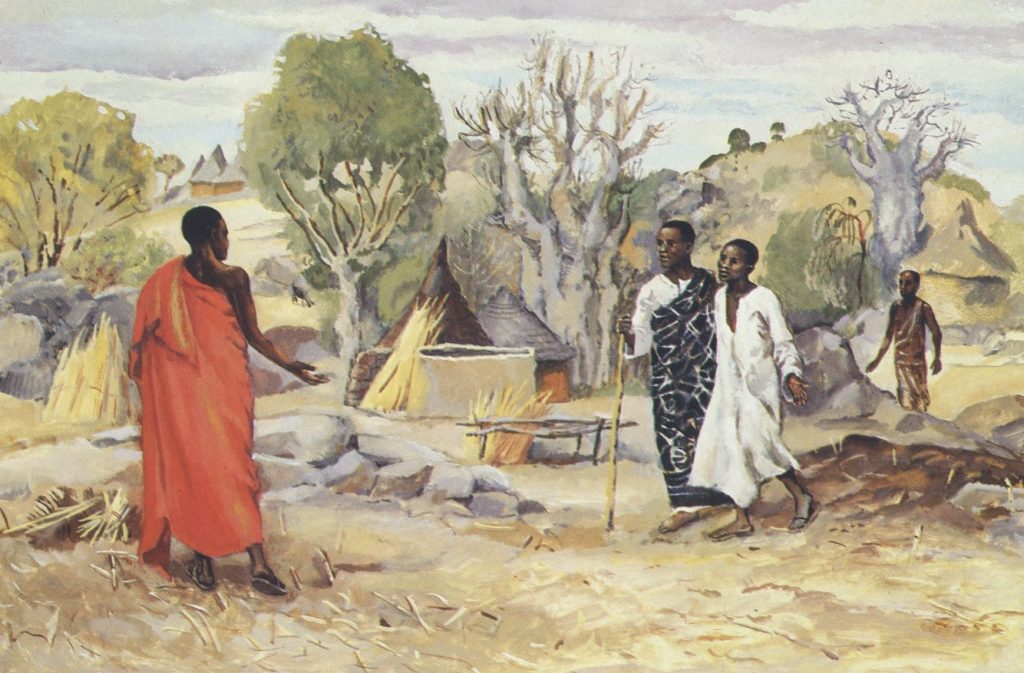 JESUS MAFA. The first two disciples, from Art in the Christian Tradition, a project of the Vanderbilt Divinity Library, Nashville, TN.
John 1:41 Andrew first found his brother Simon and said to him, "We have found the Messiah" (which is translated Anointed).
We have found the Messiah. When we read these words, their meaning is clear to us: The soon-to-be disciples of Jesus have found him and found in him the promise of God made flesh. We bring two thousand years of Christian faith, practice, doctrine and, confession to these sacred words that were unavailable to the evangelist who wrote them and which would be heard as new-fangled ideas to the first readers and hearers of this gospel.
These sacred words were written to convey and construct the Christ story—may I say Christory?— with no small degree of urgency. For their author and readers believed the world could not go on much longer, and that Jesus would surely come back before it all spun out of control, collapsed or simply exploded. Many of us too are waiting and watching for Jesus as we also watch our crucified and crucifying world lurch from tragedy to catastrophe to disaster, often at our own hands.
And as with all texts, there is a story behind the story and a story between the lines of the story, stories known to the writer and first hearers that we may not all know. Listening for echoes of those first tellings across the gulfs of space and time may just enable us to hear it anew even if we can't quite hear it as they did so long ago.
We have found the Messiah. We have found the Anointed One. We have found the one designated by God to, to—to what? We say easily, "to save God's people from their sin," "to redeem Israel," "to extend salvation to the Gentiles," and "to save the whole world." But they were still working all of that out. John the Baptizer says in the gospel attributed to that other John, perhaps the beloved disciple who appears at the end of the gospel, the Johns say: Look! The Lamb of God who takes away the sin of the world! He says nothing about being anointed. He doesn't identify Jesus as the Messiah. He may still be working some of it out too. But he's further along than anyone else except for Mariam Theotokas, Mary the Mother of God.
We have found the Messiah. We have found the Anointed One. From the beginning of Israel's story being anointed meant being physically anointed with oil, then commissioned or ordained to serve God by serving her people in some official capacity. The first priests in ancient Israel were anointed with oil and blood. Successive generations of priests, kings and queens who ruled alone would have also been anointed with oil. Exodus (30:23-25) gives a recipe for that oil that sounds like your grandmother wrote it: 23 Take the finest spices: of liquid myrrh five hundred shekels, and of sweet-smelling cinnamon half as much, that is, two hundred fifty, and two hundred fifty of aromatic cane, 24 and five hundred of cassia—measured by the sanctuary shekel—and a hin of olive oil; 25 and you shall make of these a sacred anointing oil blended as by the perfumer; it shall be a holy anointing oil.
Every place our scriptures refer to someone as anointed, they are using the word "messiah." Think about that for a minute. Even though you may only see the word "messiah" in the New Testament, it is all over the Hebrew Scriptures. You just may not recognize it when it is translated as "anointed." And when the scriptures were translated into Greek after Alexander the Great left his mark upon the world—the reason our gospels are in Greek and not the Hebrew and Aramaic Jesus spoke, read and prayed in—when those scriptures are read in Greek, you hear the Greek word for messiah, anointed, christ.
Clutch your pearls if you need to, but Jesus wasn't the first christ, the first messiah in the scriptures or in Israel. All of those priests and kings and a few queens, they were anointed as messiahs, christs. When Samuel was looking over Jesse's sons, he was looking for God's anointed, God's christ. When David referred to Saul as God's anointed, he was saying God's christ. And when Samuel's lament for David after his death called him the anointed of God, it was saying David was the christ of God. Then when the prophet in Isaiah called the Gentile king, Cyrus of Persia, God's anointed, she or he was calling Cyrus God's christ. What they all had in common was that they were entrusted with the safety and preservation of Israel—Cyrus receives the title for returning the Jews from Babylonian exile.
The Jewish disciples of Jesus knew this, as he did. They also knew every christ, every anointed monarch—and anointing is still a part of many coronations— every anointed monarch wasn't appointed by God. Kings and queens murdered their way onto the throne, and sorry sons replaced their righteous fathers. You've got to choose your messiahs carefully, like Andrew did in our gospel because there are a lot of self-appointed messiahs out there.
Sometimes a little bit of knowledge is a dangerous thing. That goes double when it's knowledge of the bible. In 1990 a man who knew a little of the bible in Hebrew changed his name to David and Cyrus, using the Hebrew and Aramaic pronunciation of Cyrus, Koresh. David Koresh was a self-proclaimed messiah and good Christian folk who didn't know enough about the bible to see that in the name he chose for himself went to their deaths because of him. You've got to choose your messiah carefully.
Our gospel was written and first spoken in a world in which messiah was a word used to describe religious and political leaders who ruled Israel, and that would have included Herod Antipas, son of Herod the Great. Herod Antipas (I'll call him Junior) was legitimately anointed king; he inherited the throne from his father. But some folk would never accept him as their king. His mother was a Samaritan and his father Herod Senior was from a family that was more Ishmaelite than Israelite in spite of their somewhat recent conversion. And perhaps worst of all, the Herods were appointed and anointed by Rome. The Herods are a reminder that you can govern legally and illegitimately at the same time. Choose your messiah wisely.
Andrew's exclamation that he had found the messiah was subversive and treasonous. He saw in Jesus someone who could do what no king could do, live and die as the promise of God in human skin. Andrew's messiah was poor whereas his king was rich. Andrew's messiah walked everywhere he needed to go if he couldn't borrow a donkey but his king had horses and chariots. Andrew's messiah didn't always have a roof over his head but his king built palaces, towers and fortresses, some of which are still standing. Andrew's messiah would not let bible-thumping hypocrites kill a woman for adultery but his king was sleeping with his brother's wife and killed John the Baptizer over it.
Andrew's messiah and his king had one thing in common though. Andrew's messiah and his king both lived under Roman occupation. Andrew's messiah refused to call wrong right and stood with the people under Roman oppression and the collusion of collaborators. But Andrew's king supported the occupation and benefitted from it to the detriment of his people and his own soul. Choose your messiah wisely.
John saw in Jesus the Lamb of God. John's disciples saw in Jesus a rabbi, a teacher worth following and leaving their own teacher behind. Andrew saw in Jesus the Messiah, the one anointed to save, heal, deliver and make whole, not just Israel, but the whole world. Choose your messiah wisely. Amen.
---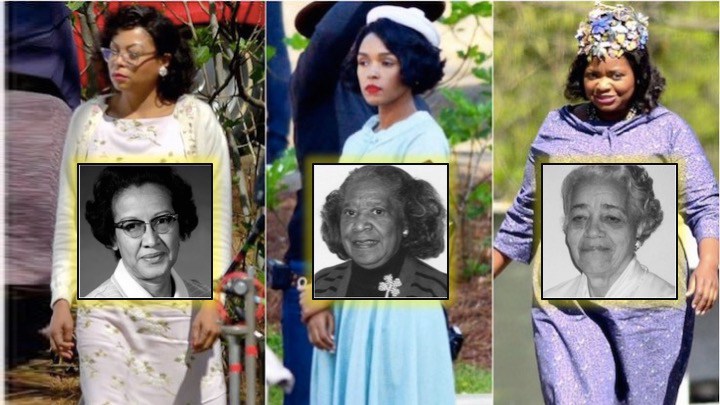 I loved Hidden Figures and cheered throughout and cried at the end. It was powerful. Go and see it and take your children. One my favorite images in the movie was Octavia Spencer as Vaughan under her car in full mechanic mode laying on a tarp with her lovely pump clad legs sticking out from under the car and her skirt. The accomplishments of Katherine Johnson, Mary Jackson and Dorothy Vaughan were due to their brilliance, tenacity, nurture of the black community, and opportunities grudgingly granted them but denied most other black people.
But I was most particularly struck by the depiction of segregation and its impact on black wealth and upward mobility. There was no pretense of separate but equal segregated education when engineering courses were only offered at whites-only schools and books on computing were only in the whites-only section of the library, protected by police. (Virginia has a longer, uglier history of closing public schools rather than integrate and white churches opening whites-only schools leaving black folk to fend for themselves and their children with virtually no resources for their tax dollars.)
This intentional under-education, miseducation, and constant changing of job qualifications to exclude African Americans-along with excluding black veterans from the GI Bill-was designed to build the white middle class at the expense of and on the plundered wealth of black folk.
The legacy of segregation left generations of black folk perpetually behind white folk in every social and financial index by design on top of the inequities resulting from slavery, anti-Reconstruction policies, and Jim and Jane Crow.
At the same time the Johnson, Jackson and Vaughan were dealing with entrenched racism they were also dealing with entrenched sexism. (Note the adversarial and antagonistic posture of the white women under the same patriarchal hierarchy. Notice the colored-only bathroom was only addressed when Katherine Johnson's commute to pee interfered with the larger project.) The idea that there needed to be protocols for women to attend Pentagon briefings or an engineering course wasn't taught for women-meaning at their level-would be laughable it it weren't also intentional structural discrimination.
Lastly, as much as these women are being celebrated now and their work was acknowledged to some degree then, don't miss that Katherine Johnson could not put her own name on her own computations, not even in a subordinate position, and the man whose name was on the report could not do the math. (How did their salaries and benefits compare?) But it was her position in the group that was no longer needed–until they figured out they could not do the moonshot without her.
Hidden Figures was a wonderful, powerful movie that made me so appreciative for the love and nurture of the black community, especially teachers who see and saw what we and our children are capable of and help us succeed against the odds.
---