2016_10_20 Wil Gafney from Candler School of Theology on Vimeo.
Yes, I am black! and radiant–
O city women watching me–
As black as Kedar's goathair tents
Or Solomon's fine tapestries.
Will you disrobe me with your stares?
The eyes of many morning suns
Have pierced my skin, and now I shine
Black as the light before the dawn.
And I have faced the angry glare
Of others, even my mother's sons
Who sent me out to watch their vines
While I neglected all my own.[1]
Normally I only preach from my translation of the scriptures believing you can't preach what you don't read, and reading the bible in English is like eating when you've lost your sense of smell. Rabbi Marcia Falk's translation of the Most Excellent of Songs, the Song of Songs, is itself most excellent so I invite you to consider for the time that is ours the following lines:
The eyes of many morning suns
Have pierced my skin, and now I shine
Black as the light before the dawn.
And I have faced the angry glare
Of others, even my mother's sons
Who sent me out to watch their vines
While I neglected all my own.
Black is beautiful. Not just some black is beautiful. Not just that light, bright, almost white, mixed with something, Becky with the good hair, Beyoncé, video girl type A or B (but not so much C or D) black is beautiful. My black is beautiful. Your black is beautiful.
Whether hailed as luminous darkness or radiant blackness, our black is beautiful. Hand-crafted sun-kissed shades from cream to coffee—no sugar, no cream—to blacker than a thousand midnights to the bluest black, from the bluest eye to the grey, green, brown, black eyes deeper than the well of souls, crowned with cottony soft puffed crowns, regal ropes, intricate braids, coifs and cuts in every color imaginable and some you couldn't, or smooth shaved like Luke Cage. All of these studies in black are beautiful. Black is beautiful. Blackness is beauty. Blackness is worshipful. All blackness is divine. It is the imprint of the holy darkly radiant God in whose image we are created. Look in the mirror and love God herself in you, in your fam, in your heart and skin kin, in your neighbors and strangers, enemies and allies.
The eyes of many morning suns
Have pierced my skin, and now I shine
Black as the light before the dawn.
In the black church we trumpet our love for our blackness—Imma come back to that—but we don't always love our black bodies. The black church loved us and taught us to love ourselves when nobody else would and folk were out here in these streets hating our skin, our hair, our lips, our noses, our thighs, our buttocks, our thickness, our swish, our sway. And at the same time some in the black church were separating us like goats from sheep based on brown paper bags and talking about good hair. Perhaps even more insidious, too many black churches still privilege whiteness in theology and culture, expectations about dress and deportment, trying to please an abusive white supremacist culture that does not love us and despises our flesh.
The whiteness against which we have been defined, measured and found lacking has been deified and is hanging on the wall in too many churches and homes. The white-Christ-idol hanging on the wall denies the bruised black beauty of God in human flesh killed by the uniformed arm of the empire like too many of our trans and cis sisters and sons. Be very clear, white Jesus is does not love you and cannot save you; he is the god of white supremacy and the demonization of blackness is its gospel.
But…
The eyes of many morning suns
Have pierced my skin, and now I shine
Black as the light before the dawn.
This beautiful blackness is the gift of God. It is delicate and diamond strong, fragile and fearless, resilient and resplendent. Our blackness is more than the skin we're in, it is the treble of our souls, the multi-strand web of our culture that binds us to all our folk—and the rest of God's folk too, for we are all children of the same mother, from the African earthen womb of the God who writhed in labor with us and Rock who gave us birth. (Deut 32:18) And like all of God's good creation we are charged with its care, care for ourselves, our bodies, our minds, our souls, the sacred trust of our blackness.
I believe that we ought to be passionately in love with ourselves, our bodies and our blackness. For this I take my lesson from the Song of Songs which has scandalized so many Jewish and Christian interpreters because it does not talk about God explicitly, instead it focuses on the love of two people expressed sensuously, sexually. It is all about the love of and between two black bodies—offered as scripture and revelation. Now, one of those bodies is blacker than your average brown-to-black ancient Afro-Asiatic person. She is black as a black-haired goat. Y'all can have them white cotton ball sheep, I'm going to hang out with the goats. Let me let her tell you about herself as we walk through this text together:
shechorah ani v' navah
I am black…
Actually, it's the other way around. Black am I… Black is the first word. Blackness a priori. Black before all else, intentionally, by design, according to the will (and the Wil) of God for my life. Black am I…
Black am I and resplendent.
Black am I and radiant.
Black am I and exquisite.
Black am I and beautiful.
It seems the city-women can't keep their eyes off of her. They keep staring, looking her up and down. And you know how we do; she asks them if they like what they see:
Will you disrobe me with your stares?
The shout out to the daughters of Jerusalem is an acknowledgement that our bodies are always under scrutiny. We are weighed and measured, consumed and labeled acceptable or defective in a glance. The black beauty Shahorah—we can call her Ebony, Raven, Jet or Onyx—Shahorah says you call me black like that's an insult. Let me tell you, I am black, as silky-black as the luxurious coat of a Kedari goat, like mink, only blacker. I see you looking, you can't keep your eyes off of all this good black. And neither can the sun.
The eyes of many morning suns
Have pierced my skin, and now I shine
Black as the light before the dawn. 
She says, don't stare at me because my beautiful black skin has gotten even darker while I bask in the sun. Our black beauty revels in the blackness of her skin and has the nerve to get a tan on top—we hadn't destroyed the ozone layer yet so she didn't have to worry about melanoma—she embraces the kiss of the sun and some folk are out here bleaching their black.
And I have faced the angry glare
Of others, even my mother's sons
Who sent me out to watch their vines
While I neglected all my own. 
The angry glare is a reminder that everyone won't look at us and see the glory that God created. Some folk are mad that we're still here. Mad that we haven't been destroyed. Mad that we survived the hells of the middle passage, slavery, Jim Crow and lynch law. Mad that we have the right to vote. Mad we're exercising our right to vote. Mad that it looks like we're benefitting from affirmative action when it benefits more white women than black women or men. Mad we're in their schools and on their jobs. Mad some of us are in charge of some of them. Mad this continent once peopled by red and brown peoples is turning brown again. Mad we don't back down, step aside, shuffle when we're not dancing and scratch when we're not itching. There are some angry folk out there and you can see it in their eyes long before they open their mouths or send the first tweet.
And I have faced the angry glare
Of others, even my mother's sons
Sometime the angry glare is more than a look. Sometimes it's a catcall. Sometimes it's a death sentence executed in the street because you refused to acknowledge a cat call, smile, or give out your phone number. Our blackness is under assault, verbal assault and even physical assault. Sexual harassment and predation is a matter for the church because it happens in church to church folk and is perpetrated by church folk.
We can't talk about taking care of black bodies in or out of the Black Church without talking about the perils black women and girls face from black men and sometimes boys in and out of the church, and in and out of the pulpit. That peril is often physical and sexual violence as Shahorah knows first hand. She tells the story of her sexual assault in 5:7:
The men who roam the streets,
guarding the walls,
beat me and tear away my robe.
Don't miss that the men who assault Shahorah are the men who guard the walls. If we read them religiously they are the men responsible for maintaining order in the city where God dwells. If we read them civilly they are the men responsible for protecting the city and her citizens from those who would prey upon her. Pastors and police can be equally dangerous to black girl magic.
And I have faced the angry glare
Of others, even my mother's sons
Later in the text (8:8-9), Shahorah describes the efforts of her own brothers to constrain and confine her, to make her conform to their notions of comportment.
We have a young sister
Whose breasts are but flowers.
What shall we do
When the time comes for suitors?
If she's a wall
We'll build turrets of silver,
But if she's a door
We will plank her with cedar.
Being unapologetically black out loud and in public sometimes means scrutiny and censure from your own people who still believe that respectability politics will save them, and all too often what is respectable, civilized, decent and professional is what white supremacist culture demands. Like so many good church women Shahorah's self-care has been side-tracked while she takes care of everybody but herself.
And I have faced the angry glare
Of others, even my mother's sons
Who sent me out to watch their vines
While I neglected all my own. 
It's time to tend our own vines and their sweet, luscious, intoxicating fruit. It's well past time for us to love God herself in ourselves and each other. Too long the church has taught us to love others at the expense of ourselves. It doesn't work that way boo. As Rev. RuPaul asks, How the hell you going to love somebody else if you don't love yourself? Can I get an amen up in here? The answer is you can't. You cannot love anyone else—or tell them how and where to love you, how exactly it is you like to be loved—if you do not love yourself, all of yourself, in every way.
But some of us don't love ourselves. We have been told for so long that our blackness is bestial, fit only for the end of a rope. Our despised bodies were raped and plundered by those who hated us, literally hating on us with their unwanted bodies. Their descendants plunder the creative riches of our culture all the while denying we have a culture, compounding the theft of our labor while relegating us to under-resourced schools and neighborhoods, all the while pathologizing our beautiful blackness when they're not hunting us down in city street safaris. They work so hard to cast our blackness as the demonic so they won't have to accept the fact that they have been killing God herself. All the while appropriating our hairstyles and recreating our contours.
It is no wonder some children looking at the world unfolding around them don't want to be black and can't see the gift it truly is. Some of us can't help our children find the holiness in God's touch on their skin because we have been so brutalized in and because of our skin, hair, diction and mannerisms we wish we could be somebody else too. It can be hard to love yourself, no matter how woke you are, when you are bombarded with so much hate for your person and your people, passed down as an intergenerational curse millennia after millennia. Isn't any wonder so many of our bodies, minds and souls are unhealthy? You can't care for your black body if you don't love your black body.
It's time to tend our vines. It's time to tend our own vines. It's time to tend the vines of our minds. It's time to tend the vines of our souls. It's time to tend the vines of our beautiful black bodies. It is time to love ourselves and love on ourselves. It is time to be our own best lover. It is time to know every inch of our flesh, revel and delight in it: every curve, every roll, every wrinkle, every freckle. How are we going to know when something feels wrong in our breasts or testes when we don't know what they feel like when nothing is wrong?
What happens to your vine is a community affair. Our vines are all planted in the same vineyard. What happens to your vine affects my vine and what happens to my vine affects your vine. What we do or fail to do in the care and nurture of our vines is not just confined to our own bodies. In our strength we can strengthen others. A strong vine can help support a weaker vine. But a diseased vine can infect the whole vineyard.
When you hurt me, you hurt yourself
Don't hurt yourself
When you diss me, you diss yourself
Don't hurt yourself
When you hurt me, you hurt yourself
Don't hurt yourself, don't hurt yourself
When you love me, you love yourself
Love God herself [2]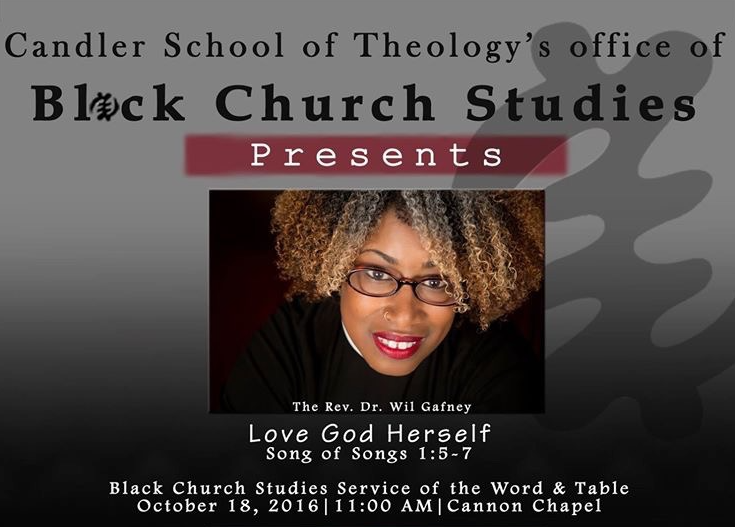 [1] Translation of Song of Songs Poem 2 (1:5-6) by Rabbi Marcia Falk (The Song of Songs: Love Lyrics from the Bible. Waltham, MA: Brandeis University Press, 2004.
[2] "Don't Hurt Yourself," Beyoncé, Lemonade, Parkwood Entertainment/Columbia Records, 2016.
---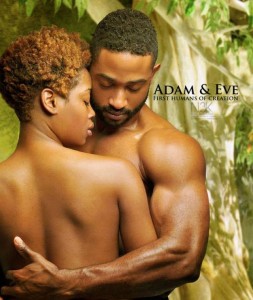 Love. Sex. Money. Power. Death. All of these things are present in and behind our lessons, particularly the first two, especially if you know where to look. Let us look with eyes wide open at the treasure house of the scriptures and see what they have to say to us across the expanse of time, that we might find a living word from the Living God in these words we share today. Let us pray:
Holy One of Old, open our eyes that we may see and our ears that we may hear. Amen.
[Adam and Eve by James Lewis; Song of Solomon by He Qi]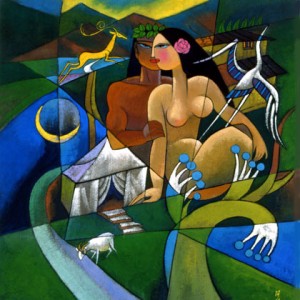 Today's lesson from the Song (2:8-13) is part of a larger work celebrates human sexuality as part of God's good creation. In the Song, the woman and man are in harmony with one another and with the natural world; the brokenness of relationships between humans and, between humans and the earth is healed, (Phyllis Trible in God and the Rhetoric of Sexuality). The garden in the Song is a sustaining oasis nourishing its human, plant and animal occupants. The woman and man are in what some have described as an egalitarian, non-hierarchical relationship. That may be too generous but it is clear the relationship between the woman in the Song and her man is unlike any other in the scriptures. Yet the world of the Song is not paradise; there are threats: There is some degree of societal and familial disapproval of their love demonstrated by the attempts of some men to regulate the woman's sexual expression, (5:7; 8:8-9). The bible is, after all, an Iron Age text.
In our lesson this Sunday the lovers articulate their love for each other's flesh. This text is a lovely reminder that our physical bodies are beautiful and beloved, and that loving relationships occur within and not in spite of human bodies. [tweet that] The lectionary portion begins with the woman extolling the way the man moves in v 8. Then she exclaims over the way he stands still and looks out the window in v 9; she is besotted with every little thing he does. She repeats some of his words to her – it is unclear when he first spoke them. (There is little underlying narrative or chronological order in the Song.) The man asks his love to run away with him; they aren't running away from anything or towards anything. They just want to be together in a world as beautiful as their love. The natural beauty of the world around them reflects their love, blossoming flowers, fruit-laden trees, singing birds. Maybe it is paradise, or the Garden Isle of Kauai.
The natural world evokes all of the senses as does the love between the couple. The very physicality of this text as scripture is its gift. The woman, man, their love and their world are all God's good, very good, creation. There is no division between body and soul. The Greek philosophical tradition that will become so important to the Church Fathers as many of them reject and restrict sensuality, sexual love and bodiliness is unknown here. This text does not share the later dualism separating flesh and spirit inspired by Greek philosophy in which the body and its desires are regarded as being lower or lesser than spiritual things. Body and soul are one here, united in love.
[tweet this] The Song of Songs is a celebration of erotic love, by which I mean explicitly sex. Not surprisingly its literal reading was quickly abandoned in favor of allegorical readings in much of Judaism and Christianity where it has been read as symbolizing the love of God or Christ for Israel or the Church. No small feat given that neither Christ nor Israel, nor even God are mentioned in the Song. It's about sex and love and death to some small degree. [tweet this] We dare to love though we die. We risk death because we love. Love and sex, sex and death have been intertwined since the first stories in that other garden where love went wrong and started looking like the heteropatriarchy because of a curse. [tweet that]
But here in this garden there is love and some degree of equanimity in spite of the old curse. Here a woman dares to tell the world about her love, her desire, her sexual desire, her intent to fulfill it without shame. She does so in the only biblical book in which a woman is the dominant character and speaks the majority of the lines. The Song of Songs is unique in the scriptures for its passionate lyrics extolling the physical love between a woman and a man, and for the dominance of the woman – in voice and agency – in the composition. It is a marvel – perhaps a miracle, an intentional act of God defying the previous order of things – that the Song was received as scripture. It was resisted and rejected by men before it was grudgingly accepted.
[tweet this] A literal reading of the Song requires coming to terms with the raw sexual desire and gratification called for by this woman to her man in the scriptures which many readers found – and find – incompatible with their notion of scripture in spite of the fact that these verses are enshrined and canonized. In many readings that do celebrate the sexual love between the couple, their marriage is asserted in spite of the fact that the text does not state that they are married. The man does refer to the woman as his bride (Song 4:8–12; 5:1) and sometimes as his sister (Song 4:9–10, 12; 5:1–2; 8:8) though no one seems to want to take that literally – it is not clear whether they are betrothed or married, and if they are married why she spends so much time looking for him or they feel the need to sneak around. All that sex talk, conveniently excised from today's lesson which ends as they run away together, inconveniently ending before the most luscious descriptions of their love-making.
And then for some reason the lectionary shapers gave us an equally truncated piece of Ps 45. Perhaps they reached into their grab bag of bible verses and it was on top. It too is about love. But not the kind of love in the Song. I'm a Black Church Episcopalian so I need you talk back to me. To whom is the Psalm written? I love the NRSV translation of v 1 – not something I say often:
My heart overflows with a goodly theme;
I address my verses to the king…
So, to whom is the Psalm written? If we just read that verse, we might say, "Well, God is often described as a king (in spite of not actually being male)." But look at v 2:
You are the most handsome of men…
therefore God has blessed you forever…
This is a psalm about a human king. Is there any love here? Does the psalmist love the king? Or does he love his wealth and power? It sure seems like the psalmist has some kind of love for him. [tweet this] When was the last time you read a psalm praising someone other than God? You can find the whole psalm on p 647 in the prayerbook – I have little love for that translation. Take a quick look at the love of the psalmist for the king: v 3 his thighs and his might, v 4 truth, justice and the Israelite way, v 5 his hands and his strength. In v 7 I think editor of the psalter said we have to have something about God in here so we get a one liner about God's throne then back to the man of the hour. He's better than all the other dude-bro-kings, his clothes and cologne are better, his women and their bling are better and look! a wedding at the end of the psalm. But there is no love there; this is a political wedding. This is the wedding of Jezebel to Ahab; her titles, "daughter of Tyre" and "king's daughter," are present in the text, rendered "people of Tyre" – a deliberate mistranslation – and "princess." Jezebel is the only Tyrian princess to marry an Israelite king; the psalmist addresses her directly. In v 10 the psalmist tells her to forget the people and the place she loves. He does not believe that she can love her new people and her own people. The psalmist's notion of love is very different from the lovers' understanding. It is much smaller.
In the Song there is more than enough love to go around. It is practically sprouting out of the earth like flowers. In the psalm, all love and loyalty go to the king. Even God gets short-changed in the psalmist's praise. We ought not be surprised. [tweet this] When love and sex intersect with money and power, love often seems constrained and reduced to shadow of itself.
James (1:17-27) offers another vision of love, love beyond that of lovers for each other. One of the songs of my people asks, "Have you got good religion?" The response: "Certainly, certainly, certainly Lord." What is the evidence? The second verse asks, "Do you love everybody?" "Certainly, certainly, certainly Lord." Perhaps today's lesson from James was the inspiration. He teaches that what we say and what we do matters. We cannot say we love God, have good religion – or any religion at all – and say anything to anybody. This is an election season Gospel: one measure of your religion is what you say, including about candidates. And, [tweet this] we cannot say we love God and have good religion and not care for God's children, widows and orphans yes, and the homeless, hungry, uninsured and under-insured, imprisoned – rightly or wrongly – diseased and afflicted, trafficked, migrants with and without papers, the hurting and even the hateful. I love that James doesn't limit "religion" to Christianity. We are not alone in doing the work of God's love in the world.
The Song teaches us to love with abandon. The Psalm shows us how wealth and power can warp love. The Epistle reminds us that love extends far beyond us, that it is not something we feel but something we do.
And Jesus, Jesus who is love seems to be talking about anything but. It seems the lesson of the Song has been forgotten. Folk are worried about controlling the body; all that flesh and its potential for pleasure makes a lot of religious folk uncomfortable – and not just in the Iron Age. And [tweet this] Jesus makes what I think is an overlooked point (in Mark 7:15): The body is not evil nor the source of evil. He says: there is nothing outside a person that by going in can defile, but the things that come out are what defile.
Yes, Jesus just made a poop joke. But more than that, by focusing on what folk say and do with their bodies and not their bodies themselves, Jesus aligns himself with our lovers. That ought not surprise us because Jesus overcame his culture's aversion to Gentile flesh and never seemed to share their aversion to woman flesh. [tweet that] Jesus also offered his flesh to touch and be touched by folk whose flesh was said to be polluted and polluting.
After all Jesus is the one who emerged into the world in scandalous flesh, clothed in the flesh and bathed in the blood of an unmarried woman with a damaged sexual reputation. Jesus entered the world between a woman's thighs uncomfortably close to urine and feces – not just in the stable but also in that most intimate female space. And perhaps most scandalous of all, Jesus did this as God, taking on human flesh, joyful, loving, touching, sexually maturing and capable flesh. In Jesus, God is all kinds love and, all of our love, which comes from God, is worthy of God and therefore an extension of God's love. [tweet this] We are the beloved of God, with and in these bodies and their loves, not in spite of them.
In the Name of God who is Love, Jesus the Love that is stronger than death and the Holy Spirit who covers us and fills us with her Love. Amen.
---