Disclaimer: I have no hate-snark for Tut. Read at your own risk!
I first became aware of Spike's miniseries TUT surfing for streaming media to watch while resting an injured knee.  Given the whitewash of the ancient world in projects for the large and small screen in recent years I had low expectations and decided not to invest two let alone six hours on it. However, I noticed a bit of slick advertising for a pre-publicity piece on Egyptian culture, Egyptian Vice (in two parts), and rolled the dice.
The documentaries were visually stunning and included more than promotional clips of the miniseries; they shot new material for the stories they told far beyond the 18th dynasty. I was pleased to see a variety of skin colors, though most of the Egyptians were post-Arab-Egyptian-beige, there was a fair amount of black and brown. Pharaoh Khufu for example, was portrayed by a beautiful dark chocolate brother. While Khufu would not be in the Tut series, I was pleased to see that Nonso Anonzie would play General Horemheb (who would become the last pharaoh of that dynasty). There were some decidedly odd choices, Nefertiti's signature crown was replaced by an afro the exact same shape and, the Mitanni who hailed from Syria and Turkey were as dark as central Africans wearing terrible euro-textured wigs. Their Cleopatra was, unsurprisingly (virtually) white. Even so the casting for documentaries and miniseries was clearly diverse even given the extremely low bar set by biblical epics of recent memory. My one real disappointment was Akhenaton for whom I and many black folk have a particular love. Neither his character nor his appearance  suited. Even making allowances for the need to teach a young son harsh lessons before he died, none of the beauty captured in his images was present in the actor.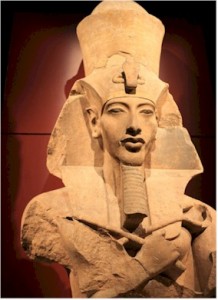 The documentaries made good use of Egyptology and archeology, interviewing several prominent scholars. There was also an unfortunate perpetuation of the old wives' tale about temple prostitution – a particular source of ire to many a biblical scholar. From the tie-ins it was clear the production put significant effort into reproducing the material world of ancient Egypt with 60+ live action sets on location in Morocco, no CGI and breath-taking handmade wardrobes – hand-pleated silk gowns! – and props. When the director described the storyline as "a life Tut could have lived rather than the life he lived" I was intrigued.
By being honest about their historical fiction they were free to spin whatever tale they wished without the charge of misrepresenting history (at least from me). And what a story!
I watched the first episode and was hooked: drama, intrigue, deceit, epic battles, love and a tragic untimely death drawing near. Sir Ben Kingley is without peer and was a brilliant Ay, destined (to no small degree by his own hand) to become pharaoh after Tutankhamen. Sudanese-born Alexander Siddig* was riveting as High Priest Amun; I was never clear to what degree he believed his own faith. *[Siddig's glorious birth name is: Siddig El Tahir El Fadil El Siddig Abderahman Mohammed Ahmed Abdel Karim El Mahdi.] And, I was totally captivated by the love-story between Tut and the fictitious Suhad played beautifully by Kylie Bunbury.
Lastly, Avan Jogia, who shares Gujarati (Indian) ancestry with Kingsley, won me over as the Sa Ra Tutankhamen Heru Ka Nakht Tut Mesut Nebty Nefer Hepu Segereh Taui Heru Nebu Wetches Khau Sehotep Neteru Nesu Bity Nebkheperura.
The series was thoroughly entertaining and well-worth watching. There was even some history to go along with the fiction.
---
We pray not because we believe it is magic, not because we are certain that God will do what we ask, but because we can and we must. The world's burdens are too great and too many for any of us to bear, its problems impossible in our strength, knowledge and capacity. We pray knowing there is a God who hears, loves, aches and moves. We pray knowing our ancestors prayed for freedom until they died, not receiving it in their lifetimes, passing the mantle of prayer down through the generations. We don the ancestral mantle of prayer because it is our time. And we pray knowing that we may die before we see peace in the world. But we pray because we know the world will see peace whether we, our children or our children's children live to see it. We take up the garments of prayer passed down through the centuries until the time comes to exchange it for a burial shroud and pass it on to the next generation.
---