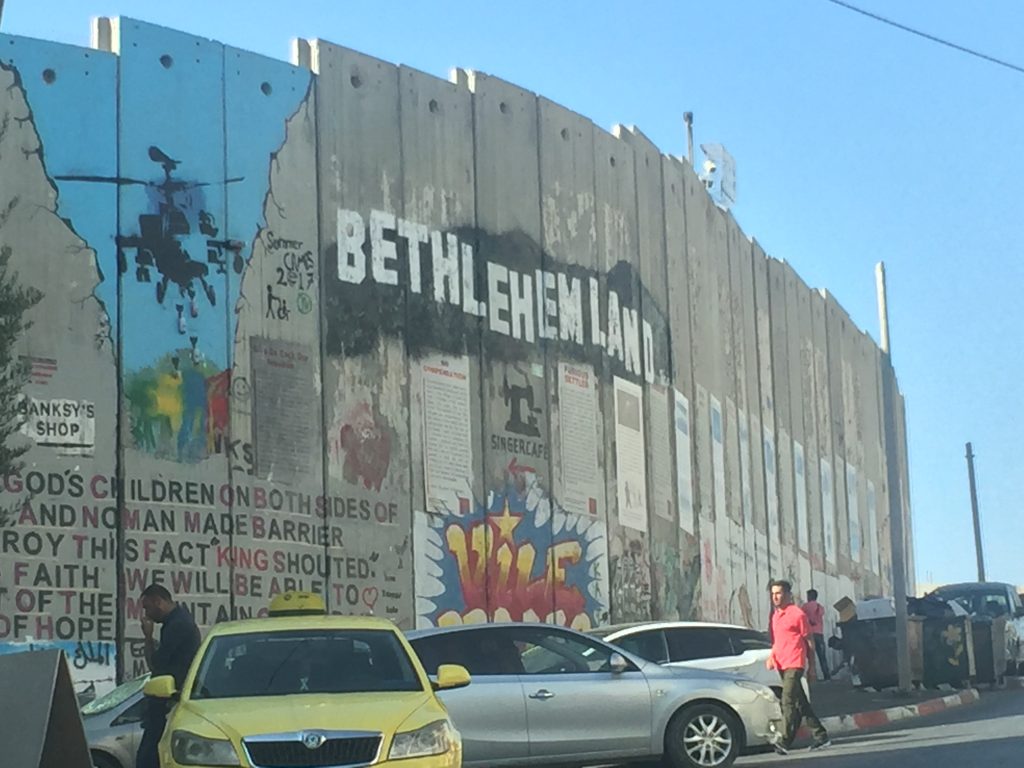 Today my friend and colleague took me on a tour of the wall around Bethlehem. The Israelis I spoke with on the interfaith listening trip said often only five percent of the wall—they prefer security fence or barrier—is a wall; the rest is a fence. In Bethlehem they say one hundred percent of the barrier around the city is a wall.
I had a much more emotional response to what I saw and the narrative I heard here in Bethlehem. I am not a disinterested reporter. The plight of the Palestinian people living under occupation touches me deeply. Here I resist saying what in the Israeli narrative touches me. There is no competition. There is no binary. There is no parity. And I believe the impulse, and often demand, to treat each side the same in discourse disregards the hierarchical nature of the relationship and engagement between the two peoples.
There is a kinship between black people and Palestinian peoples that stems from our origins on the same continent and similar experiences of occupation and justice struggles from apartheid to the Black Lives Matter movement. It is a common understanding that (former) Prime Minister Sharon went to South Africa to study apartheid and imported the bantustan system to Palestine.
The wall represents a craven land grab to the Palestinian people. One that is continuing. The wall is being rebuilt, moved, to take more of Palestinian land. By some accounts, eighty six percent of Bethehemite (mostly Christian land) has been walled off on the Israeli side. The wall is often right against people's houses, cutting them off completely from their land, or immediately adjacent to the road with not even a sidewalk. Even though they are still the owners of some of that land on paper, they are not allowed access to it and when their olive trees fail and the land lies fallow it is often seized. The Bethlehemite lands become available for the Israeli settlements that are growing right up to their newly imposed borders.
The pastor I spoke with lamented that this generation of children don't know the green Bethlehem of his youth. Every square (remaining) inch is built on and build up into multi-story buildings because they can't expand sideways. There is real concern about the impact of walling so many people in with increasing population, static or reducing space, and increasingly limited employment opportunities. These mechanisms of the occupation are systemically violent and often neglected when physical mechanical violence by individual Palestinians is condemned. Violence takes many forms here. Even so, my colleague calls for creative and non-violent resistance, not violent resistance. He sees no victory in using the sword of the empire and enriching arms dealers.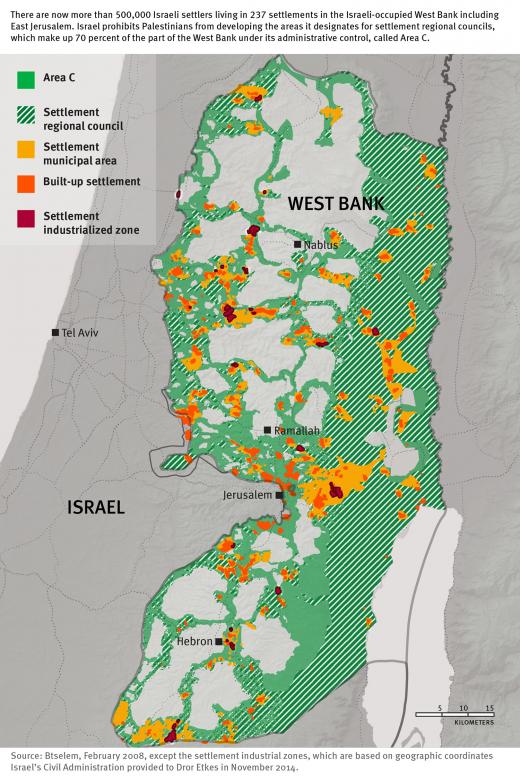 We talked about what the future might bring. There is little belief in a two or even one state system anymore. He raised the possibility of a three or four state eventuality. Israel, Gaza, the West Bank and, perhaps a settler state in the middle of the West Bank. According to Human Rights Watch [map], there are some 500,000 settlers in 237 settlements in the West Bank. They are connected by private bypass roads that bypass Palestinian towns and villages, living them a singular footprint.
Our talk and tour did not leave me with a lot of hope for the future. Survival and endurance are the order of the day. And in the midst, finding beauty and joy, living as fully as possible, and resisting the occupation and proclaiming its evil to everyone who will listen.
That doesn't feel like enough to me.
I have my loved my time here in Bethlehem's Old City where I can't see the wall and there is an underground water tank so we don't suffer water shortages from the rationing.
Today at the Church of the Nativity, some young Palestinians asked me if would record a statement supporting freedom of movement for Palestinian people. I did. Freedom of movement. The ability to leave one's home town to marry, work, go to school, shop, or travel the world. That people should have to ask for this basic human dignity angers me. I bear witness to these stories and think of the passes my enslaved and free ancestors needed to move about, the ghettos into which Jews were walled in during World War II (with a special irony), native peoples herded on to reservations in the US, and apartheid.
In the US now many of us are saying don't normalize that which is not normal, that which is not decent, that which is not humane. Palestinian occupation has become normalized and that degrades the humanity of everyone involved.
And now, we are talking about building our own wall…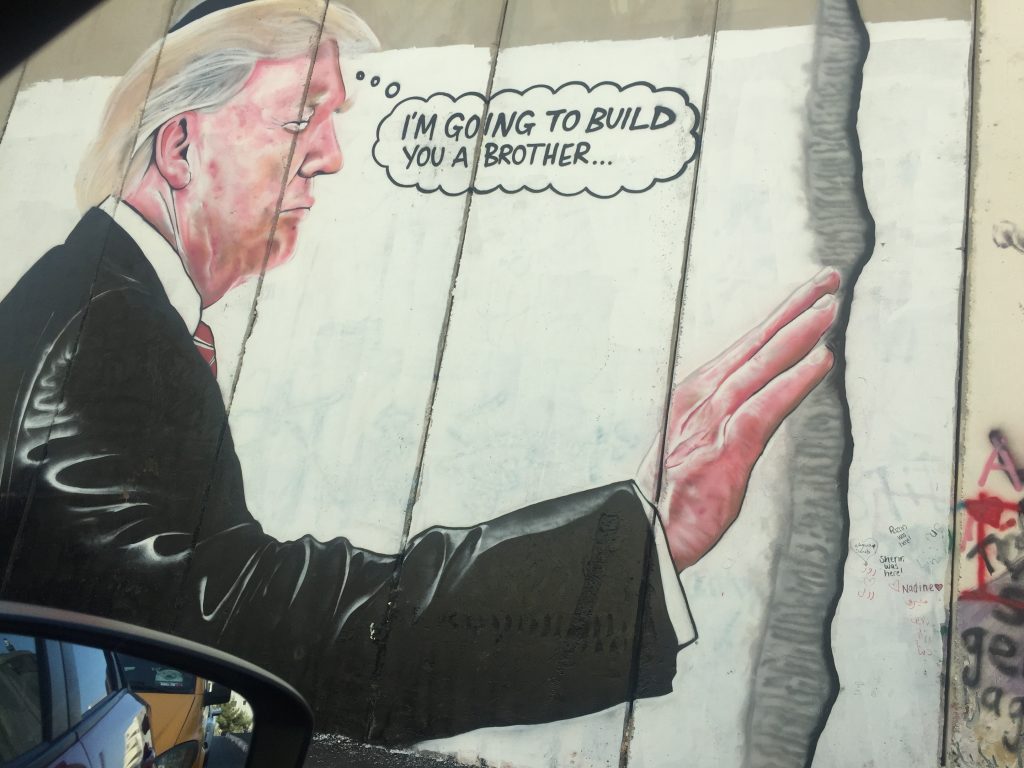 ---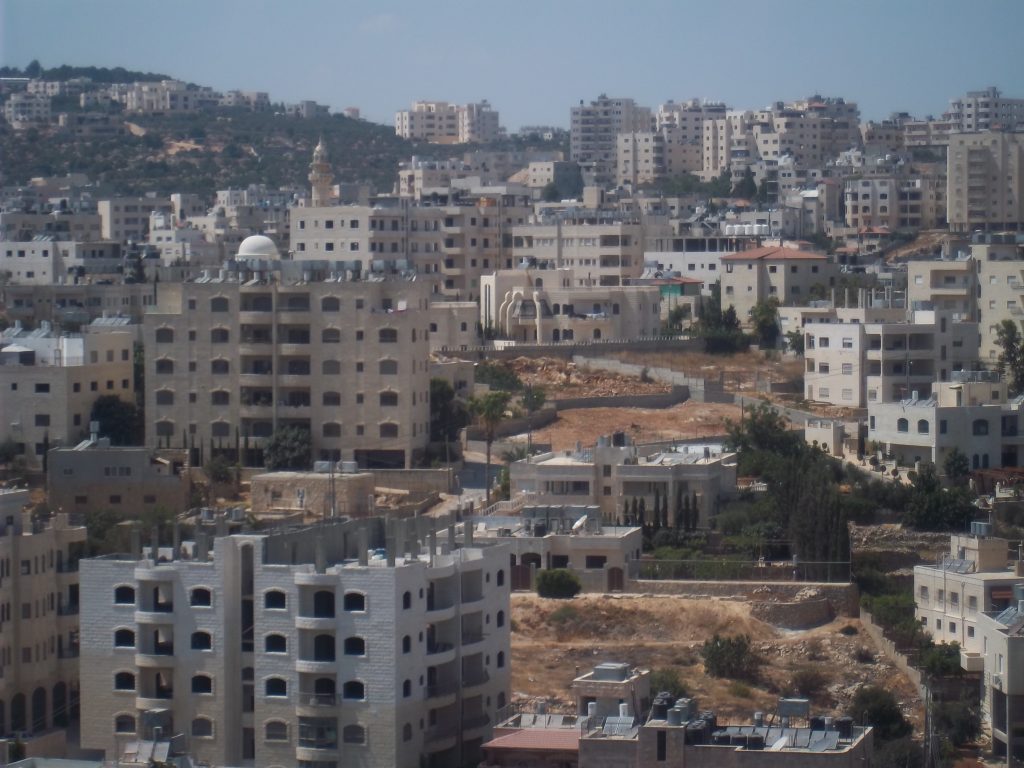 I got the number of a cab company and crossed smoothly in to Bethlehem. In all honesty the IDF (Israeli Defense Force) is more concerned with who comes out of the Palestinian Territories into to Israel than who goes in.
I arrived at the Diyar Consortium, a (Lutheran) church based organization that serves the people of the region without regard to religion, providing education in the arts, leadership and civic engagement, education and enrichment for children and youth, elder services, and a robust publishing arm focusing on Palestinian history. The Consortium is affiliated with Dar al-Kalima University which specializes in fine arts.
Unlike my trip to Israel, I have neither formal program nor fellow travelers. My informal plan is to immerse myself in this Palestinian community and shadow my friend and colleague, the Rev. Dr. Mitri Raheb, prolific author, speaker and pastor.
Tonight there was a concert with a second generation Palestinian American who retuned home. Her own songs mixed with Cold Play, Sam Smith, Amy Winehouse and Elvis. Then there was conversation and bible talk with a Catholic youth group comprised of visitors from Spain and Palestinian youth. It was a masterclass in accessible Palestinian hermeneutics. (Some quotes, some paraphrase and some expansions follow.)
– The bible is a Palestinian document and should be stamped "Made in Palestine."
– The bible (as a collection) begins in and is written under occupation.
– The bible is anti-imperial literature.
– The interdiction of the sages by Herod was an act of empire flexing its will to interrogate travelers at the checkpoint because of who they were and who they were going to see, as happens now at the crossings between the Palestinian Authority and Israel.
– Joseph and Mary went to be registered because it was the requirement of the empire to manage and profit off of the subjugated population.
– Proof of registration in the text is like the magnetic card that Palestinians need to cross into Israel.
– There is hope that empires can be redeemed, see Jonah and the lion and the lamb in Isaiah.
– Jonah runs away from his call to preach repentance to the empire because he known it may well repent and he carries so much anger, hurt, and trauma that he is not ready to move forward into another paradigm.
– The lion who lies down with the lamb represents the empire. In order for the two to lie down in safety the lion will have to be completely transformed, its essential nature re-created.
I am so grateful to be here, to live—sleep and wake and sleep and wake again and again. I look forward to the next iteration my introduction to the Hebrew Bible course and perhaps a course on Palestinian hermeneutics.
---
I spent much of the summer of 2010 in Israel. I also spent some of that summer in Palestine, in Bethlehem in particular. Now in 2012, in the aftermath of the Gaza War and failure of Israel and Palestine to return to the negotiating table and work out a just peace for both nations, I have been thinking about the little, occupied town of Bethlehem again. This Advent, Chanukah, and Christmas I pray for a just and lasting peace and two secure homelands, for the security and prosperity of those who live in each and generous hospitality for neighbor and stranger. I keep wondering if the Incarnation happened today whether the Blessed pregnant Virgin would have had to scale the wall to give birth in Bethlehem or if she would have given birth at a checkpoint like so many Palestinian women, some of whom have had their babies die at the checkpoints.
You could say I was following a star. As they say, it's always Christmas in Bethlehem. The beautiful art in the newest building of the Bethlehem Bible College portrays the signal moment in Bethlehem's – and some say the world's – history. But a few things have changed since then.
"Security" is tighter. And of course, one woman's security is another woman's occupation. The icon of both is the wall, the so-called "security fence." According to Dr. Alex Awad, Dean of Students, local pastor and United Methodist missionary, 80% of the security wall was built on Palestinian land. The wall looms over Bethlehem and cast its shadow over my visit.
In order to enter Bethlehem I had to walk through the checkpoint and its cattleshoots made of bars and razorwire.
The wall has become a site of resistance. One primary form of that resistance is art. Here is some of the art on the wall:
The wall has also inspired art. These three souvenirs re-imagine three bible stories through the shadow of the wall. In one the trumpets are blown as in the story of Jericho, but this wall does not come tumbling down. In another, the Blessed Virgin and Sweet Baby Jesus are on the wall, Joseph is preparing to cross with them. And in the wall runs smack dab in the middle of the Nativity scene, as it cuts off some Palestinian residents from their homes, family and olive trees.
A final piece of art from the checkpoint, a prayer and I hope, a prophecy:
---