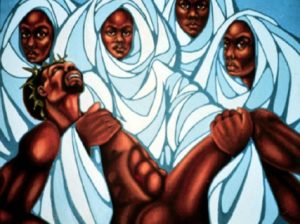 Not every woman was at the tomb. Not everyone was in that locked room. Some picked up the broken pieces of their hearts and went home. Some would have visitors bursting into their homes to tell them unbelievable news. Some would be snatched by the arm in the market and dragged under an archway to furious whispers. For some, the news would travel more slowly than for others. How long did some of them mourn him before they heard the first whisper of life?
It's been three days. I still can't believe it. I haven't left my house since… since Friday. I was there, so many of us were. There, in the crowd. We tried to pretend we didn't know each other, know him. I couldn't stay away. But I wasn't brave enough to stand with his mother. How can I explain it to you? It was like nothing I had ever seen before, like nothing I had ever heard before, like nothing I had ever smelled before. You could taste the blood in the air. The stench, the smell of death, rotting pieces of people, unwashed bodied, fetid breath. The crowd roaring and hooting. It was nothing new for them, but it was too much a horror to ever be routine, even knowing they'll be back at it again. Soon. With some of us who followed him.
Some of us sisters found our voice and blessed him and his mama and he blessed those of us who would never birth a child to die on their crosses. His poor mother. She did what she could for him before Shabbat. I know she was there again first thing this morning to bury her child properly. My heart aches for her and for us all.
It's been three days now. The sun is up, I hear people going about their business, but I can't just yet. When I woke there was a moment when I didn't remember and then it all came crashing in. I can't imagine a world without him in it. I can't imagine going to the market, baking bread, like it's any other first day.
Maybe tomorrow I'll venture out…
This Easter required reimagining for so many of us. Without a sunrise service or any of the trappings of Easter, I returned to the story and all of the stories folded into the story and thought about those who went through the day and perhaps the next day, grieving, not knowing, shut up in their houses, not out of fear or pandemic, but out of profound grief. Grief for him and all he promised and embodied. Grief for the world his words and love created. Grief for all of their hopes and the future they had touched for a moment.
The Church is notoriously impatient with Holy Saturday. Each year I watch vigils begin earlier and earlier for the convenience of this or that constituency. This year I'm keeping vigil with a sister I suspect had many counterparts whose stories weren't the dramatic point of the resurrection narrative. Sooner or later someone will come to tell her the news. There will be many different versions, all jumbled up, contradicting each other. She won't know what to believe. But she will hope…
This year, may the Good News find us wherever we are, however we are. No sick house, no plague house, no house of mourning is shut up so tight that the Gospel can't breach our doors. It just may take awhile. Such a death is not easily gotten over. Such trauma is not miraculously healed by a miraculous outcome. The grief will fade; joy is infectious. But there will always be a tender spot, just there.
Resurrection Sunday, 2020