The History Channel's miniseries on the Bible is a ratings blockbuster. The Bible is an incredibly important text in the history and culture of the United States and Western world, and has its roots in the Eastern world. One would think that the media outlet that entitled itself the "History Channel" would be concerned about those roots. One might even think that the History Channel would endeavor to expose and explore those roots. But last night on episode two, the ill-named History Channel offered us a modern day Mandingo fairy tale.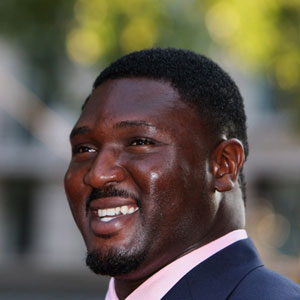 The choice to cast Nonso Anozie (a black man in a bad dreadlock wig) as Samson as is in no way an attempt to demonstrate the visual and ethnic diversity of the ancient Near East in which this story is set, specifically the West Asian, East and North African context of the scriptures. The absence of characters of African descent up to this point makes that clear. (Just as the use of Black and Asian actors for angels makes them wholly "other" in the cast and not legitimate human bodies.)
That Samson is a big black man with brutish strength and a predilection for white women is no accident in this casting or production. One of the hallmarks of Rona Downey's and Mark Burnett's vision of the Bible is the erasure of the Afro-Asiatic Israelite ethnic identity and its replacement with a white, American fundamentalist Christian identity. They do this in several ways.
1) Casting: they cast an abundance of white American and European actors and occasionally paint some dirt on their faces to make them look a little brown. Consider the creation of humanity, told in a flashback. Humanity was created from the humus, an earthling from the earth, in Hebrew an adam from the adamah. Instead of the rich brown-red soil native to Israel, Palestine and the Great Rift Valley which descends from the Holy Land down into Kenya and Tanzania, the producers use sandy white soil from which springs a sandy white man. However, Satan is played by a Middle Mastern man, Mohamen Mehdi Ouazanni. While widely advertising a "Hispanic" Jesus, the producers actually cast a Portugese actor, Diogo Morgado, with white skin as Jesus. His skin has to be white since Roma Downey (of Touched By An Angel fame, part of the powerhouse team along with Mark Burnett behind this anachronistic whitewash of the bible) cast herself as the Blessed Virgin Mary – shades of Mel Gibson casting a white Jesus so he could insert his own feet into certain shots.
2) The second way the production replaces authentic Israelite identity with a white American fundamentalist and evangelical construction is in the use of quintessentially American race motifs like that of the big black buck or Mandingo, the brutishly strong, bestial black man and his preferential taste for white women. By transforming all of the Afro-Asiatic Israelites into white people, "simply" casting an Afro-British actor as Samson stages a lynching propaganda piece that the Klan would be proud of under the cover of the bible and "diversity."
3) The third re-writing strategy of the team involves gender. The bible is an androcentric and patriarchal text. It is also a text that has many women's narratives, including those of strong women wielding power and authority in spite of their patriarchal and androcentric context. There is no room in the Burnett-Downey recreation of the bible in their own image – right down to their own skin tones – for strong biblical women so they simply exclude them. A partial list of the women who have been cut from the narrative include: Yocheved, Moses' mother and the Hebrew midwives Shiphrah and Puah, Zipporah, Moses' wife and her sisters so that Moses is not the product of a strong community of women all of whom save his life in different episodes, but a lone ranger, a man who became a hero on his own. Hoglah, Milcah, Maacah, Noah and Tirtzah, the daughters of Zelophehad who are mentioned in more biblical books than there are Gospels, for whom God changed inheritance laws in the Torah that women might receive an inheritance – not worthy of attention. The great woman-warrior, Prophet and Judge (sharing those titles with Moses and Samuel and no one else, not even Joshua) Deborah, who ruled the nation – excised. Hannah, the theological revolutionary who taught the priesthood how to pray – unnecessary.
There is a final whitewashing, silencing strategy employed by these producers. That is sanitizing genocide, slavery – when the Israelites are the slavers, sexual violence and heterodox theologies. The bible is a wonderfully rich, complicated, challenging, illuminating, revelatory text. It is also horrifically violent and does not say what we want the way we want it to. We must take it in its entirety seriously as a cultural and historical artifact and as scripture – if that is our confession. But this series erases the texts in which Joshua and the Israelites slaughter babies, kill their mothers, fathers and brothers and take their sisters as war-brides as long as they haven't had sex – prepubescent girl-children – on the orders of Moses and God. They ignore the texts in which God calls for the enslavement of non-Israelites and their children in perpetuity – the scriptural and theological basis for the Atlantic slave-trade and American slavocracy. They ignore the texts in which entire ethnic groups are exterminated by divine command. And they even ignore the horrific sexual violence perpetrated against women and girls within Israel: Lot's offer of his daughters to be raped by a mob, Israelite fathers selling their daughters into sexual slavery with the permission of God and Moses, a Judge of Israel sacrificing his daughter like an animal and celebrated as a hero of faith in the New Testament, abduction, rape, forced pregnancy used repeatedly as tools of war. Bathsheba's abduction and rape recast as consensual adultery.
In the American context when rape is being redefined while male bible-thumping legislatures require physicians to forcibly insert instruments into women's vaginas one day and deny them access to legal medical procedures the next, it matters that and how the bible is being distorted in primetime. Whereas evangelical leaders like Jim Wallis watched with "great delight," I watched with horror.
In the American context t he Israelite identity has been claimed by Christians and particularly by Western, European Christians who were also constructing the categories of white into which they placed themselves and the Afro-Asiatic Israelites. And, the United States was viewed, claimed and seized as a new Canaan for the new Israelites to conquer and subdue, hosting the reincarnation and reenactment of biblical slavery painted in black and white. This is why the whitewash of the bible on the History Channel is so pernicious. It is a continuation of slave-holding racist exegesis. And they ought to be ashamed.
Twitter Stream from Dr. Gafney:
View and download in interactive pdf format