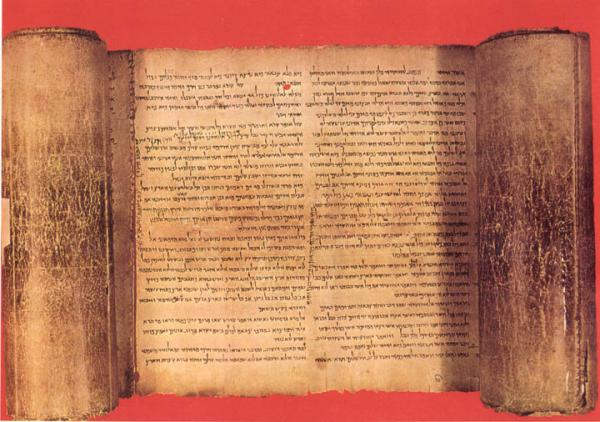 Luke 24:44 Then Jesus said to them, "These are my words that I spoke to you while I was still with you—that everything written about me in the Torah of Moses, the Prophets, and the Psalms must be fulfilled." 45 Then he opened their minds to understand the scriptures.
Let us pray: Holy One of Old, open our eyes that we may see wondrous things out of your word. Amen.
The belief that the Scriptures of the ancient Israelite people bear witness to, testify to, Jesus of Nazareth is one of the most cherished beliefs of our faith. It is so important to some people that they twist the Scriptures in to being only and all about Jesus forgetting that there were real people wrestling with real issues to whom God spoke in their own days, in their time of need, faithfully. I'm so glad that God spoke to God's people about their need, their hurt, their hope, in their time, using words that are so powerful that they continued and continue to speak to each generation about their own concerns – and ours – while teaching the faithfulness of God through God's relationship with the Israelites to whom God first spoke these words of scripture, so that we can trust in God's love for and faithfulness to us. And that's good news. My students have heard me say, it's ok if you see Jesus when you look in the scriptures, just make sure you know that's not how people first heard them, and learn something about how the scriptures spoke to their first hearers.
In today's Gospel Jesus comes to his brokenhearted disciples and offers the most unimaginable comfort. He offers them the comfort of his presence. His presence is unimaginable because they had watched him die, buried him and mourned him. Yet here he is alive, risen, walking and talking to them, soon to break bread with them. When Jesus reveals himself to his disciples, he reveals himself to them bodily, relationally and in the Scriptures:
"These are my words that I spoke to you while I was still with you—that everything written about me in the Torah of Moses, the Prophets, and the Psalms must be fulfilled." Then he opened their minds to understand the scriptures.
In his way, Jesus says that the whole bible that existed in his time speaks of him. Now, the bible in Jesus' time was not the bible in our time – there was no New Testament. You might say that Jesus was the New Testament as the embodiment of the Gospel of God's love and faithfulness. And there was no single bible, books had not yet been invented and each biblical book was written on a scroll, some had more than one book, like Torah scrolls. And communities had different collections of scrolls, perhaps only the Temple holding a copy of all of them.
The Jewish Bible existed in Hebrew, Aramaic and Greek and the books were in a different order than they are in our bibles, in our Old Testaments. Jewish Bibles were – and still are – divided into three parts: The Torah of Moses, (sometimes called the Law), The Prophets which include Joshua, Judges, Samuel and Kings, and a third section, now called the Writings in which every other kind of book was placed. But that third section wasn't complete in the day of Jesus, the only thing in it was the book of Psalms. The other books weren't official yet. However people still read and discussed them because a true student of scripture must read more than scripture and be prepared to encounter scripture in unexpected – even unauthorized – places. And so Jesus says: "These are my words that I spoke to you while I was still with you—that everything written about me in the Torah of Moses, the Prophets, and the Psalms must be fulfilled."
Yet he does not tell us what those verses are, he allows us to wrestle throughout the history of the church, to search him out in the Scriptures: Where is Jesus in the Old Testament? Where do the scriptures testify to him? It would be easy to say "every single verse" or "everyplace you see God, you see Jesus." It's in my nature to dig a little deeper, bypassing the easy and the obvious, looking for the mystery and adventure. And, I simply do not believe we can know what Jesus said to his companions on the road during that incredible bible study. I believe the Gospel invites us to wonder. And in our wonder to turn to the scriptures, to seek and search the Word for words pointing to the one who was and is the Word made flesh. I searched and sought and found myself drawn to Israel's prophets.
As a biblical scholar I know that Isaiah 9:6-7 is written in the past tense, and I know that Jesus wasn't born when they were written. And while I can't explain how and why this past tense prophecy celebrating the birth of a royal child with a throne name that makes him sound more God than human would have been heard as speaking of David, Hezekiah or Josiah to most folk to their satisfaction, I know it is an extravagant celebration pointing to the God of the child-king for whom these titles really apply. And, at the same time, along the church across time, I confess that I also see Jesus when I read:
Isaiah 9:6 For a child has been born for us,
a son given to us;
authority rests upon his shoulders;
and he is named
Wonderful Counselor, Mighty God,
Everlasting Father, Prince of Peace.
7 His authority shall grow continually,
and there shall be endless peace
for the throne of David and his kingdom.
He will establish and uphold it
with justice and with righteousness
from this time onward and forevermore.
The zeal of the Holy One of heaven's armies will do this.
Now, I know that Isaiah 11:4 speaks of the return of the Israelite monarchy after the Babylonian exile hundreds of years before Jesus quickened in his holy mother's womb, but I also see Jesus and his teaching when I read:
with righteousness he shall judge the poor,
and decide with equity for the meek of the earth.
And when Israel is longing to leave exile and God is promising to deliver them, to bring them home in their days, to keep God's promise to God's people, God spoke of a servant who I know can be identified as King Cyrus of Persia who sent the Israelites home with gifts to rebuild the temple. And I know that God's servant can also be Nehemiah who got permission from King Darius of Persia to bring even more of his people home and continue the work of rebuilding. Yet when I read Isaiah 42:1-9, I see also Jesus:
Isaiah 42:1 Here is my servant, whom I uphold,
my chosen, in whom my soul delights;
I have put my spirit upon him;
he will bring forth justice to the nations.
2 He will not cry or lift up his voice,
or make it heard in the street;
3 a bruised reed he will not break,
and a dimly burning wick he will not quench;
he will faithfully bring forth justice.
4 He will not grow faint or be crushed
until he has established justice in the earth;
and the coastlands wait for his teaching.
And just a few weeks ago, we reenacted Zechariah 9:9-10 which I know is a hopeful prophecy that one day Israel will be governed by a king who is not a warrior, and in that hope I see Jesus – in fact I also see the Blessed Virgin:
Zechariah 9:9 Rejoice greatly, daughter of Zion!
Shout aloud, daughter of Jerusalem!
Look! Your king comes to you;
triumphant and victorious is he,
humble and riding on a donkey,
on a colt, the foal of a donkey.
And I know that I am not alone in seeing Jesus in these verses from Isaiah 52-53:
Isaiah 52:14 Just as there were many who were astonished at him
—so marred was his appearance, beyond human semblance,
and his form beyond that of mortals—
2 For he grew up before God like a young plant,
and like a root out of dry ground;
he had no form or majesty that we should look at him,
nothing in his appearance that we should desire him.
3 He was despised and rejected by others;
a man of suffering and acquainted with infirmity;
and as one from whom others hide their faces
he was despised, and we held him of no account.
4 Surely he has borne our infirmities
and carried our diseases;
yet we accounted him stricken,
struck down by God, and afflicted.
5 But he was wounded for our transgressions,
crushed for our iniquities;
upon him was the punishment that made us whole,
and by his bruises we are healed.
6 All we like sheep have gone astray;
we have all turned to our own way,
and the Sovereign God has laid on him
the iniquity of us all.
7 He was oppressed, and he was afflicted,
yet he did not open his mouth;
like a lamb that is led to the slaughter,
and like a sheep that before its shearers is silent,
so he did not open his mouth.
8 By a perversion of justice he was taken away.
Who could have imagined his future?
For he was cut off from the land of the living,
stricken for the transgression of my people.
9 They made his grave with the wicked
and his tomb with the rich,
although he had done no violence,
and there was no deceit in his mouth.
10 Yet it was the will of the Holy God to crush him with pain.
When you make his life an offering for sin,
he shall see his offspring, and shall prolong his days;
through him the will of the One God shall prosper.
11 Out of his anguish he shall see light;
he shall find satisfaction through his knowledge.
The righteous one, my servant, shall make many righteous,
and he shall bear their iniquities.
12 Therefore I will allot him a portion with the great,
and he shall divide the spoil with the strong;
because he poured out himself to death,
and was numbered with the transgressors;
yet he bore the sin of many,
and made intercession for the transgressors.
I don't know what verses Jesus recited when he revealed himself in the scriptures to his disciples on the road to Emmaus. Quite frankly, I don't need to know. To tell the truth I love the mystery of it all. I don't know that he even spoke to them to teach them, verse 45 says: Then he opened their minds to understand the scriptures.
Perhaps Jesus didn't say a single word. Perhaps he did a Vulcan mind-meld. Perhaps he opened their minds with a thought or a touch. Or perhaps he opened their minds with a single word, yehi, "Let there be!" – the word with which God began to create, or perhaps he spoke the first word of the scriptures, b'reshit, "In beginning…" I don't know how he did it, I just know that Jesus showed up, traveled with them, accompanying them, transforming their journey, transforming their hearts, transforming their grief, transforming their minds and transcending their expectations.
But I'm so glad that Jesus showed up. I'm so glad that when his friends and followers were hurting and had given up, Jesus came to see about them. I'm so glad that Jesus eavesdrops on us from time to time. I'm so glad that Jesus breaks into our grief with the promise of resurrection. I'm so glad that Jesus draws us into the scriptures. I'm so glad that Jesus meets us at the table, breaks bread with us and is our bread. I'm so glad that Jesus lives and offers that eternal life to all of us. I'm so glad that Jesus leaves us mysteries to ponder. I'm so glad that Jesus still transforms and transcends. And I'm so glad that Jesus is in the pages of scripture, in expected and unexpected places, waiting to meet us.
In the name of the One who waded in the waters of Miryam's womb, walked the way of suffering as one of the woman-born, and woke from the grasp of death in the deep darkness of the morning. Amen.