---
400 years of white male abuse of black girls and women is written in this image. pic.twitter.com/YfMYkOXqXR

— Wil Gafney (@WilGafney) June 7, 2015

There are somethings you will never know if you don't have a black-girl-body, if you are not or have not been a black girl or woman. Here's what too many of us know, groping hands and sexually explicit requests and demands from girlhood, long before womanhood and frenzied demands for compliance from the first emergence of the slightest curve on our frames.
Our bodies are torn from us, gobbled up by relatives and strangers of all races. We have been put on display alive and dead, fetishized, coveted, demonized, ridiculed and raped on an industrial scale to produce more of us.
One particularly enduring experience of being a black girl or woman anywhere on this world is the right white women and men assert over our bodies. They put their hands in our hair and think they have done us a favor if they have asked permission first. Then become enraged when we say no. One woman offered me a Christian apology and hug to which I foolishly/innocently consented to find her stroking my now accessible hair. They demand explain we explain our skin – can we tan? do we burn? – our grooming and account for all of blackness everywhere.
[Some will look for me to say not all white folk and talk about my white allies, friends, loves and family members. If you need to hear that to hear me you are not hearing me.]
When I saw the video of Dajerria Becton with a white male police officer grabbing her by her hair and head pushing her face down into the ground, at one point dragging her on the ground by her arm, pressing himself onto her body, his knee in her back, his body clad in the uniform of the community in which she lives, adorned with the badge and gun funded by her parents' taxes, her body clad in the bikini uniform of summer sun and fun leaving her body exposed for his grasping hands, I remembered too. I recognized what I was seeing because I have a black-girl-body too.
She will remember those hands. She will remember the weight of an unfamiliar, unwanted man pressing her down into the ground, trying to force her to submit, to comply. She will remember the entitlement with which he cursed her, snatched her, positioned her and released her at his leisure. Her memories will be located in the beautiful brown flesh of her black-girl-body.
---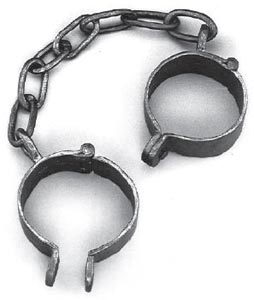 The festering scab of our rape epidemic has been ripped off (again), revealing the festering flesh underneath. Women and girls snatched off the street and held in chains for years as sex slaves; predators talking their way into the homes of struggling single mothers for access to their children; male soldiers and defense contractors raping their female and male fellow soldiers habitually and for sport with impunity; women, men, boys and girls trafficked around the world because they are cheaper and more profitable than drugs with lower overhead and fewer turf wars – and the demand is inexhaustible.
We are horrified by and seemingly inured to violence: sexual violence; domestic violence; gun violence. The sleeping behemoth of righteous indignation is shaking off its slumber as the  parents of murdered children find allies in their fellow citizens and in some of their representatives to address one factor in the sea of madness, nearly unfettered access to guns including military grade weapons and high capacity magazines that can turn any shooting into a slaughter.
The consumption of women's and girl's bodies for the sex-power-rage gratification of men is prehistoric and perennial. It is biblical. But it is not godly. No longer "just" a tool of  warring armies – although still very much so – the daily reduction of women of women and girls to  tubes of flesh to which and for which some men will do anything is a horror that must be decried and ended.
We cannot legislate our way out of rape culture any more than we can out of gun culture, although legislation has an irreplaceable part to play in transforming our society that must not be abandoned or surrendered.
We are broken at the basic human level, but not not past the hope of repair. That is the irrepressible hope that dogs me, hounds me, stalks me. We have it within our capacity to change, ourselves and our world. We begin with what we tell ourselves about ourselves and each other. We continue by rejecting and correcting messages objectify and commodify people, women, girls, boys and men. We shine the light of day and the light of God on sexual violence in our homes, churches, temples, mosques, schools, military, and streets. We teach men and boys not to rape, that they have no right to the flesh of women and girls or boys and men. We stop blaming the victims of sexual violence for the crimes against others against them. We stop accepting rape and torture as the price of doing business or consequence of living in certain neighborhoods, countries or anywhere else in this world.
It is not enough for good men not to rape. It is not enough for people of faith to condemn atrocities after the fact. We must nurture human dignity in each child, each adult; teach and model manhood that is not based on conquest or dominion. The savages among us are savaging the illusion of civilization. No amount of digital technology can prevent the deployment of a weaponized penis yet technological advances and innovations further rape and trafficking. It is far past time to target men and boys  and our rape-normative culture with messages of transformation. You are not savages. We will not be savaged.
The time has come for rape-culture to be buried in a grave from which it will never rise again.
---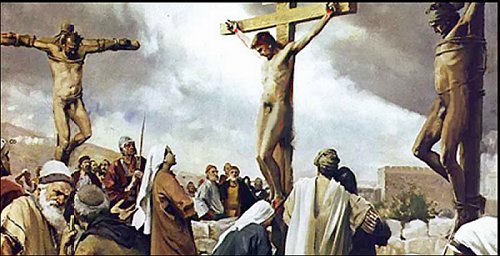 On this Good Friday as on many before, I consider anew the full range of torture and humiliation to which Jesus of Nazareth was subjected, physical and sexual. The latter is so traumatizing for the Church that we have covered it up – literally – covering Jesus' genitals on our crucifixes. But the Romans (and others) who used crucifixion as more than a form of execution, as a form of state-sponsored terrorism – really lynching – to control subject populations were not inclined to respect the human or religious dignity, culture or customs of their targets.
The mocking, taunting, forced stripping of Jesus was a sexual assault. He was, as so many of us are – women and men, children and adult – vulnerable to those who used physical force against him in whatever way they chose. Those who rush to say but he wasn't raped, or at least he wasn't raped miss the point. (And we don't know that he wasn't. We can only say the Gospels do not say that he was. But would they?) The combination of various forms of sexualized violence and lethal violence are potent dehumanizing expressions of dominance as in ritual castrations combined with lynching in the American South – and North.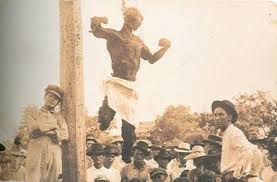 It is hard to think of Jesus that way. Hard to find images that preserve that historical perspective. (I couldn't find any nudes that also portrayed him as a Semitic, Afro-Asiatic, man.) An internet search is not for the faint of heart. The sexualization of a bound man or woman is an obvious and a familiar trope in pornography. The association of Jesus with BDSM (bondage, discipline/domination, submission/sadomasochism) is horrifying (for me and for many others, but clearly not for all). The line between consensual sexual encounters and assault and sexualized murder is crystal clear for me. Crucifixion, like all forms of lynching, is depraved and should make us uncomfortable whatever our sexual pleasures.
The Church that has a hard time talking about sexual violence perpetrated against mere mortals has an understandably hard time thinking about the sexualized connotations of the crucifixion of the Son of God. The reason the Church has such a hard time thinking critically and talking about sexual violence is because it has a hard time thinking critically and talking about sex. The Church – and I really mean churches, congregations and denominations – has had and have a hard time talking honestly and publicly about good healthy sex and so they are unable to speak authoritatively about its antithesis and perversion, the use of sex as a weapon.
There is so much shame associated with sex for so many Christians and those who lead, teach and preach in Christian communities, and that shame is regularly heaped on women and gay or effeminate men. Yet the scandal – and it is scandalous – of the Incarnation is that God pulsed into this world between a woman's thighs, in not only the spit and shit of a stable, but passed through her vagina, as Bro. Cornell West says located "between the orifices for urine and excrement."
Jesus has been carefully shielded from female and male genitalia in the tradition ever since. The idea of Jesus being in either a heterosexual or homosexual relationships are both anathema for many Christians. Even the notion of Jesus' own human sexual development  – erections and nocturnal emissions – is taboo. And what of his own actions? Could Jesus be fully human as a teenaged boy and man without ever fantasizing or masturbating? If he was truly unmarried in a culture that married teenagers off as soon as they went through puberty in lieu of birth control because there was no controlling those hormones, how did Jesus deal with his own, natural, healthy, God-given sexual desires?
Celibacy is a powerful, counter-cultural witness in our world and in the time of Jesus. And at its best it is a mature affirmation of a life fully dedicated to God (in Christian tradition), building families through love and spiritual kinship. Celibacy doesn't make a person asexual. But sexual difference can make someone a target for sexual violence. The exposure of Jesus' naked body on the cross was a particular shaming targeting a man who was not normatively, heteronormatively, coupled.
I always think of the beginning of Jesus' (human) life as we memorialize its end because the Feast of the Annunciation, marking the beginning of the miraculous pregnancy that produced him regularly occurs during Holy Week as it did this year (on Monday, the day after Palm Sunday). Sometimes it falls on Good Friday.
Tradition says the Virgin's conception of Jesus was absent sexual pleasure – and there are those who deny her a healthy sexual relationship with her own husband. The child of her body, the Blessed Ever Virgin Mary or Ever Blessed Virgin Mary – is it her blessedness or her virginity that is perpetual? – depends on where in the Protestant /Catholic divide you fall. (Here I am a Protestant.) Yeshua ben Miryam l'Natzeret, Jesus, Mary's child of Nazareth is the Son of Woman as surely as he is the Son of God. Her humanity was his humanity in his birth and in his death. Jesus' death was a parody of his birth, at his crucifixion he was as naked as the day he was born, and again covered in blood and water, but dead when his body was placed in his mother's arms and his head laid on her long-empty breasts.
---