There are certain ways that the church tends to focus on the humanity of Jesus, especially at certain times of the year. I've just spent a week and Bethlehem and have Advent and Christmas on my mind. At Advent we marvel that the fullness of God could be contained in a tiny baby with clutching fingers and curling toes. For some of the ancients, it was a scandal that God was nourished in and passed through intimate womanflesh. In Passion Week we contemplate the horror of a crucified God, tortured and executed by an unjust state, placed back in the arms of the mother who nursed him, and who watched him die. In between we make note of the signs of his humanity and mortality: his hunger, thirst, and naps, his friendships with their attendant joys and sorrows, weddings and funerals, and even sneaking off as a child and exasperating his mother.
I have not heard a lot of reflection or speculation on Jesus's humanity beyond what is indicated by the holy texts. It seems we don't like to think of his humanity in terms that make us uncomfortable, particularly those aspects of ourselves with which we still wrestle, like sexuality and sexual orientation. We don't talk in the church about what it means that Jesus was an adult sexually mature human male who survived puberty with all of its impulses and urges. Did he suffer the indignity of his voice cracking when he told his mother he was about his Father's business? Did he have that one pimple that just wouldn't go away? To be human is to be at turns itchy and scratchy and dirty and smelly. The incarnation is a much more down to earth gospel than we may be comfortable imagining.
First, Jesus went to the beach, as you do. Because Galilee is hot—not as hot as Texas, I literally went to the Middle East to get a break from the Texas heat. But the Galil is hot, two changes of clothes a day hot—in August, but we really don't know when this was. Even in the winter chill the beach is still a destination for some. If you look a map of Israel in the first century, you'll notice not only that Tyre and Sidon are sea towns, but perhaps more importantly, they are outside of Herod's territory. Jesus just wanted to get away and stay off of the police radar.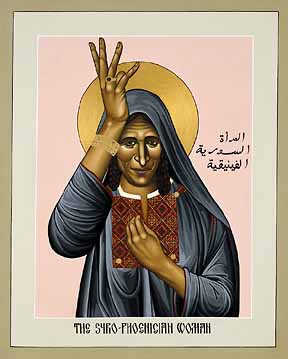 Here he is on vacation, low key famous, perhaps infamous, and here comes a woman calling, yelling, after him. Not just any woman, a Canaanite woman. Jesus was fully but not generically human. He was a first century Palestinian Jewish man who was religiously observant and a product of his culture, including its biases. Israel claimed God had given them Canaanite land, a notion the Canaanites did not share, and Israel occupied the land of Canaan every bit as much as Rome occupied Israel. Add to that the Israelite notions about Canaanites were no more generous than Roman ideas about the Jews. Perhaps more germane to us, as a Canaanite, specifically a Phoenician, she was a Gentile—like us—and Jesus is not shy about his opinions of Gentiles in Matthew's gospel.
Initially, Jesus did not seem to understand his ministry to be to the Gentiles, to us. He says to his disciples earlier in this same gospel (Matthew 10:5-6): Do not go any way leading to Gentiles, and do not enter any Samaritan town, but go rather to the lost sheep of the house of Israel. All of the ministry that follows is to be to his people. Not us. Jesus has decided who will receive the gospel and we are not on the list.
He also says (Matthew 5:47): If you greet only your brothers and sisters, what more are you doing than others? Do not even the Gentiles do the same?" That is not a compliment. (Matthew 6:7-8): When you are praying, do not heap up empty phrases as the Gentiles do; for they think that they will be heard because of their many words. Do not be like them… That's not very nice either. (Matthew 6:31-32): Do not worry, saying, 'What will we eat?' or 'What will we drink?' or 'What will we wear?' For it is the Gentiles who strive for all these things; and indeed your heavenly Father knows that you need all these things. Whatever you do, don't pray like a Gentile. And notice that in Jesus's language, God is their heavenly Father, [not ours. At least not yet.]
Some of you may need to release the death grip you have on your pearls right about now. You might be thinking, "I believe in the Incarnation, but this Jesus is a little too human." To be human is not actually such a bad thing—I say from experience. For to be human is to be made in the image of God with something of her capacity to love, and to be human is to learn and grow and change, to open up our hearts and minds, expand our beliefs and relinquish our biases. I believe Jesus shares some of this with us else he wouldn't be fully human.
We are at our best as human beings when we listen to and learn from someone who is so different from us that everything in our culture and raising tells us she is other. This woman whose name isn't important to the gospel—just her otherness—is in the land of her ancestors to which the Israelites and their Jewish descendants were more recent arrivals. But they see her as foreign—like Mexicans in Texas. She cries out that she needs help for her daughter. She is a desperate mother. Her child is afflicted by something that prevents her from living fully in the image of God. Something in her is broken in some way, physically, spiritually, emotionally, psychologically. And Jesus doesn't say a mumbling word. He ignores her.
Right about now I want to pull Jesus to the side and have a few words with him. In my prayers, I say all those things. It helps me and doesn't hurt him. Since he doesn't acknowledge her, his disciples take a cue from him and urge him to get rid of her because she keeps yelling, after them. Not one of them asked if he would or could help or why he wouldn't. Then Jesus says what he has said before, I was sent only to the lost sheep of the house of Israel. The gospel doesn't say that he says those words to her. He just says it loud enough for her to hear. She is undeterred. You could say that she persisted.
She kneels at his smelly, dusty, human, man feet to beg the man from another culture who hasn't said one word to her to help her daughter. She begs him again, Lord help me. The gospels use "lord" (capital L) as a religious title for God and therefore Jesus, but it is also the title of slave masters, which is why I don't use it in my prayers. At the same time she is the image of the faithful Christian petitioning her Lord—though from the Israelite and Jewish perspective she would have been considered an idolater—she is also a free woman abasing herself at the feet of a man from the historic enemies of her people like a slave. Her people worshipped Baal and the Phoenician god Melkart. Yet here she is at the feet of Jesus, calling him Lord.
Finally Jesus speaks. I would help you but… He doesn't say that part aloud but I can hear it behind the gospel text. He says, It isn't fair to take the children's bread and throw it to the dogs. She and her daughter are dogs in his proverb and in his mouth. Ancient Israelites and Jews in the first century and rabbinic period despised dogs. They were unclean scavengers that ate dead flesh. An orthodox rabbi once told me he'd even never heard of an orthodox rabbi who owned a dog. Jesus has for all intents and purposes called this woman a bitch and she leans in to his proverb to turn it back on him. She said, Yes, Lord, yet even the dogs eat the crumbs that fall from their lord's table. She uses the same word, lord, throughout I believe challenging him to show what kind of "lord" he will be. Loving God or slavemaster?
In that moment, something happened to and in Jesus. He starts looking and sounding like the Jesus we know and love. He praises her faith—faith in him as Lord? Faith that as a man who had his own mother he would do the right thing? Faith that whatever it was she had heard about the man called the Son of David was true? Faith that there was more to him than the first impression suggested?—He healed her daughter in that very moment.
She left that place with her daughter (whom we never see and don't know was even present) restored to wholeness, and Jesus left that place walking towards a whole new understanding of his ministry. The closing words of this gospel, "Go therefore and make disciples of all nations…" teach us that Jesus has made room at the table for everyone, Jew and Gentile alike, because, I believe, of this woman.
In spite of the open welcoming arms of Jesus, everyone hasn't always been welcome at the table, not in the United States, not in the Church. We have a history of genocide here, particularly in the West, including right here in Texas; the attempted eradication of Native Americans was largely successful for many tribal communities. And we have our own holocaust, the Maafa, the Middle Passage during which two million Africans died before they reached these shores in chains and another 10-15 million died on forced marches between the dock and auction block. Twelve to seventeen million who didn't survive long enough to be enslaved. (The Digital History Project from the School of Education at the University of Houston)
And we have our own history of white supremacy in the Church, nor all of which is history. The creation and deployment of white jesus remain an enduring witness to a theology and world view that not only misrepresents Jesus and his Afro-Asiatic people but conflates whiteness and divinity.
Our history is an open wound bleeding all over our hopes and dreams, so long untended that its infection is poisoning the whole body. We have not learned from Israel who survived a holocaust, Germany who perpetrated a holocaust or Rwanda who survived and perpetrated a holocaust that you have to confront it. Tell the stories, learn from them, lament them. In the language of the church, confess, and repent. Silence about our sins breeds the corruption that lies about or denies who we are and what we have done.
One of the truths we have to tell is that the bible is a slaveholding document from a slaveholding era. We have to tell the truth that the bible justifies the Israelite's terrible ethnic biases and even ethnic cleansings, against other peoples in the name of God, and that we used that language to justify slavery an these shores and wiping out our own Canaanites. And, we have to tell the truth that Jesus never condemned slavery, used the language of slavery as though it was normal, and in some cases, healed or raised folk who then went back to being slaves. [That's really hard for me because I sing with my ancestors: Before I'd be a slave I'll be buried in my grave and go home to my Lord and be free.].
Yet, this same Jesus also shows us what it is to be human, to wrestle with ancestral legacies of bias. The Syro-Phoenician woman and her daughter are not the only ones who emerge from that encounter changed. Jesus goes forward to proclaim a gospel in which all are welcome to the table because as one social media commentator put it: She taught him that Syro-Phoenician lives matter. Amen.
Post script: For a recent humorous take on Jesus's humanity, see this Darin Bell comic.
---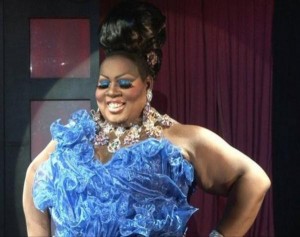 (Listen to or download the sermon as recorded in chapel – mp3 format)
[Dons feather boa.] I love drag queens. I love the way they make me think about gender, its construction and its performance. Drag queens like RuPaul, Sharon Needles and Latrice Royale are some of my favorite critical gender theorists and theologians. Now drag queens are not female impersonators; for the most part they don't want to be women. They can be gay men and there are straight men who drag it out. There are women who perform as drag kings. Drag performers are folk who have chosen to express themselves and (hopefully) make a living by publically performing another gender. While all gender performances including those of us here today who are not professional gender performers, choose some elements of gender presentation over others to represent publicly, drag performers tend to center their performance in the stereotypical: voluminous hair, curvy bodies, sequined eveningwear, feathers and eyelashes that would shame a giraffe.
While there are a few petite queens – Ongina boasted of being a size 4 – many queens are well over 6 feet without their 5-inch platform heels and some are so full-figured that they could play professional football. One of my favorite queens, Latrice Royale is famous for what she calls her "curves and swerves," for being "chunky yet funky." Drag queens have also been subject to public censure, ridicule, harassment and violence. RuPaul, the reigning Queen of Queens is famous for saying "wearing drag in a male dominated society is an act of treason." Ru knows that choosing any kind of female gender performance by intentionally surrendering and/or sabotaging male privilege is an act of treason – or resistance – against the androcentrism is this planet's original sin, pervading the scriptures and on display in the Gospel, on the lips of Jesus, no less.
You don't have to be a drag queen to feel the wrath of some sections society – church and society even – for your gender performance and presentation: If you are a man who is deemed not to be appropriately masculine whether because you're gay, bisexual, transgendered, or heterosexual and in some way non-compliant – you knit or love babies, puppies, kittens, manicures and mascara, and think women are your equal… If you are a woman who is deemed not to be appropriately feminine whether because you're lesbian, bisexual, transgendered, or heterosexual and in some way non-compliant – you earn more than some men, coach sports, wear your hair short and spikey, hate make up or love trucks and wrenches, think men are your equal… Or because you're a man, woman or child who has been raped or sexually abused and no longer fit in the hierarchy in the same way. In this rigid gender binary masculinity and femininity are immutable and fixed characteristics of immutable and fixed genders and those genders are not equal. The gender binary serves to keep women and feminine folk in their place and has little patience for folk who occupy an unanticipated, unscripted place in the hierarchy.
Like other marginalized members of society, drag queens have taken the hateful language spewed at them and transformed it into community and self-affirmation, like the Syrophoenician woman in the Gospel. Latrice Royale has taken one of the more hateful epithets thrown at all kinds of women and folks who perform as women and redefined it: Being In Total Control of Herself. The b-word in case you didn't catch it, a female dog.
In a gospel that does not sound like good news to me, Jesus said to a woman kneeling at his feet begging for help for her child, "Let the children be filled first, for it is not good to take the children's food and throw it to the dogs." Did Jesus just call that woman a b—-? I know this is Jesus and we've been trained to read him and hear him religiously, more than religiously, divinely, incarnationally. But where I come from you cannot call a child a dog without calling her mama a dog and you cannot call a woman a dog without calling her a b—-.
In my best Queen Latifah – I want to ask Jesus, "Who you calling a b—-?" (I know some of you don't know that song, U.N.I.T.Y., it's from the previous century.) In our supposed-to-be-good-news Gospel lesson Jesus calls a woman like me, a non-Jewish woman, a b—. There is no honest way around it. Jesus was not talking about a pet dog. Yes, he or the evangelist used the term kunarion, which sometimes meant a smaller dog like those kept indoors in other cultures; but the Israelites did not keep pet dogs. Dogs were filthy animals to the Israelites, something like a cross between a hyena and a rat, often paired with pigs in the literature of the wider Ancient Near East, all of them scavengers. "Dog" was also the code word for a man who sold sex to other men – voluntarily surrendering his proper place in the gender hierarchy. Dr. Mounce's dictionary makes the point that a kunarion is a worthless specimen of a dog, reminding me of the way some folk who love big dogs think about little yapping dogs – that they're not even worthy of the title "dog."
When Jesus talks about throwing food to dogs, he is not talking about feeding family pets. He's talking about taking your good food that you have prepared for your family off the table, walking it outside and throwing it in the gutter – Greek students note the ballistic verb in the text – so that the scavengers that are rooting through the garbage and maybe even eating the corpses of other dead animals can dine on what you prepared for your children. And the children in the analogy are the Israelites, the Syrophonecian, Canaanite, Gentile woman and her daughter are not even human in his metaphor.
The woman's response, emerging from her context – after all Jesus is in her country, at the beach, blissfully outside of Herod's jurisdiction – she reframes Jesus' words and changes that context. She does that. In her words, not those of Jesus, dogs are if not pets, at least not scavengers; they eat under the table. Now she has already humbled herself. She is now kneeling at the feet of a strange man. She is begging him for help. She probably knows that he is a Jew and what Jews thought of Gentiles. And while there is no reason to believe that androcentrism was any worse in ancient Israel than any other place in the Ancient Near East, she is dealing with a religious leader from a tradition that alternated between suspicion of and outright hostility towards women.
And taking the words that David Henson calls "racist and sexist," (in Jesus Was Not Color Blind on Patheos), and that Matt Skinner (on WorkingPreacher) calls "palpable rudeness" while being "caught with his compassion down," she shows Jesus what it is to Be In Total Control of Herself. She doesn't ask, "Who you calling a b—-?" But she does werk. She werks the Word. And because of what she said, what she did, not what she believes – this is werk without articulated faith, Jesus healed her daughter. In v 29 he is converted by her logos, "that saying" not "saying that" – rendered as a verb in the NRSV, but her word, her logos. She is the embodiment of the divine Word.
Now, many will say that Jesus didn't really call her the b-word. He just made an analogy in which the healing she wanted was compared to food for those whom he intended to heal, who were children and she and her child were dogs. So she was only a b-word by analogy. And that's not the same thing. Well, one day I was in the chapel of another seminary and a seminarian walked up to me and said to me "I grew up calling black folk n-words – and the seminarian actually said the word, to me in chapel, then asked – what word should I use to refer to black people now?" She used the n-word about people like me while talking to me, in the chapel. When I discussed this with a variety of folk I was surprised that some of my colleagues said, "She didn't reallycall you the n-word, she just used it in a sentence while talking to you." They were of the belief that was a distinction that mattered. To me, that was a distinction without a difference.
And that's how I feel about this text, that the difference between comparing the woman and her daughter to dogs in an analogy and calling her and her daughter the b-word is a distinction without a difference. Now I understand that not everyone experiences this passage that way. And I'm not claiming that this is the only way to hear this Gospel. I'm sharing with you how I hear it because the principles of womanist preaching include affirming the dignity of black women as legitimate interpreters of the Scriptures whether or not our interpretations converge with those of the dominant culture, because our interpretations are God-breathed and revelatory, Gospel to more than folk who look and think like us.
It's alright if you have your own way of understanding this text. But I ask you to proclaim this Gospel in such a way that it doesn't take lightly how deeply entrenched gender bias is in the world of the Scriptures, the Scriptures themselves and our world, that you don't dismiss the concerns of girls and women who feel marginalized by the Church and even by the Scriptures and that you don't empower people who call women outside of our names.
The church has taught that Jesus was fully human and fully divine, taught and fought, killed and died over that notion and it's implications. But most of us are not ready for Jesus who was quite that human. Who you calling a b—-? A fully human Jesus is a product of his culture. Perhaps he was influenced by his own scriptures, Sirach who shared the same Jesus says in 26:25: A headstrong woman is regarded as a dog, but one who has a sense of shame will fear the Lord. The Anchor Bible Commentary (Skehan and Di Lella) has, The unruly [woman] will be thought of as a bitch… Even Jesus is affected by the androcentrism and ethnocentrism that characterize his people and their time. As am I.
I'm a black woman living in an American context that alternately demonizes and exploits my womanhood. If the Gospel isn't relevant to my context then it's not Gospel, good news to me. And I stand with and in the place of all of those girls and women who are called the b-word by men and boys and other girls and women. Who hear the word on television and in the movies and in the music that is marketed to them, to us. I stand with the women and feminine-gender performing folk of various subcultures who use the word affectionately and with those who have redefined it for themselves.
And I'm standing up to Jesus, talking to and about women like me using language like that. Some of you maybe asking, where is the Jesus I know and love? Well, I think I caught a glimpse of him, in the midrashic space between their words. The listening, learning Jesus is the one I know and love. In this story, this nameless woman is also a Christ-figure. She is the one who humbles herself and will endure whatever is dished out to her in order to bring healing and new life. She is the rabbi, who teaches Jesus the value of all human life. She is the prophet who preaches the reign of God for all of God's children. She is the one who transforms the narrowly ethnocentric Jesus into the savior of the whole world. Apparently even Jesus needed a little help. In becoming her student Jesus becomes our teacher.
As a colleague recently reminded me, this is a passage that will sort out your Christology. How human, how divine is your Jesus? Is he human enough to be bigoted and biased? Or does your preconceived notion of the divinity of Jesus mean that whatever he said was holy, therefore comparing a woman to a female dog isn't really the same as calling her a b—–, or it's alright as long as it's Jesus. How divine is your Jesus? That Jesus listens and responds to the woman, is that an indication of humanity or divinity? Or is it both? I think the humanity and divinity of Jesus are all tangled up in this passage, sometimes thick and sometimes thin, neither distinguishable from the other, impossible to sort out.
In this troubling story, Jesus teaches me the value of listening, the value of hearing, and the value of being able to grow and change your mind. Perhaps Jesus is a process theologian. In either case he models divinity and humanity in a muddy, godly, morass. Jesus is God enough/human enough/man enough to change his mind. And that is Good News.
This Gospel is that God's concern for the woman-born was manifested in God, Godself, becoming woman-born, for the redemption and liberation of all the woman-born from fear and from death itself. Jesus, the Son of Woman, came to seek out and save the lost and to give his life as a ransom for many. Amen.
---