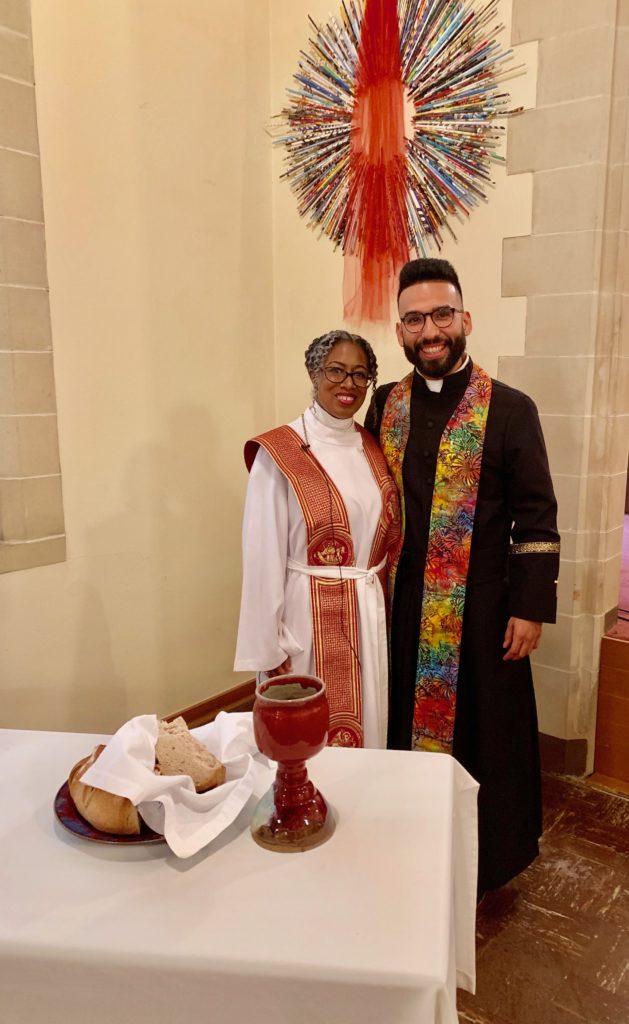 Speak life through words ancient and new, that we might serve you, serving those whom you love in life, in death, and in life beyond death. Amen.
As I thought about what I want to say to Christian on the occasion of his ordination, remembering my first ordination 23 years and one day ago, it is perhaps, Exegete. As we shared in teaching and learning going both ways in the classrooms of Brite Divinity School, together we read the text, the text behind the text, the text in front of the text, and the text between the lines of the text. People are texts too and need to be exegeted just as carefully, as do the times in which we live. Exegete the texts, plural. Not just the biblical texts; collect and curate an ever-expanding canon as we did in the Black Lives Matters and the Bible course: scholarship and scripture–from more than one tradition, poetry, art and film, music and theatre, spit your own rhymes, tell your own stories. Exegete yourself, your heart, your intentions, your call, your gifts. And when you have done the work of exegesis: reading, listening, hearing, studying, questioning, imagining, translating, and wrestling, then do the work of interpreting God and the world to each other and to yourself. Most simply to exegete is to seek meaning, even more simply the primary verb just means to seek. Seek God in the world and in the text. Seek God in yourself and others. And when you find that which is not God in the world, in the text, in yourself, in others, call it out, to its face.
Exegete the times. In many regards we've never seen times like these, and today's pastors and today's church must develop completely new strategies for old and new problems. But on the other hand, human beings haven't changed a lot in in the five thousand years covered by our sacred texts, nor in the millennia that precede them. So, we continue to seek God and words from God in ancient texts like the one read earlier in your hearing. (2 Chronicles 28:1-15, my translation of the full text is at the end.)
8 The Israelites captured two hundred thousand of their kinfolk: women, [and their] daughters and sons, and they also plundered from them much booty and brought the booty to Samaria. 9 Yet there was a prophet of the Living God, Oded was his name; he went out in the face of the army coming to Samaria, and said to them, "Look, it was out of fury over Judah that the Holy One of Old, the God of your mothers and fathers, gave them into your hands, but you have killed them in a rage that has struck the heavens.
This passage from a time when a nation was divided into two factions, where one followed a charismatic but incompetent leader, the other, leaders who had the requisite credentials, has something to say to all of us who live out our vocations in such a time as this. Context is everything.
My students know that the keys to exegesis are content and context, that a text without a context is a pretext, which is fine as long as you are honest about constructing an out of context reading from the biblical content. So, my former students might not be surprised to hear me say that in order to make sense of the text and its content we need to know some things about its context, like what does the word Israel mean in the content and context of this text.
Communication is such an important part of the vocation we are confirming here today. So often we use our theological and religious words meaning entirely different things and never imagining that anyone else means something else, sometimes not even conceiving that there are other meanings, let alone that biblical authors are operating out of a completely different paradigm. We ought always be aware of our relationship status with these texts; it's complicated. We have been invited into the family by Jesus as his siblings. We are part of the family. We are not thefamily.
As Christian readers of the Hebrew Scriptures we often look to the role of Israel with which to identify as God's beloved, an impulse we need to check because sometimes we are the Canaanites, and sometimes we are the scorched earth, especially we whose Christianity is not white supremacist Christianity American-style. We can't determine if we want to read as Israel or from another perspective if we don't even know who or what Israel is in the text.
The truth is that Israel does not have a fixed value. You've got to exegete it like everything else in life. Sometimes Israel is a person who has had his name changed after wrestling what he thinks might just be God down into the dirt, walking away forever bruised and blessed. Sometimes Israel is a people ground into the dust by slavery and its brutality. Sometimes Israel is a redeemed people dancing and drumming their way to freedom led by the Mother of Prophets. Sometimes Israel is a people with their eyes on someone else's land and a story about their God that justifies them taking your land. Sometimes, Israel is a struggling monarchal confederation of twelve tribes at the mercy of empires that want to chew them up and spit them out. Sometimes Israel is a breakaway monarchy that includes the majority of the founding tribes and is also called Ephraim from time to time. And sometimes, Israel is actually Judah, all that's left of the people called Israel after the destruction and dispersion of the breakaway northern nation. We don't have time to talk about all the things Israel means in the New Testament, or even just to Paul.
Now we come to our text knowing that in its context "Israel" means one of those two newer nations resulting from a split after the rise of a would-be despot who was equal parts incompetent and cruel. Some things haven't changed at all since the Iron Age. In this text, Israel is the breakaway nation currently ruled by a man with no royal blood–no credentials or relevant experience in the world of the text–who murdered his way onto the throne. Israel and its kings are not in God's favor at this point in the story, a story we should note is curated and collected by Judah. Judah, ruled continuously by descendants of David, is the embodiment of God's beloved in the scriptures they and their descendants preserved. Judah is also where God dwelt with her people. Exegeting the text, its content and context, means exegeting the biases in the text, in the world, and in your own heart.
This, shall we say God-fearing nation, that some may have once thought of as one nation under God, was fractured into two ragged chunks and the national wound was still raw and bloody more than three hundred years later. Unresolved issues linger, even when their proponents, provocateurs, and perpetrators are long dead or long gone. Now here they are again, knives at each other's throats, again, not recognizing their kinship to each other, again, not recognizing each other's humanity, again. Not recognizing that the lives of the most vulnerable among them mattered, again. In fact, they were actively working to subjugate and exploit each other. It would happen again in the return from exile. They felt entitled to the other's labor, resources, and flesh, the bodies of their women and their reproductive functions, the lives of their precious children who they didn't see as precious, and perhaps not even as children.
As I exegete the time in which we are reading this text, in which we are calling, ordaining, blessing, and sending Christian, I find the sorry state of affairs in the text also characterizes this country. We live in a nation divided with unhealed wounds. And like ancient Israel, we live in a land inhabited by other peoples whose fate some previous generations attributed to God while they occupied and colonized the land on the back of enslaved peoples between attempted genocides of indigenous peoples. The founding fathers were being more ironic than they knew when they proclaimed this land the new Canaan and themselves Israel.
Yet as we know all too well, being from the right folk, on the right side of the wall, and claiming the right faith in the right God doesn't make you right. The prophet Lauren Hill in the Doo-Wop chapter of Miseducation Revelation asked, "How you gon' win when you not right within?" In our divided nation, all of the hate, hurt, and harm are not on just one side of the borders, boundaries, and beliefs that divide us. They're not even in separate congregations. We can't do the work we are called to do with and for God's people by demonizing folk with whom we disagree profoundly even on the most significant issues of our times, or by denying their humanity, human, and civil rights. Sometime the work of a pastor is holding together differing understandings of God, the text, and the world, no matter the right of it, in order to hold space for folk to do their own seeking, their own exegesis, and still remain part of the beloved community.
Israel and Judah were separate nations at war in our text, but they were still one people. The prophet has to remind them that they are kinfolk. They are still people of the same God, though there were others who said for good reason, we can't possibly be worshipping the same God based on what you're saying and doing in the name of God. As our nation deepens the divides between us, and some of us like Oded stand at boundaries, borders and crossroads, we will need to take the lessons of this passage to heart and remember the folk against whom we struggle are our kinfolk every bit as much as the folk who have been drawn out of our communities by borders on maps written in blood. So, when we call them to account for the ways they have failed our shared humanity, we won't descend to the depths of depravity that only become possible when you lose sight of that shared humanity and interrelatedness of every human person. If we tell the truth, sometimes, the bible doesn't help us in our work, gleefully disposing of those designated the enemies of God, or sometimes just the enemy of whatever crooked king, would be king, or even righteous king with the right lineage. Learning from the bible doesn't always mean reproducing or reenacting the biblical script because everything biblical just isn't godly, good, or even right.
Speaking of right, the text tells us Ahaz did not do what was right like David. That's a literal biblical double entendre. You could read it as: Ahaz did not do what was right like David did what was right. Most translations push you in that direction. You can also read it as: Ahaz did not do what was right just like David didn't do what was right – and if you know David, you know he was wrong on a regular basis. Sometimes you may need to preach a text one way, sometimes in the opposite direction. Exegete the times as you exegete the text.
Here, Judah's king, Ahaz, representing the "right" folk, was all the way wrong. Ahaz murdered his own children offering their slaughter and butchered bodies to foreign gods through fire. That should have been enough, but the text goes out of its way to say that he worshipped everything but God, everywhere he possibly could. And so, in the Iron Age logic of the text that I charge you, Christian, to wrestle with every time you stand to teach or preach, God handed him and the people for whom he was responsible – but who were not responsible for him and his choices – over to the Israelites.
One of the lessons of this text that is coming to pass in our time is that righteous or unrighteous, all regimes fall, all empires fail, and all tyrants topple or are toppled. Unfortunately, they take a lot of folk out with them and leave other of folk to pick up the pieces behind them. And there in the middle, at the mercy of governments that fail their people, the people of God living under these rotten, rotting, regimes, God's people were being savaged. Ahaz was at war with Israel in the north and Aram on the west. He's at war with his kinfolk and skinfolk and, at war with a nation his people had invaded on the regular that was now looking for some get back. One hundred and twenty thousand people died.
In the world in which you are being ordained, lives are at stake. Decisions about healthcare, who decides about whose healthcare, housing and supplemental nutrition for the most impoverished among us, police policies, practices and culture, immigration law enforcement, and the ever-present white supremacist patriarchy and misogyny, transphobia, homophobia, and xenophobia in which they are rooted are life and death issues. Bad governance kills people every bit as much as warmongering. And it seems like some folk are trying to do all of the above right now.
In the text the war is barely over when the human trafficking starts. One hundred twenty thousand dead. Two hundred thousand enslaved, trafficked. In order to go to war and kill, you have to accept that someone is your enemy, that you have a right or responsibility to take their life. It is such a heavy ethical burden that even those who act in self-defense can be left with crushing moral injuries. Human trafficking has always been a part of war, sometimes skirting its edges, sometimes war's pretext, and sometimes the strategy for immigration reform; it also relies on not seeing people as people like you.
The text says: The Israelites captured two hundred thousand of their kinfolk: women, [and their] daughters and sons… I don't know how some people decide other people aren't people, are property, and they have the right to own and control them. I do know that particular blasphemy is as at home in the Digital Age as it was in the Bronze Age. Sadly, we know that folk traffic neighbors and strangers, families and friends, kin, just like in our text.
The Israelites took their Judean kin captive, robbed them and enslaved them. They degraded and dehumanized them, stripped them, and since there is no army and no slaveholding system that does not deploy sexual violence, we know that some of those naked women and girls and boys and men were violated. But the text says: Yet there was a prophet of the Living God…There was a person who answered the call. There was a person who went where she was sent. There was a pastor miles away from any parish building protesting and critiquing the economic, military and political machinations of the government. There was a servant of God who said yes because Jesus said yes.
The Israelites captured two hundred thousand of their kinfolk: women, [and their] daughters and sons, and they also plundered from them much booty and brought the booty to Samaria. Yet there was a prophet of the Living God, Oded was his name; he went out in the face of the army coming to Samaria, and said to them, "Look… Now hear me, and send back the captives whom you have captured from your kinfolk, for the raging fury of the God Who Thundersis upon you."
I want to suggest that as much as it matters that the people listened to the prophet, it also matters that he stood up and spoke up. It also matters that he did so at risk to himself, that he got in their faces, in the face of an oncoming marching army, and told them no, that he understood that there were some things that were not merely theological disagreements, not when lives and the integrity of human bodies were at stake.
…there was a prophet of the Living God.There was a person who accepted their call. This particular call didn't require ordination; not all prophets are priests or pastors. Not all pastors and priests are prophets. This isn't just Christian's call. This is the call of all who follow Jesus, to stand up in the face of evil, to stand with the crucified of this world, to stand against those who savage and ravage the flock of God, to stand for the unshakable inexhaustible love of God. Amen.
2 Chronicles 28:1 Ahaz was twenty years old at his reign; he reigned sixteen years in Jerusalem. He did not do what was right in the sight of the God Whose Name is Holylike David his ancestor. 2 Rather he walked in the ways of the king of Israel. He even made cast images for the Baals. 3 Then he made smoky offerings in the valley of the son of Hinnom, and made his children pass through fire, according to the abhorrent practices of the nations whom the Holy One of Olddrove out before the women, children, and men of Israel. 4 He also sacrificed and made smoky offerings on the high places, on the hills, and under every green tree.
5 So the Holy One his God gave him into the hand of the king of Aram, who smote him and captured from him a great number of captives and brought them to Damascus. He was also given into the hand of the king of Israel, who smote him a great smiting: 6 [The king of Israel,] Pekah ben Remaliah, killed one hundred twenty thousand in Judah in one day, all noble warriors, because they had abandoned the Fire of Sinai, the God of their mothers and fathers. 7 And Zichri, a mighty warrior of Ephraim, killed Maaseiah the king's son, along with Azrikam commander of the palace, and Elkanah, second to the king. 
8 The Israelites captured two hundred thousand of their kinfolk: women, [and their] daughters and sons, and they also plundered from them much booty and brought the booty to Samaria. 9 Yet there was a prophet of the Living God, Oded was his name; he went out in the face of the army coming to Samaria, and said to them, "Look, it was out of fury over Judah that the Holy One of Old, the God of your mothers and fathers, gave them into your hands, but you have killed them in a rage that has struck the heavens. 
10 And now, you all speak of subjugating the daughters and sons of Judah and Jerusalem as your slaves: as enslaved women [and girls], as enslaved men [and boys]. But what do you actually have except offenses against the Righteous Oneyour God? 11 Now hear me, and send back the captives whom you have captured from your kinfolk, for the raging fury of the God Who Thunders is upon you." 
12 Then men from among the leaders of the Ephraimites, Azariah ben Johanan, Berechiah ben Meshillemoth, Jehizkiah ben Shallum, and Amasa ben Hadlai, stood up against those who were coming from the war. 13 And they said to them, "You shall not bring the captives here, for offenses against the Holy Godyou pronounce on us in addition to our own sins and offenses. For our offence is already great, and there is raging fury against Israel." 14 So the troops abandoned the captives and the plunder before the officials and the whole assembly. 15 Then the men who were mentioned by name got up and took custody of the captives, and with the booty they clothed all that were naked among them. They clothed them, they gave them sandals, they fed them, they gave them drink, and they anointed them. And carrying all those who staggered on donkeys, they led them, and they brought them to their kinfolk at Jericho, the City of Palms. Then they returned to Samaria.
---
Invited lecture in response to white nationalist marches in Charlottesville.
I, or rather my title, have misled you—if you were led at all: "Biblical Studies in an Age of Unhooded Racism." White supremacy in biblical studies, like its get, racism, has never been hooded. Racism in the US has never been hooded. Racism in the West has never been hooded. Racism has been thinly obscured by the tawdry yet seductive negligee of privilege-purchased naïveté. Or, racism has been obscured by willful ignorance, but again, not completely—the will not to see. (I am a very different Wil.) All the while racism has taken its place on the pages and at the podiums of biblical studies, and in the seats of power in the institutions that promulgate it.
Those hoods have always been visible. Like their literal forbears, the hoods are least visible to their wearers, even though the hoods distort their vision, their wearers normalize their impaired vision. Ironically, the hoods should be more visible to wearers looking at other wearers. But to comment upon someone else's hood is to comment upon your own, and the negligee of privilege purchased naïveté is so seductive. The metaphorical of hoods white supremacy are, of course, most visible to those whom they were originally intended to subjugate and terrorize. Titus Kaphar's series, Behind the Myth of Benevolence, illustrates this poignantly for me. (The images are copyrighted, you may view them here. Scroll down for the third.)
Unhooding, or rather drawing attention to the unhooded and naked white supremacist history of biblical studies and biblical interpretation, is a necessary part of a of an education in the text and its interpretation whether for classroom or congregation. Dismantling racism in the biblical guild, broader academy, and wider world is a reluctant vocation; that work most properly falls to its maintenance engineers—its original architects no longer accessible—and this work most properly belongs to those who have inherited the legacy of white supremacy. All too often that work is left to people of color. All too often I find myself addressing it. By all too often, I mean at all.
I do this work and accept these engagements all too often I don't hear my white colleagues address the white supremacy that is baked into foundations of the Western critical biblical enterprise, even when decrying the anti-Semitism and anti-Judaism that are also its spawn. To be fair, some dominant culture colleagues have turned critical eyes to white supremacy and to other dominating structures and had done so in advance of this age of apocalyptic dissonance, which I read as having been inaugurated with the murder of Trayvon Martin. (That is a subject of contemplation for me in an on-going project.)
Recently, the tolerance for white supremacist rhetoric, slogans, and salutes in the public square and at the highest levels of government has made white supremacy more visible. The negligee has slipped off; its wearer fully exposed, under the glare of spotlights–not all of which are the harsh lights of hostile interrogations, some are the soft lights of romantic adoration…
The full talk (audio) is available here.
---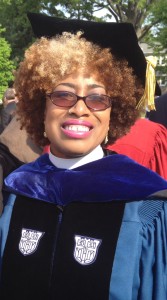 From Nehemiah 8, verses 2 and 8:
…So Ezra the priest brought the Teaching before the assembly, both women and men and all who could hear with understanding… they read from the scroll, from the Teaching of God, making it plain. They gave the sense, so that the people understood the reading.
This morning, on your Scholarship Sunday our topic is bible study in the bible. And if this bible study on bible study in the bible had a title, it would be Making It Plain. Let us pray: Open our eyes, so that we may behold wondrous things out of your word. Amen.
On this Scholarship Sunday, my goal is to make it plain. That is one of the heart scriptures of womanists. A womanist is a sister who has the good sense who know who she is in God, to know that God made her in God's good image, who values the radiant blackness of her creation [click to tweet] and community and sees them at the center of God's love. A womanist is a feminist – yes, she believes women and men are equally created in the image of God and equally called to serve. A womanist loves herself, loves her folk including the brothers, and has a special love for her sisters without reservation, desperately needed in these days the world continues to teach is that a womanist's work is never done.
The extravagance of violence against women that has erupted far beyond its normal catastrophic levels this week and this month makes it plain that the work of womanizes, along with those who love and care for us, partner us, live with us and are raising the next generation of womanizes with or without us, is not done and will not be done until girls and women can walk down the street in safety, learn to read and write and raise themselves and their people out of poverty without being kidnapped, sold, raped into marriage and forcibly impregnated, wear anything they want and say no to sex without being beaten or raped and say yes to sex without being slut-shamed, [tweet this] raped later on or treated like they are anything but a child of God. A womanist's work is never done.
And now that Mother Maya has gone to her rest we must not let her work go unfinished. There are too many little girls whose bodies are broken into by grown men [tweet quote], too many women selling their bodies to make ends meet – often not even their own ends but those of the men and women who profit off of them, too many beautiful black girls and women told that their blackness is not beautiful, too many caged birds who have lost their song for us to do anything but cherish every human child of God [tweet!] and raise our voices when anyone threatens any one. Mother Maya: Our feet cannot fit your shoes. But you did not call us to your work but to our own. Our feet fit our shoes. We walk with your memory guiding us as we too do the work.
Now I know that not all women are womanists or even feminists and, the women in scripture didn't necessarily look at the world the way we do, so I'm not going to say they were womanists. I'm just going to suggest they had some womanist ways. And perhaps some of you do too. And brothers, while there is no small amount of academic debate on the topic of whether a brother can be a womanist or not, there is no doubt that our brother allies are partners on the journey, supported and supporting. We're making it plain this morning.
That's what our lesson is about, making it plain. The scripture says Ezra brought the Teaching of God, the scriptures before the assembly, both women and men. Now some of you will see the word "Law," when you read this in your own bibles. But that's not a complete translation because the word of God includes more than Law. The word torah comes from a root that means everything God rains down on the earth from revelation to rain. Torah includes story and song, judgment and law, prayer and praise and all for our edification, our study. So I follow the tradition of the rabbis and translate Torah as "Teaching." Making it plain for those who think the Torah or even the First Testament is just about rules. I often say there is torah in the Torah but not all Torah is torah. But on the other hand the entire scripture is considered to be torah.
Now that we've sorted that out, let us return to the torah, the teaching, of Ezra. Ezra is set in the Iron Age and it was the expectation that women and men participate together fully in the study of the word in the Iron Age. (Somebody needs to tell the Hampton Ministers Conference that they ought to be at least as inclusive as our ancestors were at this moment in time the Iron Age.) That's what I mean by they had womanist ways – sometimes – in ancient Israel. Other times their Iron Age ways were best left back in the Iron Age.
Our scripture lesson also says, women and men and all who could hear with understanding. Now let me tell you as a biblical scholar, the Israelites didn't have much of a concept of childhood. Most of the verses you know about parents and children are actually speaking to adult children because households were multigenerational and there is no small amount of conflict when there are multiple sets of grown folks under the same roof. I think it's a blessing that the bible understand that not everybody can live with mama and 'em without some difficulty, sometimes. But in this case, when the word of God is being shared in the beloved community, children are welcome and intentionally included. Any child who was mature enough to attend to the scriptures was welcome. There was no age of maturity specified because children mature at different ages. Children are part of the household of God and God has a word for them. [tweet]
Think about this: if the grown women and grown men and growing-up and half-grown girls and boys were there, where do you think the babies, toddlers and young children who didn't know what all was going on were? A womanist's work is never done. It was the Iron Age and the work of nurturing baby Bellas fell primarily on mamas. The sisters were nursing and carrying babies, wrasslin' and wrangling toddlers, all while studying the word. I have no doubt that at least some of the menfolk shared in parenting. They were all there together, everyone but the sick and shut in and incarcerated.
This passage is making it plain that all of us women and men and all who can hear with understanding are called to the study of the word, to wade in the waters of the word. It's not just for pastors and seminarians and biblical scholars. All of us are called to the study of the word, not just in private, but together, in community. And the little ones ought to be about underfoot so that they can grow up and into the word as a regular and familiar part of life.
But Ezra's bible study doesn't look like the bible studies I'm used to in the congregation where the pastor or designated teacher teaches or preaches, or everybody reads a verse and says what it means to them. This bible study doesn't look like the bible studies I'm used to in the classroom where masters and doctoral students study the word in its original words: Hebrew words, Aramaic words, Greek words, a couple of Persian words, Egyptian words. This bible study doesn't look like the bible studies I'm used to where you find only a fraction of the saints in study you see on Sunday morning in bible study on Tuesday, Wednesday or Thursday night – though I don't imagine anybody at St. Paul's knows what I'm talking about.
In addition to involving nearly everybody and their mama, this bible study differs from the bible studies I see most often in that it was a long service. I mean a long service; it lasted from first light until midday. That's about six hours. (I don't plan to be before you that long, but I might be here a minute.) They read the bible in Hebrew. I like that. But the people didn't understand Hebrew anymore. So the clergy, the Levites, who did understand Hebrew came down off the bema, the pulpit, went out among the people and translated the scriptures into Aramaic, the language people spoke and understood. But translating the scriptures into the people's language wasn't enough, so interpreted it, they gave the sense, in other words, they made it plain. The clergy went down, among the people and talked to them, one on one or in small groups. They waded in the waters of the word together.
You see, the teaching team was prepared; they were trained in the word in its original words and able to translate it into the people's languages: Foreign languages, common language, slang language, street language, hip-hop language, play language, country language, city language, old school language, children's language, ethical language, philosophical language, black church language, sadiddy language, grandmother's language. Hebrew literate and Hebrew illiterate, clergy and lay, we are all called to be biblical scholars and wade in the waters of the word. [tweet!]
I'd love it if you all studied Hebrew – or even Greek. But that's not necessarily what the text is teaching us. I don't know how Ezra's clergy staff was educated, but I do know they were able to translate and interpret the scriptures, making it plain because they were trained to do so and their community supported their training. On this Scholarship Sunday someone here has a call to prepare to make it plain and wade in the waters of the word at a different depth. Someone here has a call to support a seminarian or a doctoral student or a seminary or institution of higher education. Virtually all of the universities in the West were built by church folk. Black church folk built some of the finest colleges and universities, seminaries, medical and law schools in the world. [tweet!] And some of us were blessed to be their beneficiaries.
The last point about this Bible study that I want us to take note of today is that this bible study was not in the sanctuary or even a private home, it was in the street. It was worship without walls. I love a beautiful sanctuary. I love church architecture. I love a gorgeous cathedral brushing the outskirts of heaven with its spires. But I don't need walls to worship. Sometimes we get so attached to the walls we lose sight of the work. The story of Israel is a reminder that the walls will not always be there. Walls can fall, walls can crumble, walls can be broken down. Enemy forces can break through walls and saboteurs can undermine and weaken walls, leaving them vulnerable to attack. And some folk worship their walls.
Let me tell you the story of the walls of Jerusalem. From the Stone Age, more than 1000 years before Abraham, more than 3500 years before Jesus, more than five thousand, five hundred and fourteen years before you and me here today, the City of Peace, Ir Shalom, Yerushalayim, has been encircled by walls from before from the time Hebrew was written in picture form like hieroglyphics. And from those days until the present day the walls of Jerusalem have been built and torn down, rebuilt and broken through, rebuilt and bombed, rebuilt and remain a center of conflict. [tweet this]
When David and his troops captured Jerusalem and built new walls, the city was more than 2500 years old. I'm sure it seemed like those walls would always be there. The walls of Jerusalem grew with the city as it grew across the ages: 12 acres when David got there, 15 by the time he died, Solomon built to 32 acres and God moved into its walls. God dwelled within the walls of Jerusalem. Surely those walls wound never fall. The psalmist was sure they were invincible: Those who trust in the LORD are like Mount Zion, which cannot be moved, but abides forever. The united monarchy crumbled in the hands of Solomon's son but the walls held. Who could ever imagine the walls of Zion, Jerusalem, falling or failing?
In Hezekiah's time as the city and its walls expanded to 125 acres, that theory was put to the test. The Assyrians were boiling across the land to crush Egypt and Israel and Judah were in their path. They swarmed Israel and the twelve tribes were no more. All that was left was Judah and a little piece of Benjamin with some Simeonites in their midst. They sent Hezekiah a letter telling him what they would do once they broke through the walls of Jerusalem and his folk begged them to stop speaking in a language the people could understand to avoid a full fledged panic because they knew that all of Israel to the north had been shipped off and put to work share cropping for the Assyrians. (The languages were reversed then, the people understood Hebrew but not Aramaic. In Ezra's time they understood Aramaic but not Hebrew. Preachers, teachers and scholars are you keeping up with what the people are speaking? One day your expensive seminary education will be out of date and what are you going to do then? [tweet!] Scholarship Sunday is for you too. Never stop learning, never stop studying.)
The walls in Israel north of Judah hadn't protected them. Hezekiah also knew that the Assyrians were vicious. They would skin folk alive, cut them in pieces and put bodies and parts on poles around the cities they ran to keep folk in line. Hezekiah took that Assyrian letter and spread it out before God inside the walls of Jerusalem and the walls held. Not only did they hold, but the Assyrians turned around without slinging so much as a stone and never came back. It was a miracle. Historians and scholars to this day cannot explain why the Assyrians broke off and never returned. Hezekiah and his people were sure. God's house was within those walls. God was within those walls. And God held the walls of Jerusalem in safety.
But let me make it plain for your this morning. Ezra and his people were worshipping outside the walls because no wall on earth will stand forever. Some time after Hezekiah went to his grave, Nebuchadnezzar came. And the walls held again. The Babylonians were picking up where the Assyrians left off. They were going to rule the world. They were going to go to and through Egypt and Judah was a speed bump on their way. But then the walls began to fall. The king of Judah held onto his throne and what was left of his walls by bowing down to Nebuchadnezzar. Then Nebuchadnezzar got distracted and Judah asked Egypt to help save its walls. Some folk are so invested in the walls that they will do anything to preserve them, no matter what it costs. Somebody in Judah was willing to go back to the land of slavery if it would help them hang onto those walls a little while longer.
Sometimes people change. Sometimes they really do. But Egypt hadn't become Israel's deliverer. I don't know if they set them up, but I do know that they didn't come through with the back up. Egypt stayed within their walls, Judah rebelled against Babylon and got caught up with no back up and Nebuchadnezzar came back to the walls of Jerusalem. And the walls held again. But this was no divine deliverance. There was no need for Nebuchadnezzar to break down the walls of Jerusalem, this time. The king opened the gates and surrendered. He didn't just surrender himself. He surrendered er'body, including mama 'n 'em: he surrendered his army, he surrendered his officers, he surrendered his servants, he surrendered his palace officials and he surrendered his mother, the Queen Mother. By the way, marrying a king didn't make you a queen in the Judean system but giving birth to one did. (That's another bible study.)
We're talking about the story of the walls of Jerusalem. We're talking about the people gathered to hear and study the word of God in the book of Ezra outside of the temple complex where they would regularly have had services. We are talking about what the bible teaches us about bible study: That you have to go deep in the text, that you have to go through more than one text to understand what is happening in the text you are studying. We are making it plain this morning.
In Ezra the community was in an open square on the east side of the city by the Water Gate. If you're going to do good bible study you have to know geography. [tweet!] They were south of the temple and its layers of walls and gates. They were out in the open with no defensive walls, no sanctuary walls. They understood that they could no longer rely on the walls of Jerusalem to protect them because of what happened when Nebuchadnezzar came back the second time.
Their walls fell. The city walls fell. The palace walls fell. The temple walls fell. They were defenseless. They were defeated. They were decimated. They were deported. They were for all intents and purposes enslaved again. They couldn't go home or anywhere else. They could be forced to serve as soldiers or farmers, have their children taken, their religion forbidden. Exile doesn't do it justice.
The walls didn't just fall, they were demolished. Psalm 74 describes the Babylonians destroying the temple:
Psalm 74:4 Your foes have roared within your holy place;
they set up their emblems there.
5 At the upper entrance they hacked
the wooden trellis with axes.
6 And then, with hatchets and hammers,
they smashed all its carved work.
7 They set your sanctuary on fire;
they desecrated the dwelling place of your name,
bringing it to the ground…
The walls of Jerusalem were demolished. The folk certainly didn't have any walls in captivity. But they had the word. They had the spoken word. When the Babylonians said that their god, Marduk was king and tore down Jerusalem's walls, the Israelites said and wrote, In the beginning God… Then they had the written word. The Israelites had begun writing down the stories their ancestors and prophets told them about God before the devastation, but in exile they kicked it into high gear. The truth is, it's easier to find ourselves in the word when the world is against us. [tweet that]
The exiled Israelites waded in the waters of the word here in their worship outside the walls. They read the word and heard the word, taught the word and interpreted the word. This community of reconstituted exiles didn't just wade in the waters of the word, they waded into the deep waters of the word and stayed there awhile. At one level, this is a text about bible study. At other levels it's about so such more. As Ezra and the clergy staff helped the people get past superficial understandings of the scriptures, they offer us a model for our own scripture study. My charge to you as you go forward in your biblical scholarship, whatever form it takes is to make it plain, remembering a womanist's work is never done, worship beyond the walls and wade in the waters of the word. Amen.
---