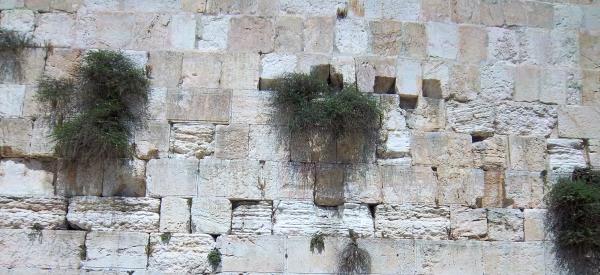 You've probably noticed that there's something different about our readings today. (See collect and lessons) Our propers commemorate the destruction of the Temple observed on Tisha B'Av, the ninth day of the summer month of Av in the Jewish calendar. That day is today. Let us remember.
The Israelite monarchy was a mess. A long time ago David brought the tribes together, including many that had nothing to do with the others – two even refused to cross the Jordan and settled instead on the other side of the Promised Land – with them David forged a nation that dreamed of being an empire. Later, Solomon expanded and undermined the nation. He weakened it with his taxes and spending; he sold off pieces of the Promised Land to pay his bills for the temple and for his own palace which was 10 times larger than the temple and, he forced people – his own and foreigners – into virtual slave labor for years at a time to serve on those building projects. It got so bad at one point that the man he sent to recruit new workers was stoned to death for returning to one village one too many times. And then, even though he released them, the workers went home to live in poverty because they weren't able to tend their crops or raise their herds while they were working on his projects.
After Solomon came Rehoboam but his son and heir was not even half the man he was. Most of the people of Israel refused to recognize him as king. They decided they would rather have one of Solomon's servants, Jeroboam and went all the way to Egypt to bring him back from exile. Now there were two pieces of Israel: one led by folk who could trace their ancestry directly back to David and the other by a series of soldiers and bureaucrats and sometimes their children when they were able to pass the throne down from one generation to the next. And every once in a while, one of them was also able to claim authentic Davidic heritage. Israel and Judah were constantly under siege. The nations surrounding them were always nibbling at their borders, small nations who had once been governed by them and the mighty empires all looking to gobble up the two tiny nations. Even mighty Cleopatra would one day lay claim to part of Israel Land and she got it too; she and Herod fought over it so much that he tried to put a hit out on her but somebody talked him out of it.
But before that, the Assyrians came. They destroyed the northern monarchy. Nine and a half tribes of the twelve tribes of Israel were decimated and dispersed. All that was left was the tribe of Judah in the south with some Benjaminites, some Simeonites and whatever refugees made it in. The loss of the capital city Samaria was devastating. People in Judah struggled to make sense of it by saying that can't happen here. That happened to them because they were sinners. But we, we live with God. God lives in our midst. They pointed to the temple. They recited the psalms that celebrate the presence of God in the midst of Jerusalem, that promise the protection of God, psalms that promise Jerusalem, Mount Zion where the temple is – was, will stand forever.
The throne of David was also supposed to endure forever. But even we who understand that Jesus of Nazareth is the son of David must acknowledge that there was a time, a long time, centuries, when no one from the line of David sat on his throne, because when Nebuchadnezzar destroyed the temple he also destroyed the monarchy. Israel ceased to exist as an independent, self-governing nation. It would be restored in the time of the Maccabees and the monarchy would return until the Romans destroyed the temple again and Israel would be re-established as a nation in our own modern history.
But 587 years before the time of Mary and Jesus, the Babylonians defeated the Assyrians and set their sights on what was left of Israel, the monarchy of Judah. Nebuchadnezzar taxed the last king of Judah to the breaking point. And when he had had enough and rebelled then Nebuchadnezzar had the pretense that he was looking for; he moved his whole army across Mesopotamia and he savaged the nation of Judah.
There are eyewitness accounts scattered throughout the Bible in Jeremiah, Obadiah and 2 Kings from our first lesson:
And in the ninth year of his reign, in the tenth month, on the tenth day of the month, King Nebuchadnezzar of Babylon came with all his army against Jerusalem, and laid siege to it; they built siegeworks against it all around. So the city was besieged until the eleventh year of King Zedekiah. On the ninth day of the fourth month the famine became so severe in the city that there was no food for the people of the land. Then a breach was made in the city wall; the king with all the soldiers fled by night by the way of the gate between the two walls, by the king's garden, though the Chaldeans were all around the city. They went in the direction of the Arabah. But the army of the Chaldeans pursued the king, and overtook him in the plains of Jericho; all his army was scattered, deserting him. Then they captured the king and brought him up to the king of Babylon at Riblah, who passed sentence on him. They slaughtered the sons of Zedekiah before his eyes, then put out the eyes of Zedekiah; they bound him in fetters and took him to Babylon.
The destruction of the temple by Nebuchadnezzar was theologically incomprehensible. Nebuchadnezzar's assault was as unimaginable as – not the events that we remember from September 11th, for the towers had been struck previously – but rather as unimaginable as the assault on Pearl Harbor, and, as incomprehensible as the bombs we dropped on Hiroshima and Nagasaki and as unfathomable as was Japan's ultimate surrender to her own citizens.
There was a time when no one could enter the most holy space in the temple except the high priest, and then only once a year. Tradition says that he wore bells so that people would know if he was able to survive in the presence of God and, that he had a rope around him so that if he dropped dead from proximity to the holiness of God, his mortal remains could be pulled out for burial. And yet, Nebuchadnezzar's troops not only entered the most holy place, they butchered it with battle axes, hatchets and hammers, chopping it to bits, burning everything that would burn, melting down the gold and silver and bronze for the Babylonian treasury. And they took a few choice vessels, used to worship the God of Israel back to Babylon for their king as trophies.
And there was not even a puff of smoke. There was no strike of holy lightening; no burst of fire from heaven, no hailstones, plagues of Egypt, no earthquake or sinkhole; the earth did not swallow them whole. Nothing happened. It was almost as if the temple was empty.
Listen to the psalm:
4 Your foes have roared within your holy place;
they set up their emblems there.
5 At the upper entrance they hacked
the wooden trellis with axes.
6 And then, with hatchets and hammers,
they smashed all its carved work.
7 They set your sanctuary on fire;
they desecrated the dwelling place of your name,
bringing it to the ground.
… they burned all the meeting places of God in the land.
It must have seemed like the stories passed down from generation to generation and the promises God made either never happened or were null and void. It may have seemed like the stories of Exodus were irrelevant fairy tales. Imagine, if you can, what it would have been like if the assault on and collapse of the Twin Towers was followed by an assault on and collapse of our government, defeat of our military and forced exile of our citizens: no homes, no jobs, no healthcare, parents separated from children, dead bodies heaped in the streets, everyone subject to robbery, rape – if not murder – on the way to incarceration in an over populated refugee camp with out any social services.
And the Israelites wrestled with their devastation. They tried to make sense of it all. They thought that perhaps it was because they had sinned as had the rest of Israel. They thought that God allowed their destruction as punishment. But then they thought God could not have given permission to the Babylonians to do all of the things that they did to them. They cried out in the book of Lamentations that Jews all over the world will read today remembering and mourning:
1:10 Enemies have stretched out their hands
over all her precious things;
she has even seen the nations
invade her sanctuary,
those whom you forbade
to enter your congregation.
11 All her people groan
as they search for bread;
they trade their treasures for food
to revive their strength…
2:11 My eyes are spent with weeping;
my stomach churns;
my bile is poured out on the ground
because of the destruction of my people,
because infants and babes faint
in the streets of the city…
20 …Should women eat their offspring,
the children they have given birth to?
Should priest and prophet be killed
in the sanctuary of the Lord?
21 The young and the old are lying
on the ground in the streets;
my young women and my young men
have fallen by the sword;
in the day of your anger you have killed them,
slaughtering without mercy…
4:3 Even the jackals offer the breast
and nurse their young,
but my people has become cruel,
like the ostriches in the wilderness.
4 The tongue of the infant sticks
to the roof of her mouth for thirst;
the children beg for food,
but no one gives them anything…
10 The hands of compassionate women
have boiled their own children;
they became their food
in the destruction of my people…
20 The Lord's anointed, the breath of our life,
was taken in their pits—
the one of whom we said, "Under God's shadow
we shall live among the nations."
5:11 Women are raped in Zion,
virgins in the towns of Judah.
12 Princes are hung up by their hands;
no respect is shown to the elders…
20 Why have you forgotten us completely?
Why have you forsaken us these many days?
21 Restore us to yourself, O Lord, that we may be restored;
renew our days as of old—
22 unless you have utterly rejected us,
and are angry with us beyond measure.
Our lectionary doesn't commemorate the destruction of the temple which is a shame because the destruction of the temple, and its repeated destruction after the founding of the Church, shapes our very faith. The first destruction of the temple in 587 BCE gave birth to our scriptures and some of its most important theology, as people sought to explain what had happened, told one another the stories of their God and passed down the knowledge of who they were and who their God was to their children and their children's children in exile in writing for the first time. They wrote the Scriptures. And as they wrote they recorded a theology of return and restoration. Exile would not have the last word. They believed that God would bring them back to their Promised Land in a Second Exodus. And they crafted a wholly new theology of God, a theology of divine accompaniment. They realized that God was not just rooted in the Holy Land. But that God was with God's people, wherever they were in the world. And if God's people were in exile, then God was in exile with God's people. That's good news for us today, and for people who suffer around the world and across time.
Everywhere God's people are, God is: with Native persons herded onto reservations, Japanese American citizens interned in camps, South Africans banned to Bantustans, European Jews crowded into European ghettos, American Blacks crowded into inner city ghettos, political dissidents sentenced to gulags and reeducation camps, warzones and hospitals and mental hospitals and prisons. The theology that emerges from the exile in the Scriptures is that God is with the suffering people of the world wherever they are. This is an Immanuel theology.
When Israel return to their land the broken temple reminded them of the day that Nebuchadnezzar evicted them and their God from their home. Rebuilding the Temple became a national obsession. That's what our gospel lesson is pointing to. How could Jesus say he would destroy the temple? It had taken them so long to rebuild it to make it as good as Solomon's. Better even. They were never satisfied. That's why Herod kept revising it, kept renovating it, kept adding to it. Of course Jesus was taking Immanuel theology to the next level. He was talking about the temple of his body. Paul took it further in the Epistle and wrote of the temple of all our bodies. That wherever we are, not only is God with us, God is within is.
While we rejoice that God is present with us and within us, we remember the temple today and we mourn its loss and the devastation caused by war in every age. We perpetuate the memory of the temple in our own services, in our prayers and even the configuration of our churches. We stand with our Jewish sisters and brothers and lament that human hands destroyed the house of God in an attempt to subdue their people. We remember the temple of our ancestors, we mourn its loss. We lament the violence that plagues our world. And we turn to God for comfort. God who dwells within and among us. Amen.
---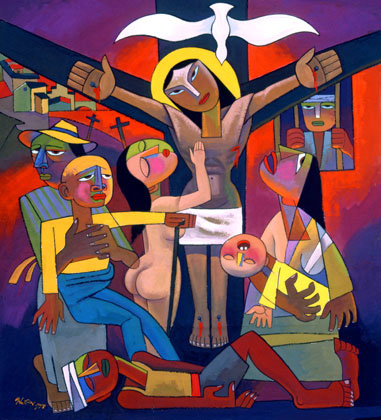 Is not this the carpenter, the son of Miriam called Mary and brother of Ya'akov called James and Yosef called Joses and Yehudah called Judas and Shimon called Simon, and are not his sisters here with us?" And they were scandalized by him.
Jesus is simply scandalous. More than notorious or shocking, eskandalizonto in Greek means to offend, to drive away, to force to stumble, to push into betraying or deserting, to cause to sin. Some people love Jesus, particularly what he does for them. And in the previous chapters in Mark he has done extraordinary things for ordinary people. But at the same time some are deeply troubled by Jesus, especially by what he says. It's not easy being a biblical scholar in the public eye or a public theologian. Teaching and preaching the scriptures means taking unpopular positions with political implications, challenging cultural norms, systems of power and prestige and offending somebody sometime – or you're not doing it right. It means being accused of all sorts of things, few of them true and it means that scandal of one sort or another is never far away – especially in the case of Jesus and those who follow him, imitate him – that's what a disciple is, one who imitates a teacher with mathematical precision. And there is a price to pay for scandal: marginalization, and in the case of Jesus, abandonment, imprisonment, assault, execution.
The very humanity of Jesus was a scandal: The Gospels remind us continually that the Messiah was fully human: He was woman-born, his body experienced hunger and thirst and exhaustion and pain and death. Even his post-resurrection body was tangible and capable of digestion along with walking on water and through walls.
The child conceived in holy mystery, whose tiny human heart beat underneath his mother's heart emerged from his mother's womb in blood and water as did we all. He was the Son of God, the Son of Woman and a Child of Earth: mortal, frail, embodied, human. To be human is to be carnal, fleshly. For millennia Christians have struggled with this dimension of Jesus' nature. Some have done away with the human aspect of the Incarnation altogether, and have been properly condemned as heretics. Others turned to Greek philosophy to interpret Christianity and concluded that the body and all its functions are lower than the spirit and its possibilities. Sometimes this spirit/body dualism is expressed in terms of good and evil. But we are wholly God's good, very good, creation. We are created in the image of God, not in spite of our bodies and their possibilities, but with our bodies and their possibilities. And God became one of us through Jesus.
The gospel writers almost seem to take his infancy and childhood for granted, they were presumably so normal – so human – that they scarcely rated comment. The notable exceptions were his conception, birth and teaching the elders as a child. But of his nursing and burping and diapers and teething and weaning and crawling and toddling there is not a word. Not because these things didn't happen, but because they did as they did for all of us. He lost his baby teeth, his voice cracked and grew deeper; his Adam's apple grew more prominent; he grew darker, thicker hair all over his body. And there were other changes. He was a teenage boy, he slept, he dreamed, he imagined, he was human. Dare I say he experimented? He was human. James Nelson in his classic treatise on theology and sexuality, Embodiment asks, "Is the notion of Jesus as a sexual person inherently blasphemous, or at least scandalous?" I say, if we say yes, the problem is with us, not with God's design and implementation. Jesus was scandalous and people were scandalized by him, by his humanity.
Jesus was like us in his need for human intimacy because he was one of us. He loved, he hurt, he touched, he embraced, he kissed, he wept, he was lonely. He was frustrated when his family didn't understand him. He was hurt when his dear ones betrayed him. And in his last hours, he didn't want to be alone to face the coming storm and darkness. He needed human companionship. He cherished his friends and adored his mother.
In our gospel text, Jesus left the place where he healed a woman with a twelve-year vaginal hemorrhage or perhaps she healed herself with her own faith. And he left the place where he raised a girl on the cusp of womanhood from death to life as easily as waking a sleeping baby. He left that place and came to this place, without all of the miracles. This place, his hometown was most likely Capernaum on the shore of the same sea that he had just crossed to perform his most recent miracles rather than Nazareth farther away in the hill country.
He came as biblical scholar and Torah teacher and gave the d'var Torah, (the word of Torah) in the synagogue on Shabbat because he was an observant Jew and did not see his ministry as something other than Judaism. His teaching was amazing, astounding, provoking his hearers to ask where did he study Torah? Who was his rabbi? How could this locust-eater from the desert, as Khalil Gibran would later say, teach like this? And it seems no matter how often folk exclaimed over his teaching, each time he taught; he surprised them all over again. I want to know, what did he teach this time? And why didn't the gospel writers share his teaching with us this time?
And the people in the synagogue asked how can the same man be both a master teacher and a miracle-worker? Isn't that just too much giftedness for one man? And because this was his hometown they knew him, they knew his people, they knew his mama. They knew the stories about his daddy – that he might not be his son and perhaps that's why he didn't stick around. Joseph disappears from the gospels during Jesus' adolescence, those difficult teen years and the text does not say that he died. They knew his sisters and brothers by name (their Hebrew, Jewish, names, not the Greek names that have replaced them) and maddeningly to me – the gospel writers still to do not tell us the names of Jesus' sisters, let alone how many of them there were.
And perhaps, because they knew him, knew where he came from, knew that he was no different from them or at least ought not be any different from them since they all came from the same place, they were scandalized by him, offended by him and rejected him.
This wasn't, I'd like to suggest, a rejection of Jesus as the son of God; this was a rejection of the local boy who made it big. This was sociology, not theology. Who do you think you are? I know who you are and where you came from. You came from the same place I did. Why do you get to be famous? I came from the same place as you. You're not special. You're just like me and I'm not special either.
There is something about the hometown crowd, in big cities and small ones. Sometimes they do celebrate the local girl or boy who has made it big. But in the case of prophets, Jesus says there is no honor to be found at home. How can God speak through such an ordinary person? A person I know is flawed. I remember when… We have these ideas about who can be God's messenger: men, white men, heterosexual white men, with long beards and robes, projecting our notions about race and gender and sexuality onto the text. So many think of Charlton Heston but not Harriet Tubman or Toni Morrison or Maya Angelou when we imagine prophets. We don't think to look to our children for a prophetic word, not always to our elders, especially when they are no longer strong and vibrant, to people whose bodies don't work like ours, or to people who don't live and love like we think they ought. [I have to say here that I am guilty of this, thinking that today's guest musician must be an adult, and I was wrong and happily so! Thank you Abigail, for sharing your gifts with us.] All of the biblical prophets are larger than life in the text, but they were just women and men from home towns where folk scratched their heads and said "How can Yocheved's daughter and son both be prophets? Please! I remember when they were children…" Of course Yocheved's daughter and son were both prophets, Miriam and Moses.
They took offense at him. They were scandalized by him. The people in their hometown, knowing Jesus and his family and stories that we'll never know about them said, I just can't believe this is the guy everyone is talking about, but he sure is some kind of slick preacher. Their disbelief in Jesus, in his ability to do miracles that they couldn't do and to interpret the scriptures in ways that they could not was an extension of their disbelief in themselves. They did not meet him with the faith of the bleeding woman or grieving father and as a result, Jesus was unable to do the miracles in his hometown that he was able to do in other places. This is a hard text for me, the idea that Jesus is limited by other people's disbelief, by my disbelief. So I pray regularly the line from another Gospel story: "Lord I believe, but help my unbelief."
There is so much irony in this text. They, the faithful folk, the Jews in the pews – and we – are why God became human, woman-born. This is, I think, the true scandal of the Gospel, the Incarnation. Those of you who have taken to reading my sermons online, bear with me because I need to repeat some of what I said last week. The scandal of the Incarnation is the scandal of the human body in all of its forms, genders, expressions, orientations, nationalities, ethnicities, abilities, limitations, communicable diseases, poverties and, the scandal of the human condition from mortality to mental illness. I see the scandal in today's Gospel in terms low self-esteem and holding others in equally low regard. Nobody from our hometown has any right being famous, powerful, respected by important people, recognized for making a difference. I can't put my trust in this guy from the old neighborhood. Even if he did do all those miracles.
Let's face it, if folk wouldn't believe in Jesus when there were other folk saying he healed me, he raised my child from the dead, how on earth are we going to get a committee together to do the work of the church? How can we pursue our calling and fulfill our vocation if none of the people who know us best believe in us? If we have a hard time believing in ourselves? Look to Jesus:
Here he is in our text with the family that has accompanied him in the Gospel for these past two months, caring for him, worrying about him, scolding him and occasionally getting in his way. But they are here with him. Every one of them won't be with him every moment. But they won't all abandon him. In his most desperate hour, his mother will stand by him and with him, at the foot of his cross. Two of his brothers will carry on his work in his name and give up their own lives for his Gospel.
And for those desperate few hometown folk willing to believe that the boy down the street had the power to touch, heal and transform lives, their faith in him was justified. He did heal them. They were small in number but they bore witness to the possibility of transformation of those who could not let themselves believe in a human, common, familiar Jesus. He marveled at their unbelief and he kept on teaching, kept on serving, kept on healing. Jesus did not stop doing what God called him to do. Not even death stopped him or slowed him. Even when those closest to him did not believe, doubted him, abandoned him, he did the work God sent him to do.
This Gospel is that God's concern for the woman-born was manifested in God, Godself, becoming woman-born, for the redemption and liberation of all the woman-born from fear and from death itself. Yeshua the Messiah, the Son of Woman, came to seek out and save the lost and to give his life as a ransom for many. Amen.
---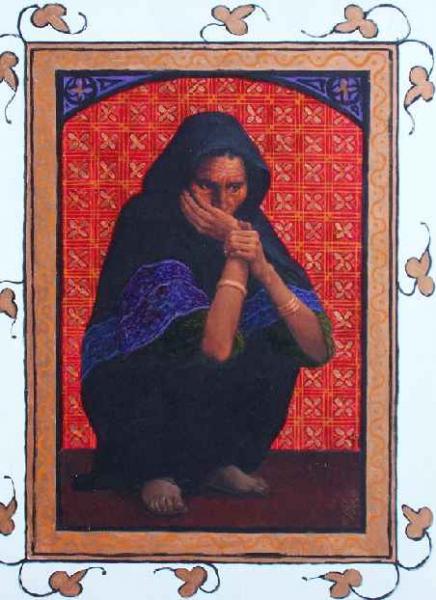 Let us pray: In the name of the One who waded in the waters of Miryam's womb, walked the way of suffering as one of the woman-born, and woke from the grasp of death in the deep darkness of the morning. Amen.
Sarah's daughter was bleeding from her vagina, again, still. It wasn't the not-so-secret monthly blood whose scent was part of the cacophony of smells which perfused the Iron Age and passed largely without comment from anyone else. This was something else entirely. This was a flow that never quite stopped. It dwindled from time to time, giving birth to aborted hope that this time it had stopped for good. A day or two of respite, and then the bleeding started again. There were some years that she had gone for months without bleeding at all. And just a few months – she could count them on one hand – that she bled like other women. She had bled this way since her first bleeding. It was nothing like what her mother and aunts told her to expect. Her sisters didn't bleed like this. She drank the teas the midwife gave her, tied the knots in the cord around her body as prescribed by the healing prophets (like those in Ezekiel 13), nothing helped. She never felt clean. There were stains on all her clothes, her chair, her bed. She was tired, tired of bleeding and just tired.
She had moved to a town where no one knew – or admitted that they knew – her story. She couldn't stay at home any more; all of her sisters were married and having children. She loved her sisters and their children and yet every time she saw one of them blossoming with yet another pregnancy or putting a baby to her breast she felt an ache in her empty, broken, bleeding womb. The other mothers in town wouldn't consider her for their sons. She could have married an older, widowed man to help him with his children, but that wasn't the life she wanted for herself. And she made a decent life for herself, as a midwife, a healer, hoping to learn something that she could use to heal herself. She also became a midwife because she hoped no one would think twice if they saw blood on her skirts. All of the money she earned, all of the goods and services she received, she sold or bartered away in hopes of healing herself. She spent all of her income on every healer and physician in her town, within walking distance and sometimes beyond. She was Sarah's daughter and she decided to do whatever it took to heal herself, save herself, to live.
Her vaginal hemorrhage didn't affect her day-to-day life as much as people might have imagined when the flow wasn't too heavy. After all, being ritually not-yet-ready for worship – a better translation than "unclean" in terms of illness or naturally occurring bodily cycles – was quite common and in most cases remedied by bathing and an inexpensive offering. Some cases also required physical inspection by a priest or for women – I believe – a woman who was both the daughter of and the wife of (another) priest with the pronouncement of restoration being made by the priest. But her vaginal bleeding would have to stop first, long enough for her to qualify for and pass inspection. And in the past twelve years it hadn't and as a result she couldn't go to Jerusalem and worship in the temple, and she wanted to go. She had been there as a child, but she wanted to go as an adult and take her own offerings and say her prayers facing the place where the living God resided, bathed in clouds of incense. It wasn't required for women, but so many women went that there were mikvahs – baths – dedicated for them, there was a plaza named in their honor and, special gates and balconies for women who didn't want to mix with men.
Even though she poured herself into the healing arts and her life-giving work, rejoicing at each new life born into her hands, Sarah's daughter longed to be free of her terrible illness, the weakness, the pain, the constant washing and cleaning and to have some new things, new clothes, unstained. Her affliction also affected her sense of herself, her sense of her own value and beauty and worth. She was distant from her own family and had no family in this town. She had no one with whom to share Shabbat meals, she lit the candles by herself. Sometimes families she helped invited her for celebrations but she was always afraid her body would betray her, like that one time she thought she had enough padding and then it broke through in front of everyone. She had moved again after that. She was keenly aware that her body didn't work like other women. She felt broken. And she knew she could die from this.
But Sarah's daughter refused to be destroyed by her pain or paralyzed by fear. She didn't know why her body was the way it was, but she knew it didn't have to be. She knew it could be, should be, would be different. And she would do whatever it took to save herself, be healed, be made whole, be restored, to live – the verb means all of those things. She had heard that there was a miracle-working rebbe, Yeshua ben Miryam, (Jesus, Mary's child) based in Capernaum who regularly crossed the Sea of Galilee. And today he was here. She was going to see him.
As she hurried after the crowd, she thought about what she was going to say. She followed the sound of the commotion and saw more people gathered than lived in her town. All of them pushing towards a group in the middle, and one of them… Yes him. He's the one. She pushed. Not caring if some stepped out of her path because they saw or smelled the blood that was flowing even harder. She had to reach him, had to get his attention…
But he was walking with Ya'ir (who the Greeks called Jairus). Ya'ir's daughter – what was her name? was it Me'irah? Named for "light" like her father? I think so – Me'irah had died. A child whose whole life was the length of her disease, twelve years. And now she was dead. Sarah's daughter said to herself, I won't bother the Rabbi. He must go to comfort Me'irah's mother.
She was all alone as she watched her daughter die, she was all alone as she planned and began the funeral of her child. She was like so many mothers left alone to do the difficult work of holding her remaining family together through the most trying of times. Her husband had not abandoned them, but he had left them. He missed the moment when the light left his baby girl's eyes as she passed from life to death. He left her on her deathbed and her Mama in her deathwatch in the hope that he could persuade Rebbe Yeshua, Rabbi Jesus, to come and lay his hands on her. But she died in his absence and they started her funeral without him…
Yet Sarah's daughter couldn't walk away; she couldn't take her eyes off of him and found herself within a hand's breadth. Falling to her knees, reaching out, not knowing what she would do until she did it; (according to the other two gospels) she touched his tzit-tzit, the knotted fringe on the corners of his clothing – the sign of an observant Jew. She believed that this time she would be healed. She had believed before and been disappointed, but that didn't matter. Sarah's daughter had resilient, indefatigable, inexhaustible, inextinguishable faith. She said, "If I but touch his clothes, I shall be saved."
More than healed, saved, saved from the death that was surely coming closer. Twelve years of pain, disappointment, sorrow and struggle did not diminish her faith; it was a living thing, carried inside of her, extended through her hand to One who was so worthy of her faith that he didn't have to see her, speak to her or even touch her to save her, heal her, make her whole, grant her life and transform her.
And it was so. She drew the healing power from his body. She did it. The text is full of her verbs: She endured, she spent, she was no better, she grew worse, she heard, she came up, she touched, she said, she felt, she was saved/healed/restored and then she told him everything. Everything. All her pain, all her grief, all her hope, all her faith. All. She is the active agent in her healing eleven times, and once passive – her hemorrhage stopped.
And Ya'ir, Jairus, is waiting and watching. He left his child on her deathbed to find Rabbi Yeshua, Rabbi Jesus. He didn't know if she would be living or dead when he got back; but he knew that if Yeshua, Jesus, just laid his hands on her, she would be alright. Ya'ir started his journey in faith. He said, "My little daughter is at the point of death. Come and lay your hands on her, so that she may be saved, and live." (There's that verb again.) And Ya'ir ended his journey in faith. When he found Jesus, he found resurrection and life at the same time Sarah's daughter found restoration and life.
One of the great ironies of the aftermath of this text is that the church of Jesus Christ and nominally Christian societies like ours have become so scandalized by women and our bodies that we dare not name our parts or the problems with our parts in polite company according to some folk. It is ironic, because silencing women and censuring our bodies denies the Gospel story itself: That God became flesh and blood in the body of a woman, was nourished by her blood in her body passed through an umbilical cord attached to a placenta, rooted in the wall of her uterus, and one day pulsed into this world through her cervix and vagina. Just like the rest of us – give or take the occasional caesarian.
This is the scandal of the Gospel, the Incarnation of a woman-born God. At the heart of Incarnation theology is the notion that the human body – and women are fully human – is neither accidental nor unworthy of the habitation of God. The scandal of the Incarnation is the scandal of the human body in all of its forms, genders, expressions, orientations, nationalities, ethnicities, abilities, limitations, communicable diseases, poverties. And this is what God became, for Sarah's daughter and Ya'ir and his daughter and her mother and you and me, for the whole world, for all of groaning creation. To paraphrase Brother (Cornell) West: Jesus was born too close to urine, excrement and sex for the comfort of many. God became human to touch and be touched by the broken, bleeding, dead and dying and to be broken, bleed and die. And in so doing transformed that brokenness into a sacrament, body and blood, bread and wine, the shadow of death, grave-robbing resurrection.
This Gospel is that God's concern for the woman-born was manifested in God, Godself, becoming woman-born, for the redemption and liberation of all the woman-born from fear and from death itself. Yeshua the Messiah, the Son of Woman, came to seek out and save the lost and to give his life as a ransom for many. Amen.
---