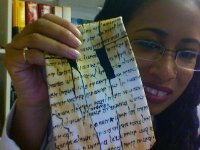 Wil Gafney, Ph.D. is Associate Professor of Hebrew and Old Testament at The Lutheran Theological Seminary at Philadelphia in Pennsylvania, and is an Episcopal Priest canonically resident in the Diocese of Pennsylvania. She is also a member of the Dorshei Derekh Reconstructionist Minyan of the Germantown Jewish Center in Philadelphia, PA. She has co-taught courses with and for the Reconstructionist Rabbinical Seminary in Wyncote, PA.
Wil Gafney talks about The Bible with Sarah Posner

Sarah Posner (Religion Dispatches, God's Profits) and Wil Gafney (WilGafney.com,
The Lutheran Theological Seminary at Philadelphia), from bloggingheads.tv
On The Posner Show, Sarah and Wil discuss the hit History Channel miniseries The Bible. Wil thinks the producers have done a good job with some elements, but critiques the series' erasure of women. She focuses in particular on Hagar, a figure of special significance in both Islamic and African-American Christian tradition, as well as the Battle of Jericho. Why are all the characters—with the exception of angels and Satan—portrayed by white actors, until we meet Samson? Wil has strong criticisms of the way Samson is portrayed as a "mandingo" figure. Does the series help solve, as its producers contend, the problem of biblical illiteracy? Plus: Rape and polygamy in the King David story. For the whole interview, click here.
Wil Gafney talks about WHITEWASHING THE BIBLE on the AxPx Podcast Episode #20

The History Channel's presentation of the miniseries "event" The Bible has sparked reactions of all kinds. From Mega-Church Evangelicals like Rick Warren and Joel Osteen enthusiasm about the "power" of the show, to biblical scholars such as Dr. Joel M. Hoffman voicing their distain for the show. After the first episode aired, we read many opinions on both sides. The one thing that didn't seem to be discussed in depth was the obvious "Whitewashing" of all biblical characters. From the underwear model "perfection" of Adam and Eve, to the Scottish brogue of Noah and the Brad Pitt look-a-like chosen to play Jesus; something didn't gel. Thankfully, The Rev. Wil Gafney, Ph.D. wouldn't let her disappointment stay quiet. Her article Black Samson & White Women on the History Channel turned many heads with her criticism of The History Channel's (along with Producers Mark Burnett and Roma Downey) casting choices. This week, we are honored to be speaking with Dr. Gafney about her thoughts and opinions. Visit the AxPx website.